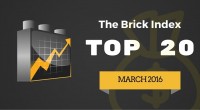 The Brickpicker Brick Index was updated recently. This index gives an indication of the movement in value of each set based upon the previous 6 months of sales data from Ebay.
You can review the sets by theme if you like, but @Jeff Mack has accumulated the top 20 performers for the last 6 months on the landing page. I'd like to take a look at the data and see what it tells us. First, let's take a look at the data that is presented. Each set is ranked by what percentage of value it has increased in the past 6 months. There's a handy graph of that period of time showing a whole dollar value on the Y Axis and months expressed numerically on the X.
A cursory overview of the data shows us that this table is very heavily weighted towards Star Wars. 75% (15) of the top 20 are Star Wars sets. 10% (2) are Super Heroes and LEGO Movie, Ninjago, and Creator each make a single entry to close out the remaining 15%. Does this mean that Star Wars is the only way to go to ensure maximum profits? Let's take a look. Data without analysis can lead to bad decisions.
The biggest earner in the list is 75048 The Phantom. With a monstrous 128+% increase in the past 6 months, it came out swinging. Original retail on this set was $24.99. For many months, it was available at Amazon/Target/Wal-Mart for $19.99. Current price guide value is $46.73. This set is a prominent part of the Star Wars Rebels IP and has one popular character who is only found in this set.
Rank #1
75048-1 The Phantom
  128.84%
Next on our list is a set that was looked down upon for most of its retail shelf life. It lived with an almost permanent discount of $19.99 from a $24.99 retail. Now it lives in the $41+ zone. I think a lot of people put off buying this set always assuming that there would be another time and time ran out. You get an interesting vehicle from a pivotal scene in Revenge of the Sith with 2 hero minifigures. Both of the figures are unique to this set and the Grievous alone is selling for almost the MSRP of this set.
Rank #2
75040-1 General Grievous' Wheel Bike
  115.83%
In a race to the finish between 75054 and 75055, the AT-AT 75054 sold out first. For a time, you could get a slight discount. Within days of selling out at retail it was already selling at 50%-60% above the retail of $99.99. It's now struggling to reach $200, which most expect to happen by summer.
Rank #3
75054-1 AT-AT
  98.18%
Number 4 on our list is the 75038 Jedi Interceptor. This one has 2 hero minifigures in the form of Anakin Skywalker and the updated R2-D2 minifigure. It originally retailed for $24.99 and seems to have been selling for that amount up through retirement. It's now selling in the $48 range. The only reason that it doesn't outrank the similarly priced 75040 and 75048 is because it sold better at retail and was not as discounted. (75135 is bound to drive the price of this set up as people try to complete their hero pairs.)
Rank #4
75038-1 Jedi Interceptor
  96.05%
The Ant-Man Final battle is the first non Star Wars set on our list. This set went under a lot of radars, Within 6 months of release, it was done. It started life with production problems and disappeared without a whisper. The growth of this set is probably not done. Limited production, continued media support for the character, and no forthcoming reissues will keep driving buyers to this set.
Rank #5
76039-1 Ant-Man Final Battle
  95.72%
There's a saying that a rising tide raises all boats. The interesting thing about this set is that since it was already rare and had retired almost 2 years ago. It's value was already much higher than the $9.99 retail price of the set. The movie hype in December appears to have nearly doubled the price again. That tide raised the high as well as the low.
Rank #6
75011-1 Tantive IV & Alderaan
  95.13%
As mentioned previously, the Imperial Star Destroyer 75055 barely lost the race for sold out to the AT-AT 75054. It had a higher price to begin with and also lived with a semi-permanent discount. It is competing neck and neck with the AT-AT on the race to $200. The only reason that the AT-AT is higher on the list is because it started at a lower MSRP. Both of these large vehicles are on the same trajectory, and the Star Destroyer is less likely to be remade as soon.
Rank #7
75055-1 Imperial Star Destroyer
  85.75%
Number 8 is yet another recently retired Star Wars set. The Snowspeeder 75049 was a $29.99 set that could frequently be found with a $5 discount. When it and the AT-AT retired at the same time, demand for one increased demand for the other. Demand has lifted this set up to the $50 range, even with another Snowspeeder soon to be available in the Assault on Hoth set. If another AT-AT returns to shelves without this corresponding vehicle, look for it to return to this list.
Rank #8
75049-1 Snowspeeder
  85.17%
The Microfighters Millennium Falcon was existing somewhat above retail. A lot of people had been dismissive of the entire Microfighters line, but the first series gained some traction. The Millennium Falcon had the distinction of having a hero minifigure and it is the most iconic vehicle in the series. When the Force Awakens was released, people on a budget looked for an alternative to a $150 set. Demand pushed the value up, and will probably maintain the price for a while to come. Kids and fans have come to accept and enjoy the aesthetic.
Rank #9
75030-1 Millennium Falcon
  79.09%
Halfway through the list, we come to a set that surprised many. It's a large exclusive that only really fits in with an unprofitable theme. Not a lot of people were buying this set. Anyone who wanted it put it off because there would always be time later. Large exclusives tend to have a certain cache. The question that remains is, is this increase sustainable? By all accounts it is a fun build. People who want something unique will migrate to this set.
Rank #10
70810-1 MetalBeard's Sea Cow
  73.37%
Wait, a Ninjago set made the list? Did the poles reverse themselves? Are we in the end of days? is Ronin's R.E.X. a sign that everything we know is wrong? Well, probably not. This set is still widely available at retail, so there's no reason for it to sell above retail, and it doesn't. This set made the list because sales were bad.It sold for roughly 40% of retail price and has increased to about 80% of retail in the ebay marketplace. Anyone contemplating buying this set at retail might as well hand $10 to a stranger and walk away.
Rank #11
70735-1 Ronin R.E.X.
  72.48%
The ARC-170 fighter had a short life. It lived on shelves for less than a year. It sold many times for below retail. It was part of the second series and came from the less popular prequel trilogy. It had a lot of things against it, which probably led to less production and less hoarding. It seems like Microfighters are the little engine that could on this list. Frequently overlooked and underestimated. Could this be a sign that the Star Wars Constraction figures will surprise many?
Rank #12
75072-1 ARC-170 Starfighter
  68.80%
Next up, we have a Star Wars playset. The smart money says that playsets don't do as well as ships. Well, that's partially true. Look at all of the other recently retired ships that outpaced this one in % increase. The Mos Eisley Cantina was also selling below retail before retirement (Noticing a distinct trend here.) When it retired, it jumped up above retail and continued to increase. This set has a large number of minifigures (8) with a bigfig creature and a small vehicle. It truly is a nice set, and will likely capture buyers for years unless they make another cantina set.
Rank #13
75052-1 Mos Eisley Cantina
  67.39%
Number 14 on our list is the second Super Heroes set, DC's Batboat Harbor Pursuit. A 66% gain sounds like a good thing. There's some problems with the appearance of this set on our list. This set was released at the same time as Ant-Man's final battle, so is this another early EOL that jumped up big? Nope. This set is currently available at retail. For a long time, sellers on Ebay were selling it for significantly below retail. The jump in value can be attributed to it now selling for almost retail. Is this an indication of post EOL performance? It's unlikely, unless you assume that it will sell for close to retail after it retires.
Rank #14
76034-1 Batboat Harbor Pursuit
  66.25%
3/4 of the way through our list we have the Ghost. This is the single most used vehicle in Star Wars Rebels. This set was easily found on Ebay for a significant discount from retail. It was unpopular with resellers and suffered from not being a set from a live action Star Wars movie. Despite the fact that it had an average length shelf life, its retirement seemed to catch people off guard. With continued support in media, this set should continue to show growth, but it's unlikely to have the significant gain that it received just returning to MSRP.
Rank #15
75053-1 The Ghost
  63.85%
The droid gunship honestly surprised me when I saw it on this list. Sure, it's recently retired, sure it's Star Wars, but it's a non-hero vehicle from a minor scene in the prequel trilogy. Looking at the data, it seems that this set took a significant dip from retail, and all of its gains were just to put it back on an even footing with its original MSRP. 
Rank #16
75042-1 Droid Gunship
  62.88%
Number 17 is an anomaly. Not because of how poorly it was doing before, but because it was a set that had already increased since it retired a year ago. When this Target exclusive set retired in Dec. 2014 it had a retail price tag of $39.99. A year later it was hovering in the $60 range before receiving another boost above $90. In this case instead of the rising tide saw, let's consider the words of Walt Disney "Quality will out." As collectors scoop up 75135 and 75038, they'll remember this one and realize that it's probably not getting a refresh anytime soon. Is it on track to match 7661? Hard to tell, but if the clones taught us anything, fans seem to like a rainbow of the same thing.
Rank #17
9494-1 Anakin's Jedi Interceptor
  60.11%
Approaching the end, 90% of the way through, we find a battle pack. Battle packs are cheap, small, easy to store and frequently found on clearance. This battle pack has the virtue of being composed of screen accurate Original Trilogy troopers. It was the strongest contender of the recently retired battle packs for future growth and it found it. It's the same story though. The starting position of this set was ~20% below retail. Many will have gotten this set from the Wal-Mart clearances, so will realize even better returns than shown here.
Rank #18
75034-1 Death Star Troopers
  58.82%
Number 19 on our list is a true representative of the rising tide theory. This set retired 2 years ago. It languished below retail since it retired until the Force Awakens came along and propped it up. Instead of being somewhere around $5 below retail, it gained $15 above retail. Honestly, not the performance vector that anyone should be looking for. It's a 2 year hold time to gain an actual ~35%.
Rank #19
75017-1 Duel on Geonosis
  58.17%
Our final entry on the list is also not Star Wars. The Creator 3 in 1 Mountain Hut quietly retired without fanfare. The data indicates that its value dipped 25% below retail in the late summer and stayed there all fall long. Post EOL it has recovered the loss and added 20% to its value. I looked at some of the other recently retired Creator 3 in 1 sets and saw a similar trajectory. A low increase in value, but it was there.
Rank #20
31025-1 Mountain Hut
  57.60%
Looking at this list, we see a lot of Star Wars sets that retired a short time ago. Their initial post EOL bump was probably accelerated by the release of The Force Awakens. Many of these sets were living below retail before they retired. It's easy to make significant gains when the first gain that a set makes is to get back to its original MSRP. 10-25% value jump when it disappears from Amazon or Wal-Mart would be standard. We're not even taking into account the significant clearance reductions on most of these sets. I am not discounting the money that was and is to be made on these sets. People buying at discount cleared and are poised to receive greater profits.
Before I end here, I'd like to give a special nod of the head and tip of the cap to the set that's 91% more influential than Kanye West. For folks who are wondering where their favorite Tumbler falls, I found it in the DC Super Heroes theme in second place behind Batboat Harbor Pursuit. Since this set never really got discounted, that's where the starting value falls and it has since increased by over 50%. I guess it's time to start telling everyone how right you were to buy these at the last minute.
 
76023-1 The Tumbler
  52.32%
In the final analysis, what does all of this tell us? The status is actually quo. Good sets from a popular series that retire will increase. Rare sets and exclusives will increase, and things that routinely sell for significantly below retail will sometimes sell for retail. Most of the sets on the list were not exclusives, and the biggest exclusive retirements were not the largest % gainers. The trajectory of the Sea Cow and the Tumbler are good, but not worrisome as far as the rise of the proverbial bubble. (Does anyone remember pogs or those worthless Billy Ripken f*ck face cards doubling and redoubling in value so quickly?)
It will be interesting to see in a couple months what the largest increases are. I'd also love to see what the biggest losers for the same timeframe is. I bet it would be the newest things released.

---