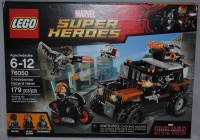 I read Captain America comics for at least 20 years. Crossbones was an interesting character to me, a nutcase that idolized Red Skull. With the small number of villains that are not related to Spider-Man in some way, I doubted I'd see him anytime soon. LEGO threw me a curveball with Crossbones Hazard Heist and delivered Crossbones. I felt a lack when LEGO did nothing for Captain America: the Winter Soldier. We didn't get movie Falcon or Winter Soldier 2 years ago. They've made up for that somewhat with other releases. I'm excited to review 76050. I'm excited to get some much needed characters not named Iron-Man, Captain America or Spider-Man.
REVIEW: SET DETAILS
Set #: 76050
Name: Crossbones' Hazard Heist
Theme: Marvel Super Heroes
Parts: 179
Price: $19.99
Before we get to the build, let's talk value. At 19.99 the price per piece works out to more than $.11 each. I'm really beginning to suspect that I should not focus on the 3P equation. They're pretty much always between $.09 and $.12. There are 3 minifigures. The minifigures are MCU Falcon, Black Widow and Crossbones. Widow Black Widow is the same one used in 2 other sets, the others are unique.
BOX CONTENTS
Some people may wind up picking up a set that is open box or, want to verify the box contents before beginning a build. For this set, there are 2 numbered baggies, a sticker sheet, a comic book, and an instruction book.
BUILD AND EXECUTION:
BAG 1: Apart from the minifigures, the first thing that you build is a little Drone that you can attach to Falcon's back. The drone is most likely the MCU version of Falcon's pet/partner Redbird. It makes sense to have a robotic version instead of having Falcon develop some kind of bird telepathy. But, I digress, that's movie talk, not LEGO talk. As you can see, the drone is enormous compared to the minifigure. It's got a "foot" to prevent Falcon from being overbalanced.
Next, we build a motorcycle. If you've ever built a LEGO motorcycle, then you know what it's like. If memory serves, Nightwing's motorcycle in 7785 Arkham Asylum had slots for both sticks. Too bad Black Widow's motorcycle doesn't. So she'll have to drive with one in her hand. I'm sure that's safe.
Uhm, random rocket launcher turret thingy? It's got 2 stud shooters that point way off to the side. It seems entirely inefficient. It's more a fixed gun emplacement.
To round out bag one, we've got a couple hazardous material boxes. This is the strangest cross section of stuff. There's not a lot of cohesion, just a handful of minibuilds.
BAG 2: I opened this bag with some trepidation. The previous bag was a strange enough conglomeration that this truck would almost have to be better. So, you start with a sort of boat looking base and add wheel mountings.
Obviously, something is either going to be flung from or blown off the back of the truck. That's an old standby for Super Hero sets.
The color choices are interesting to me. I would have expected all black or something to look industrial. The various browns and greens look organic. Sort of woody or dirty. I don't know how to describe it.
Ah, the first of many stickers for the truck. Most of the stickers show various damage. The random colors might make sense from a ramshackle junk pile that's more damage than truck.
More stickers including the crossbones. The shape is coming together. It looks terrible. Can I say that at this point of the build? I'm not done yet, and I'm making a judgement? Well, we'll see.
Strange choice to use the railing instead of a larger windshield. The top of this thing has some modular technique. Plus, there's a random gun.
Mismatched wheels finalize the build. There's a green suitcase with a hazard logo and transparent tile.
Crossbones has a flame thrower and a gas mask. The truck looks ugly, but I think it is supposed to.
REACTION:
So, the random junk in bag 1 snaps onto the truck. The boxes are what blows off the back of the truck. Put the suitcase inside of them. As much as I like having the minifigures, I dislike the set that they came with. I'm disappointed that Falcon is light grey instead of black. Maybe I wasn't paying attention and he wears a light outfit in the upcoming movie.
The new figures have no leg printing or arm printing. Widow has plenty of printing, but all of the paint apps were already programmed a year ago. The deco that does exist on Falcon and Crossbones looks pretty good. The use of the new hairpiece from Finn is cool. This is the cheapest set to get that part in. Also interesting use of Batman's Grapple gun. 
FINAL THOUGHTS:
The first thing to note is that this is the cheapest set with a Black Widow minifigure. Collectors might already have her, but future collectors might flock to a set with a cheaper Widow and 2 unique minifigures. No one is coming after the build. Minifigures drive Super Hero sets, and this is no different. If these minifigures show up in other sets, kiss the future value goodbye. If LEGO dumps a ton of them on the retailers, forget it. Neither Falcon or Crossbones is incredibly popular like Deadpool, but hopefully it has some cache due to the unlikeliness of this set existing in the first place. I would hope for it to be another Ant-Man instead of a Arctic Batman Vs. Mr Freeze or Superman Vs. Power Armor Lex.
Keep an eye peeled for an early, quiet exit for this set. I don't think it will have mass appeal, so it might be one of those sets that LEGO just "forgets" to refresh. I don't think a lot of investors pay attention to the cheap sets. Speculators hope for another Deadpool set, but there's too many sets to buy all the cheap ones that might do well.
EXTRA PIECES:
You get an extra gas mask as well as grey lightsaber handle. A handful of studs make up the majority of spare parts.
2