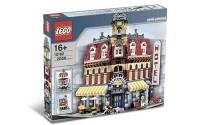 Some people probably wonder if I'm averse to going outside the comfortable zone of Star Wars sets. There's a whole universe out there of LEGO themes and sets that have nothing to do with Star Wars or Super Heroes. Well, I wanted to start with the daddy of the modular sets, the one that began one of the most expensive (on average) series of sets out there.
LEGO Modulars are an offshoot of the standard Creator line. Introduced in 2007, this sub-theme consists of large, detailed buildings targeted at adult collectors. The retail price tag of the sets and the 16+ age range tends to discourage the younger collectors. The very first set in the line was the Cafe Corner. This set was designed by Lego's Jamie Berard.  It retailed for $139.99 and contained 2,056 pieces. Current Brickpicker Price Guide Value shows a value of about $795 used or $1700 new in box. The used price of this set is more than 5.5x its original retail. The original retail price per brick was a fairly reasonable $.07, while now the value of the used bricks averages much closer to $.39 each.
So, why not just make one out of the parts that your kid keeps leaving on the floor of the living room? I'm sure you'd love to save almost $800 plus shipping on this beautiful beast. The biggest problem are the parts involved. Not just any part will do. In a lot of cases, you're going to need far more of certain pieces than you are likely to have on hand. In other cases the parts involved are either unique to this set or in so few sets that the odds of you happening to have one are rare. If you were to buy a set used, you probably know what to look for there, but we'll take a look at some of those things so that people can be aware of what might have been substituted if the dealer is shady.
So, 2056 parts listed on the box. Of those 2056 parts, the number of different element/color combinations is 259 including the 3 minifigures. The color palette is 17 colors dominated by dark and light bluish gray with tan, white, reddish Brown and Black filling in most of the remainder. I don't know about you, but to me that sounds about like what I would expect from a big building.
Parts with Highest Occurrence:
I'd like to take a look at what parts are most common in the set. These would be the fundamental building blocks what might say. Each of these pieces occurs 25 or more times. I had to pick a lower limit and 25 was it. This article is in no way a comprehensive parts list for the set, it is an analysis of what makes this set unique. For a complete inventory, I suggest the Bricklink reference catalogue. (Apologies for when the images do not match the color in inventory. We are using the basic element picture to represent the item from the set. Please pay attention to the color listed in your inventory.)
The most common element in the set is Element 4070 Brick, Modified 1x1 with Headlight (Sometimes called an Erling Brick) in Reddish Brown. You need a massive 60 of these bricks. Bricklink shows an average of about $.12 each. Fortunately it's a fairly common part appearing in 109 sets.
The next highest number of pieces in the set is Element 3069b Dark Bluish Gray Tile 1X2 With Groove. For 51 of these at almost $.08 each, You'll spend almost $4.00 but you could definitely average lower since this piece is even more common, appearing in 268 sets in all
It's not deja vu, you need 45 reddish brown element 3069b Tile 1x2 with groove. This part appears in only 148 sets (I know, that's still a lot, but almost half as many as the previous entry.) so has a slightly higher average of just over $.10
If you liked the 1x2 tiles, you'll go nuts over element 3068b Tile 2x2 with groove. This piece appears 45 times in this set in dark bluish gray. It has an average cost of $.14 and is fairly easy to find, appearing in 209 sets.
Continuing the theme, you need 44 dark bluish gray 1x1 tiles with groove, element 3070b. This element appears in 141 sets and sells for about $.07 on average.
A brick (break) from the pattern is 39 dark blue 1x2 brick element 3004. This part appears in 47 sets and has an average bricklink cost of about $.19 each.
Element 4460b Slope 2x1x3 (Does anyone actually measure the degrees of slant?) in Dark Red appears 39 times. This piece appears in only 5 sets total and will cost you about $1 each. None of the other sets that contain this part have anywhere near the quantity that this set does. (This part should appear in the rare/unique section below, but I will be excluding the duplicate listing to avoid confusion. Just note that this part is both rare and the quantity required is high)
You will also need 36 each (that's 72 in total) of white and light bluish gray tiles with groove, element 3070b. White appears in 293 sets and light bluish gray in 151 and they average $.06 and $.08 respectively.
34 Dark Red Plate 1x1, element 3024, are next. It appears in 69 sets and has an average cost of $.08.
After that, we're looking at 30 dark red element 3004 Brick 1x2. These run about $.07 on average and appear in 75 set
I was thinking about how such a large set seems to have a high proportion of small pieces. How could you ever make something of any size with those. Well, here's something substantial, 29 light bluish gray 1x8 brick element 3008. This part appears in 104 sets and averages about $.27 each. You're looking at almost $8 there.
White Plate 1x2 element 3023 is next with a count of 28. This piece is super common, appearing in 1126 sets. You could probably find all of these that you need for $.01-$.02.
I'm glad that this next part is on the list. The standard bricks get sort of boring. 28 dark bluish gray brick 1x2 modified (log) element 3036 fills the need for variety. It appears in 93 sets and averages about $.05 each,
27 is a magic number for 1x1 plate element 3024  because you need that many each of trans red and light bluish gray. For trans red, it appears in 485 sets and is easily found for $.01, while light bluish gray shows up in 218 sets and sells for about $.06.
You will also need 25 reddish brown round brick 1x1, open stud element 3062b. It appears in 211 sets and averages $.04 each.
Up next I'm going to again combine two into one. You need 25 each medium blue and dark bluish gray brick 1x2 element 3004. Medium Blue appears in 87 sets while Dark Bluish Gray shows up in 277. Both average about $.06 each
In all, we have accounted for 625 pieces. That's about 30% of the set.
Rare and expensive parts:
Now that we have looked at the most numerous pieces in the set, let's take a look at the pieces that are hardest/most expensive to find. I am going to list these from most expensive to least expensive. (Note: Not every rare or unique part is expensive and not every expensive part is rare or unique. Just usually it is both.)
The most expensive piece in the set is element 73435c01 light bluish gray Door 1 x 4 x 5 Right with Trans-Clear Glass. Bricklink says that it appears in 6 sets, but I dispute that since it shows the same set with an altered box. So, 5 sets. It averages close to $25, but if you're patient, you might get it for less. Just, be careful of scratches to the glass.
Doors seem pretty pricey. The next most expensive part is a black Door 1 x 4 x 5 Right with 6 Panes, element 73312. It appears in one other set 4886 Building Bonanza. It's going to cost you close to $20
This next piece surprised me. Mostly I think of element 3680 turntable 2x2 plate base as a common, cheap piece. When it comes to light bluish gray though, it appears in 11 sets (10 if we ignore that same duplicate city airport.) You can't find one for less than $9 right now, and you need 4 of them.
Averaging more than $6.75 each, you need 4 Dark Blue pillar 1x1x6 solid pillar support, element 43888. This piece appears in 2 other sets 8894 Piraka Stronghold and 4981 The Chum Bucket.
There are 5 white 2x4x3 window frames in this set. At an average cost of almost $6.50 element 4132 makes the list of rare parts by appearing in 10 sets.
I remember that in the announcement video for 10235 Winter village market that they specifically pointed out element 3308 dark blue arch 1x8x2 as a rare piece that was in demand. You need one for this set and there's not a lot available for less than $5.50. It appears in a total of 5 sets.
I never thought that the light bluish gray trash can with 2 cover holders was a hard to find piece. It seems like element 2439 usually appears in dark gray or dark bluish gray. In this color it appears in 5 sets and will probably cost you $5.
You need 2 green 16x32 baseplate element 3857. It's not actually rare, appearing in 76 sets, but it is going to cost you about $4 each. (it is the only green piece in the set, maybe that's a definition of unique or rare?)
Again, not super rare, because it appears in 25 sets, Element 2362b panel 1x2x3 with hollow studs in white is here more because of the average cost. It averages more than $4 and since you need 20 of them, it looks like you are going to need to make a bunch of orders because the only people carrying that quantity on bricklink are charging significantly over average.
The white lamp post elment 2039 (2x2x7 with 6 base flutes) has appeared in every modular set. It was a trend started by 10182's Lego designer.  So, I can't really leave it out of my list. It appears once in this set. It's part of 21 sets and averages $3.50.
Appearing in only 2 other sets 8893 Lava Chamber Gate and 10187 Volkswagen Beetle, element 2339 is fairly rare. Dark Blue brick arch 1x5x4 continuous bow averages close to $3.25 and you need 2 of them.
Be careful with element 2546 dark bluish gray bird. It appears in 8 sets, whereas the older dark gray version appears in 29 sets. You can get the 4 that you need for about $1 each, but it'll be frustrating if someone sends you the older color by mistake.
Bricklink shows element 3747a tan slope inverted 3x2 without connections between studs as part of this set which appears in a total of 4 sets. It lists the more common 3747b as an alternate while rebrickable only lists 3747b. The more common piece appears in 16 sets. The rarer piece averages about $1 each and the more common one about $.30. I wonder if only early issued sets had the a variant. either way, you need 2.
You need 4 Dark Blue brick 2x2 corner element 2357. It appears in 9 sets. and averages about $.70 each. I always notice that Dark Blue pieces tend to be harder to find.
Minifigures and other stuff:
There are 3 minifigures included in this set. All of them are fairly plain, ordinary, nondescript figures using fairly common parts for the most part.
The older gentleman is the lowest valued of the set. He runs less than $5 on average.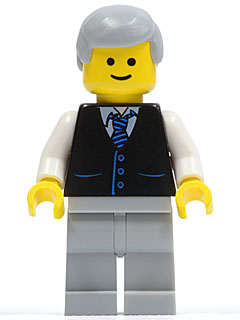 Female #1 has a unique jacket patterned torso piece that makes her the queen of this particular set ringing in at more than $16 on average.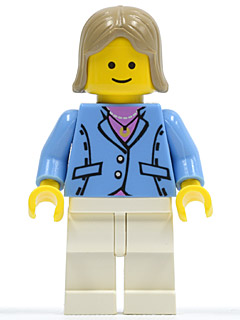 Female #2, who is the most boring looking of the 3, actually tops the old man by more than $1 on average. I think it's the hairpiece.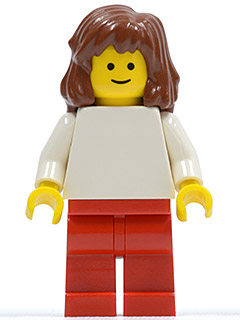 The average cost for all parts used through Bricklink is about $564. That's not terrible, considering the whole has sold for more than $200 more than that. Building one for yourself out of parts that you acquire may be more satisfying eventually, but may require far more orders and therefor more shipping than you want to deal with. All parts costs that I calculated are based upon bricklink's average and reflect only the average that these parts sell for, you may be able to acquire what you need for less in a lot of cases. If you want to add instructions or a box, your costs jump significantly, and your options are significantly fewer.
The instructions are in 2 books, and there are only 2 listings on bricklink currently that include both books.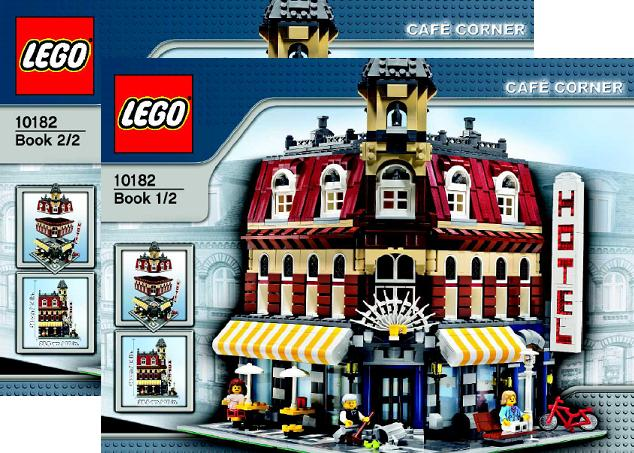 You're never going to cut down on the quantity of certain parts that are needed. It is possible that at some point one of the rare parts will be released in a new set, knocking the price down for a time. Hopefully having this list will help you to keep an eye out for the key pieces if they ever do show up in a new set.
The value of this particular set is unlikely to trend significantly downwards, unless there is a remake. Modular collectors who are just getting into the game will be behind the eight ball if they want to catch up. Demand's going to be there. So,if you can restore one of these sets from various sources for cheap enough, you may come out ahead if you tire of it for your own collection.
All images are the property of Rebrickable.com, Bricklink.com, and the LEGO Group.
If you liked this article, please check out the others in the series:
Here are some Brickpricker forum topics that discuss this set.
6