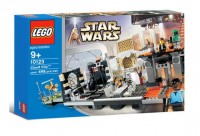 For me, one of the LEGO sets that I most want in my collection, but am least likely to get is the 10123 Cloud City. In Star Wars Episode V: The Empire Strikes Back, a lot of the action takes place in Bespin's Cloud City. Strangely LEGO has been reticent to release sets that correspond to this location. (Maybe we'll talk about the similar lack of Dagobah sets sometime later.) When LEGO announced the Carbon Freezing Chamber 75137, many thought that it would replace this set. In the minds and hearts of many, 75137 is just a pale comparison to a small part of 10123 Cloud City. LEGO Star Wars fans groaned, and owners of the original rejoiced.
Cloud City is 698 pieces and originally retailed for $99.99, which at the time was pretty pricy for that number of pieces. A complete used set sells in the $600-$700 range. If you want an unused, unopened set, you're looking at $1000 or more. Brickpicker price guide Why would a used set be worth 7X the original cost of the set as it was when new? What makes this a set that I can't build on my own?
698 pieces is a lot, but it doesn't sound insurmountable. There are 189 different elements in this set, meaning unique types of part/color combinations. Of those elements 39 are dark gray, consisting of 203 total pieces, and 50 are light gray consisting of 133 pieces. I specify those colors, because these are the pre-2004 Grays, not the newer blue grays that you find in all modern sets. These colors have not been produced for over a decade now. Almost half of the set is made from out of print colors.
The first thing that I want to take a look at here is the pieces that you need the most of. Thankfully, in a set with less than 700 pieces (even less when you take out the piece count of the 7 minifigures) none of the required elements is incredibly unwieldy. For this list, I am going to take a look at the parts that you need 10 or more of.
(Apologies for the images not matching the color. We are using the basic element picture to represent the item from the set. Please pay attention to the color listed in your inventory)
You need 36 Dark Gray 2x2 Plates Element 3022 that averages about $.04 each
22 Trans Neon Green 1x1 round Plate with straight side Element 4073 average out to about $.02 each
Element 30136 Tan 1x2 Brick modified (Log) is next with a piece count of 21 for close to $.05 each
Dark Gray Brick 1x2x5 Element 2454 occurs 17 times in this set and the average cost is close to $.15 each
There are 14 Black  2x8 Bricks Element 3007 
12 Tan 1x6 Tile Element 6636 average almost $.20 each
You also need 12 Trans Neon Orange 1x1 round Plate with straight side Element 4073 average out to about $.02 each
Dark Gray element 3005 Brick 1x1 appears 12 times as well, you can get them for $.03 or $.04 in the quantity that you need, but the average is closer to $.10
11 Light Gray 1x1 round Plate with straight side Element 4073 can be easily found for about $.02 each
You also will need 11 Round 1x1 Brick with Open Stud in Tan element 3062b for $.03 each
Dark Gray element 3700 Technic brick 1x2 with hole only needs 10 For an Average of $.04 each
10 Dark Gray 2x2 Tiles with Groove (Element 3068b) are next. They run about $.25 each for a total of $2.50
You will also need 10 very common black 1x2 bricks for about $.03 each (Element 3004)
Element 2412b Modified Tile with Grill and Bottom Lip in Trans Neon Orange is only available in 12 sets but, will only run you an average of .05 each for 10.
Thankfully there are no stickers in this set. So, an old sticker sheet or peeling stickers are not going to impact your overall  price.
We've already looked at the more common elements that you need the most of for this set, now let's take a look at the unique, rare, and specialty pieces that make up this set. Some of these pieces are not terribly expensive when compared to others, but I would think that anything over a certain average is notable.
First and foremost, let's look at the most expensive (non-minifigure) pieces in the set. Element 33230 16X16 round corner brick in Light Gray is unique to this set. Each one averages about $24 and you need 4 of them. Even in other colors, this is not a common part, appearing in 8 sets over 9 years.
Element 75c20 is a 16.0 mm (20 long) rigid 3 mm hole in light gray. You need 1 and it's going to average almost $12 each. This hose is unique to the set. Although, right now on Bricklink, there is only one available for $19.99
There is a single Dark Gray plate modified 3x2 with hole that is over $4. It is unique to this set. Element 3176. You may be in luck, 2 Bricklink sellers have this piece for significantly below average prices.
For another $4 You'll get a Light Gray Support 2x2x8 with side grooves and peg on top, also unique Element 30646b (Be careful of the light bluish gray one which is more common and cheaper.) Although at this time, there are none available on Bricklink, so if you want one, you wind up forking over more.
There are 4 1x4 Trans Neon Orange Element 3066 Brick 1x4 without bottom tubes for more than $2.50 each. None of the cheaper sellers on Bricklink have the 4 required, so you will need to make multiple orders.
You're going to need 2 Light Gray Element 75c09 Hose, Rigid 3mm 7.2 mm (9 long) which are more common, appearing in 2 other sets. It averages more than $2 each. If you can find other stuff though, several shops have this element for less than half of the average.
7 Light Gray 4x6 bricks Element 2356 run about $2 each. This part appears in 5 other sets including 10030 UCS Star Destroyer.
While not a minifigure, the next part represents a character. Element 2454ps5 is brick 1x2x5 black with Han Solo in Carbonite Pattern. It appears in 3 other sets and is a bit less than $2.
Unique to this set is Element 3741 Plant Flower Stem in brown. Usually this piece is found in green or bright green with a couple of other outliers. You need 2 and Bricklink doesn't show any currently for less than $5. The average looks like it's usually a bit closer to $2
Dark Gray Brick 8x16 (element 4204) looks like a staple in older Harry Potter sets (appearing in 8), but none of them use as many as the 5 required for this set. It can be found pretty readily for less than $1 each.
Tan Plate 6x12 is only found in 3 other sets including the Landspeeder. It's available pretty handily for less than $1 (element 3028)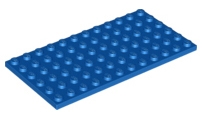 There are some pieces where I look at the naming conventions and I understand why it's called that, but it's a lot of words,and I wish there was a better shorthand. Element 30516c01 White Turntable 4 x 4 Locking Grooved Base with (Same Color) Top, Complete Assembly is one such. It is available in one other set. Despite the rarity, you can get it for less than $1.
I am going to group these together, elements 41767 and 41768 4x2 Wedge (Right and Left) in Dark Gray are each available in only 2 other sets. They average less than $.50 each.
Appearing in only one other set, White Technic, Gear Worm Screw (element 4716) can be easily obtained for less than $.50. You need 4.
You need 2 2x2 black round tile with gray machinery pattern also known as element 4150px17 for this set. It was also available in set 7190 Millennium Falcon. It's also less than $.50
4 other sets contain element 2577 4x4 Brick round corner, full brick in light gray. It's very easily found for less than $.50 and you need 2.
You need a single black brick 1x6x5 element 3754 available in only 2 other sets. It can also be easily obtained for less than $.50
If you have a fleet of crashed TIE FIghters, you may have element 30366pb02 Trans-Black Windscreen 3 x 6 x 5 Bubble with SW 8 Spoke Radial Light Gray Thin Lines Pattern that was available in 4 (5 if you count the reissue) other sets. You only need 1 and I doubt that you will need to spend over $.25 to get it.
The final piece on my list, (but by no means the last piece in the inventory) is element 3307 Dark Gray Brick, Arch 1 x 6 x 2 - Thick Top with Reinforced Underside that was also available in a single other set. Prices on this piece average less than $.25
When I look at the minifigure selection, I cannot understand why the LEGO Group has never updated the major players in this set. To me these look so outdated, almost primitive, and the yellow heads and hands just do not fit with the modern aesthetics. This particular collection of minifigures consists of some of the most expensive minifigures produced.
First we have the somewhat common Darth Vader SW004 who has appeared in 5 sets. Be sure that your has the original gray head and not the newer gray.
The Stormtrooper with plain yellow has appeared in 4 sets, and is the least expensive mini in this set. SW036
This version of Han Solo was also released in a Minifigure Multipack with a Boba Fett and Jedi Luke. SW045
This version of Luke Skywalker in Bespin gear has never been released in another set. His Torso, head and hair are exceptionally common. Be sure that the hips and legs have the proper decoration. Make sure that someone doesn't swap in these legs or these legs for your $70+ SW103
Bespin Princess Leia is unique to this set and has also never been made again in a modern version. She can be found for around $40 SW104
Lando Calrissian, that sly scoundrel is going to cost you close to $100. Be very careful of his double sided cape. (Why has he never been made again? #Where'sLando?) SW105
Here's the one that I don't fully understand. This Boba Fett is one of the earliest figures with arm printing, and the arms probably get broken or worn more than most, but he'll run you $200 or more. Frankly, you can get the UCS Slave 1 for that and get a much nicer looking Boba Fett that also has arm printing. SW107
The Instruction book for this set can be found online, but if you wanted to have one, or felt like the set was incomplete without it, Bricklink shows sales data from $37.50 to $53.27 while Ebay has an auction that closed for $21.75 (including shipping) and several Best offer accepted Buy it Now listings. Of note is that most of the listings on ebay have sold, and Bricklink only shows 5 available.
Many hope (and pray) that the LEGO Group releases a large playset of Cloud City, much like Ewok Village, Death Star, and the rumored Forthcoming Hoth set. Any large Cloud City set would have a detrimental effect upon the overall value of this set. However, this set has a certain cache about it. Anyone who collects LEGO Star Wars has probably wondered why there's not been a Bespin Luke, Leia or Lando in over a decade. The perceived rarity probably matches the actual rarity.
Based on Bricklink sales data for the past 6 months, If you wanted to put this set together yourself, you'd be looking at an average price of just over $728 for the bricks and pieces (which is actually $40 more than the average in January when I started this particular article.) A huge chunk of that cost is in the minifigure selection. If you wanted to add the box or the Instruction book, your total continues to climb. This is all before considering the multiple orders needed to accumulate all the pieces. The shipping costs of those orders could push your costs up by an extra $100 or so. 
Please check out Jaisonline's build and review
*NOTE: not every element of the set is listed. This article is meant to highlight the most common elements and the most unique elements from the set. It is not an inventory of the entire set.
All images are the property of Rebrickable.com, Bricklink.com, and the LEGO Group.
4