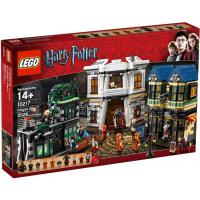 What makes a LEGO set a good choice for 'investment' purposes?  There are as many answers to that question as there are LEGO bricks in a 10179 Millennium Falcon, but several key factors can be found in common with the top appreciating LEGO sets:
Themed/Licensed sets Large set(brick count) Exclusive pieces and/or mini figures Sure, there are plenty of small sets with no mini figures that appreciate nicely over time(STAR WARS mini building sets come to mind) and non-themed sets made with regular, non-special bricks(Sculpture/Large Scale Models come to mind) that kick investment butt, but when a LEGO investor/collector can find a set with all three of those attributes, you usually find a set that skyrockets in value after it is discontinued.  One such set is 10217, Diagon Alley.  Let's take a look at LEGO.com's official description:
Expand your very own wizarding world of Harry Potter™!
No need to pass through the Leaky Cauldron. Now even Muggles can shop in Diagon Alley™ by building this fantastically magical set that includes 3 extensively detailed buildings and 11 minifigures! Join Harry Potter™, Ron Weasley and Hermione Granger as they shop for their Hogwarts™ school supplies. Visit Ollivander's, Borgin and Burke's, and Gringott's Bank. Each Diagon Alley building is realistically detailed. Ollivander's offers an extensive selection of wands, storage shelves and a step ladder that allows Ollivander to gather wands from the top floor. The front desk has an "exploding" function for those inconvenient times when a spell goes awry. Borgin and Burke's includes a scary skeleton, glow-in-the-dark elements, a fireplace attached to the Floo Network and a Vanishing Cabinet that Dark wizards might use to sneak in. Gringott's Bank is an impressive two-story building with double doors, and can be opened completely into a large building or closed to create a smaller building. The bank's interior features a removable vault, along with the Philosopher's Stone, a clerk's desk, a chandelier and 'wonky' support pillars. Includes 11 minifigures: Harry Potter, Ron Weasley and Hermione Granger, each with magic wand; Rubeus Hagrid, equipped with his umbrella; Fred and George Weasley; 2 Gringott's goblins; Mr. Ollivander; Lucius Malfoy (in Death Eater disguise); Fenrir Greyback; and 4 new, decorated owls.
Ollivander's measures 8" (20 cm) high x 5" (13 cm) wide! Borgin and Burke's measures 8" (20 cm) high x 7" (18 cm) wide! Gringott's Bank measures 8" (21 cm) high x 4" (10 cm) wide when closed, 8" high x 9" (23 cm) wide when opened wide! Completed model (depending space allocated between parts) measures 24" (60 cm) long x 12" (30 cm) deep x 8" (21 cm) high From the LEGO description and pictures, you can see that 10217 Diagon Alley is a very detailed and accurate set, filled with nooks and crannies of all types of Harry Potter goodies.  But does that make for a valuable set?  Well, for one thing, Diagon Alley is a Harry Potter set, which makes it a themed or licensed set.  Themed sets like Harry Potter and STAR WARS usually appreciate quicker and higher than non-themed LEGO sets.  What is especially intriguing about Harry Potter sets is that they are being discontinued by LEGO shortly.  The value of 10217 Diagon Alley and other Harry Potter sets could really take off in the secondary market, once LEGO sells out.
Diagon Alley meets the first requirement of a possible investment winner, does it meet the two others?  Well, the set contains 2025 pieces, which classifies it as one of the largest LEGO sets and it is the largest of the Harry Potter sets.  So, yes Diagon Alley meets the second requirement.  As for the third requirement(Exclusive pieces and/or mini figures), the set contains five exclusive mini figures found only in this set.  Fred and George Weasley, two Gringotts goblins and Mr. Ollivander are the exclusive minifigures found only  in Diagon Alley.  The five exclusive mini figures is a great feature, but at  eleven mini figures total, it ranks among the top LEGO sets in total mini figure amounts.  So, Diagon Alley does qualify for the third requirement.
In conclusion, set 10217, Diagon Alley does meet all the requirements of a possible mover and shaker in the world of LEGO investing.  Diagon Alley is an officially licensed Harry Potter LEGO set.  Diagon Alley is one of the largest LEGO sets sold today and in the past (23rd out of 9000+ LEGO sets).  Diagon Alley has five exclusive mini figures and has eleven total mini figures, making it one of the top LEGO sets for obtaining those "Oh so valuable!" LEGO minifigures.  Also, in this author's opinion, this set is just fun to look at, play with and build, which helps make it even more desirable to people in the future.  I appreciate the dedication to details of this set and the fact that it will be discontinued in the near future, makes it a 'must have' for any serious LEGO fan, investor or collector in my opinion.
 

---