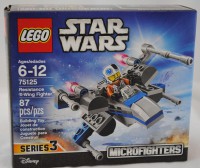 I haven't reviewed a microfighter before. I like Star Wars. I like Star Wars vehicles. I think these are cute. I have avoided doing the reviews because they didn't fit with my collection. The Resistance X-Wing Fighter had something different about it. LEGO Microfighters are small, and don't take long to build. Hopefully my self indulgence with the pictures amuses you. If not, I apologize.
REVIEW: SET DETAILS
Set #: 75125
Name: Resistance X-Wing Fighter
Theme: Star Wars
Parts: 87
Price: $9.99
Before we get to the build, let's talk value. At 9.99 the price per piece works out to almost $.115 each. This is on the high/middle side of pricing for a licensed set. There is 1 minifigure. (This is standard for Microfighters.) The minifigure is unique. On the packaging he is listed as Resistance X-Wing Pilot. It's Pretty obvious that this figure represents Snap Wexley portrayed by Greg Grunberg. As such, I'm going to refer to him as Snap Wexley or maybe just Snap. (I wonder if he's got brothers named Crackle and Pop.)
BOX CONTENTS
Some people may wind up picking up a set that is open box or, want to verify the box contents before beginning a build. For this set, there are 2 unnumbered baggies and an instruction book. Speaking of the box, this is the only microfighter that I know of that has a tape sealed box instead of a punch tab. 
BUILD AND EXECUTION
There are no numbered bags, s let's just dump this and get started.
I asked Snap to help me put his ship together. I think he's giving me a thumb's up.
I don't know where he's going but we've barely gotten started.
Snap said that he needs a rest. I have no idea where he even got that chair, none of those parts are included.
Wait a moment, Snap. You said a rest, nothing in your contract about a mandatory lunch break.
Ugh, I've gotten derailed. Just ignore Snap and his loafing. As you can see, I've built the back portion of the X-Wing.  
Now, we've added a couple more attachment points for wings and some decoration on the back.
As Snap finishes his snack, the front of the X-Wing goes in place. Notice the U-Clips on top and bottom to prevent the wings from opening too far.
Snap's finally ready to help out after putting his stuff away, The ship is almost done. We just need to add the cockpit canopy and the wings.
The instructions have you build the wings in pairs. Maybe Snap's ready to help out now.
Oh, sure. He's posing like he did something.
REACTION
I can enjoy the chibi aesthetic. The cutesy look of the squat ship is fun. It just doesn't really fit in with my collection and display. Especially since my kids have destroyed all of the other ones that I built. If they hadn't lost some of the pieces, I'd likely be trying to get all of them. The minifigure looks good. We might not ever see him released in a larger set, so it's a good time to pick him up. The print on his helmet is great.
FINAL THOUGHTS
The microfighters are an interesting conundrum. Most of the sets are just troop builder stuff. a few have been unique minifigures. The first question that we have to ask ourselves is, is this character going to be remade? With JJ Abrams stepping away from Star Wars, will Greg Grunberg return for future installments? In many ways, this character reminds me of Porkins. A minor X-Wing pilot with a few memorable scenes, but no lasting impact on the series. Plus, there's the beard. To be serious, there are a lot of X-Wing pilots. There are a lot of unique helmets and heads that they can make before they need to revisit a background character. Look how long it has taken LEGO to revisit Biggs and Wedge. The main draw that I see in this set is the minifigure, and he's not important enough to make this set escalate in value.
The second thing that we need to think of is whether this ship is iconic enough to draw in the fans later. Yes, it is an X-Wing. X-Wings are iconic. But, it's not a hero ship. It will be a nice to have, not a need to have. Kids who have relatives that want to get them one of the important ships in LEGO form will scoop this up, because it will always be cheaper than every other X-Wing released. Even if the individual price on this kit goes up, it will always be hampered by the value of a real X-Wing set. Even polybags could torpedo the value.
The third and final thing to look at for this set is where it fits in the series. The third series of microfighters will be stumbling block for this line. LEGO has heavily loaded this series with sinkers. I feel that serious collectors will take a pass on almost everything in this series. What does that mean for the future? Well, if collectors ignore this on the shelves, they won't get a lot of refreshes. If the Microfighters line continues, there may be those who circle back around later to sweep the entire series. I would pin any future movement on how limited the number of refreshes are this year. But, if they don't sell at all, regardless of rarity they won't be worth anything in future.
I wouldn't expect this set to sell as well post EOL as the Series 1 X-Wing.
EXTRA PIECES
There are 2 extra pieces.
3