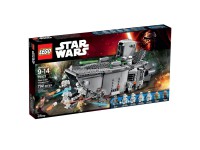 As a countdown to the Force Awakens, I will be writing at least one Star Wars review each week.
Full disclosure, I have already built one of these previously, and I was not a fan. I found one at a significant discount, wanted a few more troops, and felt like writing a review because I had a joke in mind. I didn't think it was fair to write a review on a set that I built over 2 months ago, so I refreshed my familiarity with this set, and took plenty of pictures. I think my understanding of what works in these pictures is starting to get better, so hopefully you agree.
REVIEW: SET DETAILS
Set #: 75103
Name: First Order Transporter
Theme: Star Wars
Parts: 792
Price: $89.99
Before we get to the build, let's talk value. At $89.99 the price per piece works out to a bit over $.11 each. This seems to be on the low/average side of pricing for a licensed set. There are 7 minifigures all of which are currently unique to this set. This set is mainly a troop builder with 2 unnamed Resistance fighters, 2 First Order Stormtroopers, 2 First Order Flametroopers, and Captain Phasma.
BOX CONTENTS
Some people may wind up picking up a set that is open box or, want to verify the box contents before beginning a build. For this set, there are 6 numbered baggies, and a bag containing a sticker sheet, and an instruction book. There are 4 medium to small stickers, so not too bad
THE BUILD AND EXECUTION
Bag 1 introduces us to the First Order Stormtrooper, the helmet is a new mold, and the deco is nice and fairly accurate, with front of leg printing. The build itself is pretty basic, a platform with an action feature and a couple of long axles linked underneath. In addition, you get some brackets to attach stuff to the sides later.
Turn the knob, the chair goes up
Bag 2 is the part where I started to get irritated. you build a box. that's basically it, a box with a few decorative touches. Ask a 7 year old to build a space ship, you might get this same exact shape. I know, there's not a lot you can do with a ship designed to look like a WW2 troop transport, but surely they could have come up with something a little more complex, especially considering the next bag.
Bag 3 you build some decorative panels and slap them on the side of the nondescript box. Ta-dah, you now have a space box. Oh yeah, you also attach the landing ramp and finish off the second play feature, the rod underneath that keeps the ramp closed. I guess it could dramatically open if you push it, but for me, its more important to keep the thing closed in flight. You are also introduced to the Resistance "soldiers." To me they look pretty bland. There's nothing really uniform about their clothes. They could be farmers for lack of anything truly distinguishing a martial aspect. Interestingly, their guns are the same Star Wars guns, but molded in the pewter color.
Bag 4 is all about making your space box into a flying space box. Here, you add the engine and a decorative pair of struts to the ramp, as well as smoothing out the lines at the front of the ship. don't forget about the headlights too. flying space boxes need headlights.
Bag 5 brings us the figure that will drive sales of this ship in the short term. Here we get Captain Phasma. I could not get her cape to drape over one shoulder properly, so I guess she's walking into a heavy wind. She comes with a unique silver blaster, a uniquely shaped and colored cape, and the same helmet as the Stormtroopers in silver. In this bag, you build the rear panel, which includes a trap door over the pop up chair. You also build a conning tower with a slide out platform, where your minifigure has to stand to use it. You also put on some clear wheels on the bottom so that it "hovers."
Bag 6 you build 2 First Order Flametroopers. Their helmets are an entirely different new mold. You build them a massively oversized backpack using the new clear neck bracket and add a white round brick to a standard rifle to make their flamethrowers. You also make a panel to cover the troop compartment. This panel is designed to be removed and replaced easily with a modular type design. the stud shooters and spring shooters are poorly disguised. If stuck right on top and not modified at all could be called a disguise.
There were a lot of small extra parts, including a lot of transparent neon green for the stud shooters. I also include the brick separator, because I have so many of these now, and they are not a part of the build.
REACTION
I dislike this build. I disliked it when I first built it 2 months ago, and my opinion has not changed. There will be those who say, "You think you could do better?" Well, of course I can't. I am not a master builder. I am not clever enough to figure out a better mouse trap, but I can see that this one is sad. Others will point out that LEGO didn't create the boring looking ship design, that it was the people working on Star Wars. To that I agree, I just wish that the designers had tried to make this build more fun.
The minifigures are great, army builders are always welcome, unless they're space farmers. I love the fact that you get 3 different colors of the same old gun. It really added some variation to a bit of the sameness. I am also ecstatic that there wasn't a single stud shooter pistol. I hate those stupid things. The 2 different helmet molds was a pleasant surprise. Phasma's black, non-decorated head was not so much.
FINAL THOUGHTS
The main draw of this set is the minifigures, and that is where it is going to suffer long term. Captain Phasma is bound to be released in another set, and perhaps then she will have a decorated head piece. The $20 Captain Phasma figures from this set will tank when those future sets are released. I cannot imagine that they would ever consider leaving this character alone here. The First Order troops will definitely see release sooner than later. That leaves the Resistance Soldiers. I think we're going to see better looking Resistance troops in the upcoming battle pack.
The vehicle, apart from my disdain, will more than likely see another release. If it is as prevalent as TIE Fighters in the new age of Star Wars, we'll see a better version for the next numbered Star Wars movie. By then, they will be working off finalized designs and figure out a way to make the build more complex, and probably figure out what they are doing with the back third.
Short term, this vehicle will fly off the shelves in late December. It might even sell out before Christmas leaving a very short time frame to make some modest profits. There's still a ton of them out there in the wild, and the price point is high enough that they will move slower than sets with more ties to the original series.
I am basing most of my valuation on my belief that this ship will make appearances in later films. If Phasma stays unique to this set, if it doesn't get a remake in a couple years, it could be a grower. Some fans love the utilitarian look of the finished product. With the accelerated movie release, LEGO will be inundated with new designs and a need to pump out products for each subsequent film. That rush to stay current could push back the reissue date, if I am wrong and this vessel is not as common as TIE Fighters. 
I almost forgot my joke. It's all about the build of this set. Just imagine Justin Timberlake and Andy Samberg with ugly goatees singing it.
"Step 1: Build a box. Step 2: put some stuff on the box. Step 3: Put your minifigure in the box. It's a fig in a box."
Next time we'll be adding some holiday cheer by looking at Christmas sets. Go buy it on Amazon
Edited by thoroakenfelder
3