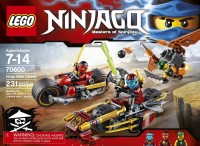 Sometimes I get random sets if I find them cheap enough. Usually they are broken down for parts, and the minifigures are sold off to defray the costs. I don't usually think much about those sets if they don't fit in with the themes that I collect. My kids have taken to watching Ninjago over and over on Netflix. I happened to have a few Ninjago sets and let them have a couple. They love them. I thought I would take a moment to look at one of the remaining sets that I have. Are the builds fun? Is there more to it than I would expect? Well, I have reviewed a Batman set with a pair of motorcycles in it fairly recently. That should give me an idea of what to expect, similar size, similar part count and price point. I am almost expecting it to be the same set in different colors.
REVIEW: SET DETAILS
Set #: 70600
Name:Ninja Bike Chase
Theme: Ninjago
Parts: 231
Price: $19.99
BOX CONTENTS
Some people may wind up picking up a set that is open box or, want to verify the box contents before beginning a build. For this set, there are 2 numbered baggies, a sticker sheet, and 2 instruction books. Each book corresponds to a bag and a build.
BAG 1: There really wasn't much about this build to make it interesting other than the dude is flying on a rocket pack made from a garbage can. How menacing can that be. On the other hand, his sword is awesome. Really very happy with that weapon.
You may not be able to see that he has a clear collar piece that attaches to the jet pack. Only one of his bombs fits in the garbage can, and he can't really hold the other one.
Since you wasted so many parts making a lame glider jetpack the motorcycle has a simplified design. Batman wouldn't make a bike like this. Then again, he's Batman and Kai's a ninja that doesn't seem especially bright.
The decals on the sides are mostly obscured, but whatever, they're decals. I have to say tat I do love the big chunky tires, but I wish there was more to it. It really makes me appreciate the Batbike.
I didn't mention it before, but you also make a killer 5 piece sword in this bag. According to the LEGO site it's a "translucent smoke-colored Djinn Blade with 'trapped Cole' element brick."  Yeah, I don't know the story behind that but that's 2 nifty swords and a regular katana. Maybe that makes up for the lameness of this motorcycle.
BAG 2: It's time to tackle Nya's motorcycle. Her motorcycle starts out more complex than Kai's which makes me happy. It's also not a clone of the Batman bikes. So, again, happy.
It maes sense that Nya's bike would be more complex because compared to the other Ninjas, she's a genius. She's like the Batman of Ninjago, which I guess is why she's going to be getting her own Batcave soon. Note: complex doesn't mean more difficult or interesting. This bike is more pieces, but not really something particularly fun to build.
Ok, now you've got my attention. This girl apparently loves weapons. Her bike is decorated with or made out of 6 edged weapons. I bet all of her Barbies have scars.
2 things to note: First, I like the design of the fanned fins. the look is interesting and it wasn't a configuration that I would have thought of at random. The other thing is that the axles aren't pegged into anything except the wheels. This free floating thing means that it doesn't have any stability. If you try to race the 2 motorcycles, you have no idea which direction Nya will wind up going. There really should be some bushing to keep the wheels from shifting too much. Also, I felt that the placement of the axle brackets made the vehicle ride too low. I'm thinking of flipping at leas one set to give more ground clearance.
The final bike reminds me very strongly of a Speeder bike from Return of the Jedi. It doesn't really look like it, but it gives a good impression of one.
REACTION:
Well, that set wasn't enough to turn my mind around on Ninjago. It did make me feel a bit better about the Gotham City Cycle Chase though. With 2 bags and 1 instruction book per bag, you could easily (except for the stickers) divide this set between 2 kids. It's fairly inexpensive and it's not terrible for kids to play with. It's not really going to shine when compared to the amazing large sets in Ninjago though.
I wish the minifigures came with additional hairpieces. Nya and Kai desperately need to be able to be played with without masks. I do really like Nya's costume in dark red, but hate the azure mask accents. Kai is an angry young man with a scar. Both Ninja look good with their hoods on, but I'd just like a little more. The pirate's name is Sqiffy and honestly I feel like that says more than enough about the character. His costume looks dumb, he has a dumb name, and his expression looks more constipated than anything. 
FINAL THOUGHTS:
What can I say? People don't really invest in Ninjago. There's nothing about this set that calls out for it to be in demand later on. At this time, it's only about 3 months old and is already living with a 20% discount. Strangely, it's not actually currently being sold by Amazon. Every listing is third party. Could it have been only available for a short window to Amazon? I don't know how It works, but I would keep an eye out and see if it retires super early, if so, that might cause a loser to become a winner.
EXTRA PIECES:
Wow, for a small set, you get a lot of extra pieces. You get an extra Cole spirit token a sai, 2 katanas, Sqiffy's sword and an extra djinn blade. If that's not enough, there's enough pieces to make an extra bomb.
1