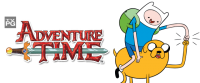 According to this Lego Ideas blog entry, the approved Lego Ideas Adventure Time set is nearly complete!  Here's a quick glance at the set:
The set will be number 21308, and include 495 bricks with an MSRP of $49.99.
Per the blog entry, seven brick built characters will be included in the set: Jake, Princess Bubblegum, Lady Rainicorn, Marceline, BMO, Gunter and Ice King.  Compare this to the originally approved Ideas entry:
Even though there are fewer characters, the ones in the approved set appear to be slightly more detailed than the original entry.
This new set is much different than the Lego Dimensions packs that are set to be released with Dimensions' second series.  They include Adventure Time minifigures and micro-builds, all shown here:
It looks like a lot of Lego Adventure Time is coming your way in the near future.  What are your thoughts on the new theme?  Be sure to comment below.
Edited by Quacs