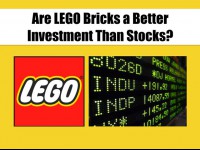 After the recent Telegraph article going viral all over the world stating that LEGO bricks and sets were better investments than Gold over the past few years, one has to wonder what other investment vehicles do LEGO bricks outperform. With the recent roller coaster on Wall Street and foreign markets, a question presents itself...Are the LEGO secondary markets and LEGO collecting and investment in general, more stable and profitable over the long haul than other more high profile investments? Let's analyze some data…
With 2015 coming to a close, the final financial year-end data on stock markets, crude oil and gold prices is available. Take a look at the major stock market and commodity returns for 2015 stated in an article from the USA TODAY:
A quick analysis indicates an overall poor year for most major indexes and benchmark commodities. Only the tech heavy NASDAQ escaped the carnage and posted positive gains for the year. Now, compare the above chart to the "average" LEGO set returns over the past five years and this is what you find:
Now, when I say, "Average LEGO Set," I am referring to the "mean" appreciation of all LEGO sets in our database. The Return On Investment is calculated from the Manufacturer's Suggested Retail Price (MSRP). There are thousands of LEGO sets in our database that get aggregated into these figures, some new and available at retail, but most retired and no longer available at primary retailers. The data shows a very consistent pattern for LEGO sets over the past five years. Even when other major investment vehicles were having a hard time getting into the black in 2015, LEGO sets held their ground. In an overall bad year for investing, LEGO bricks and sets still appreciated close to historical levels. Themes like Jurassic Park, Mixels, Speed Champions, Ideas and Lord of the Rings all had banner years, while Friends, Monster Fighters, Minecraft, DC Comics and Marvel Super Heroes themes all took a huge hit. There are many sets that appreciated very well, while others stagnated or fell in value. Just like stocks, the trick is picking the right sets.
Now, before everyone goes out there and dumps their stocks, bonds and gold for LEGO sets, a potential LEGO investor needs to realize the pitfalls of investing in little ABS plastic bricks. First off, they are difficult to store and take up a lot of space. LEGO boxes play a large role in their values. The better the condition, the higher the value in most cases. They are susceptible to moisture and sunlight. Boxes are large and delicate, and a person can easily fill up a small room with a moderate LEGO collection. Another issue with LEGO investing is their expense. Their impeccable quality comes at a high price. They are very expensive toys. Period. Unlike stocks, bonds and gold, they are not liquid. A person has to sell and ship them to realize profits. This takes time and effort. Buying LEGO sets is easy. Selling and shipping them is not. Speaking of selling them, many LEGO secondary market sites such as eBay and Amazon charge high commission fees...ranging anywhere from 10-15% (Unless of course you sell on Brick Classifieds with ZERO commission and fees). This takes a huge bite from your appreciation. Granted, if you choose wisely and pick the right LEGO sets to invest in, these negative factors can be overcome, but many people do not choose wisely and end up failing at this endeavor.
So are LEGO sets a better overall investment and more stable than stocks, bonds, gold and crude oil? At this point in time, probably, if you choose the right LEGO sets to invest in and buy and sell them with some creativity and frugality. What they seem to be is more consistent. Take a look at the chart below:

A quick glance indicates a rather steady growth pattern for LEGO sets, while the various stock market indexes are quite turbulent. Even when stocks were down, LEGO sets yielded in the 10% range. Pretty solid. While the LEGO secondary markets will probably never take off into stratospheric levels like stocks did in 2013, there are multiple individual LEGO themes and sets that could explode in growth at any given time. To find those sets, one needs to research the markets and study the products. It also takes effort to find deals on LEGO sets when purchasing and work to properly list, package and ship LEGO boxes. Experience also matters. While a novice can make profits from investing in LEGO sets, it often takes experience in buying, selling, packaging and shipping to maximize profits. LEGO investing is no longer "easy" money as it once was, but if you educate yourself, make prudent choices, adapt to changing trends and get a little lucky, you can still see solid profits...
9