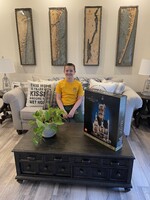 Hello BrickPickers and LEGO fans from around the world...What a crazy year! Covid and record high LEGO sales and prices made for an interesting year to say the least. Feels like yesterday I was putting the 2020 Brickpicker LEGO raffle together for my son Max's school, St. Paul School in Burlington, NJ.  He is eleven years old now and we started this way back when he was in kindergarten.  The last five raffles...
...have been extremely successful and I am hoping for more generosity and kind souls to take part in this year's version.   Over the past five years, we raised over $200,000.00 for the school, which goes directly to the school and helps pay teacher salaries, utility bills, etc...Another year has passed and it's time to raffle off some more dynamic LEGO gifts for charity. The money we raised the last five years literally kept the school open...which is a great thing.  It's a special school that once again was voted BEST or ONE of the BEST Private Schools (6 years in a row) in Burlington County, NJ, by The Burlington County Times.  Along with the whole school being voted either BEST or One of the Best, St. Paul School and its faculty also won numerous other awards, such as:
Best or One of the Best Private Schools

Best PreK-Nursery School

Best or One of the Best Teacher(s)

Best Fundraiser

Best or One of the Best Music Instruction

Best Tutor Service (Junior National Honor Society)

Best SAT/ACT Preparation Service
CLICK HERE TO GO TO THE 2021 BRICKPICKER LEGO SWEEPSTAKES FOR ST. PAUL SCHOOL!
As I stated (over and over again) the last five years, St. Paul School (SPS) and its community are special.  My son loves the school, even though he won't admit it. Most days he actually runs into the school.  People from all races and religions attend St. Paul School. Besides excelling in educating the children, the school does a tremendous amount of charity for local people in need. From food drives to helping out at local retirement homes, the children of St. Paul School are required to perform "service hours" that are designed to teach generosity, altruism and instill a hard-working, disciplined attitude.  Excellence is expected and permeates through St. Paul School and the faculty and student body, so does a sense of goodness and frugalness. We make a little money go a long way. For example:
All grade levels (Pre – K through 4) are scheduled for "Specials" each week...such as art, music, library, computers, and physical education

St. Paul School is nationally accredited by "AdvancED" (the North Central Association Commission on Accreditation and School Improvement – NCA – CASI.)

SPS middle-school students have three periods of Spanish and are testing into Spanish II for High School.

SPS provides more periods of physical education each week than is required by the State.

SPS provides multiple extracurricular activities such as: LEGO Robotics Club, Science Club, Vocal Choir, Rosary Group, Tonal Chimes, Hand Bell Choir, Crafty Kids Club, Basketball (Boys/Girls), Indoor Soccer, Cheerleading, Yearbook Club, National Junior Honor Society (NJHS), Student Council, MATHCounts, STREAM (Science Technology Religion Engineering Art Math, Activity Tutorial Period (ATP for 5th-8th grades)
But all is not wonderful though.  As many of you know, many Catholic schools have a hard time making ends meet. Enrollments are down and many families do not have the extra money to spend on a private education.  Two neighboring Catholic schools in Willingboro and Maple Shade closed their doors this year.  In person fundraising has been reduced drastically because of social distancing restrictions. Even superb schools like St. Paul School has a hard time keeping the doors open, but unlike many public schools, St. Paul has been OPEN FULL TIME since September. While it's been difficult, the wonderful SPS faculty and staff has kept the kids safe and in a great learning and social environment.  But it has bee very difficult fundraising with social distancing protocols in place.  Many traditional fundraisers have been shelved, so the Brickpicker LEGO Sweepstakes is even more important this year.  While our enrollment has stabilized, we will still be way short of breaking even; thus the need for the 2021 BRICKPICKER LEGO SWEEPSTAKES. This year's version of the LEGO raffle will start with FIFTEEN awesome prizes! These include:
2021 BRICKPICKER LEGO Sweepstakes to Keep St. Paul School Strong!
SUPER MARIO MASSIVE MULTITUDE!
71374 Nintendo Entertainment System

71360 Adventures with Mario Starter Set

71362 Guarded Fortress

71367 Mario's House and Yoshi

71381 Chain Chomp Jungle Encounter

71366 Boomer Bill Barrage

71365 Piranha Plant Power Slide

71363 Desert Pokey

71373 Super Mario Builder Mario Power-Up Pack 

71384 Super Mario Penguin Mario Power-Up Pack

71370 Super Mario Fire Mario Power-Up Pack 

71385 Super Mario Tanooki Mario Power-Up Pack 
ST. PAUL SCHOOL MYSTERY LOT (#1)
LOT # 1...Collected over the past six months by the St. Paul community...Dozens of LEGO sets that contain thousands and thousands of pieces.  All types, themes and sizes possible.  Jeff and I even threw some in for good measure.  Guaranteed 10,000 pieces...at least  This prize kicks butt!
THE NEED FOR SPEED SPECTACULAR!
10295 Creator Porsche 911

75895 1974 Porsche 911 Turbo 3.0

42093 Technic Chevrolet Corvette ZR1

76898 Formula E Panasonic Jaguar Racing Gen2 car and Jaguar I-PACE eTROPHY

75892 McLaren Senna

75893  2018 Dodge Challenger SRT Demon and 1970 Dodge Charger R/T 

76896 Nissan GT-R NISMO

76895 Ferrari F8 Tributo

30342 Lamborghini Huracán Super Trofeo EVO

42107 Technic Ducati Panigale V4 R
OUT OF THIS WORLD...LEGO SPACE SET STOCKPILE!
92176 NASA Apollo Saturn V

21321 International Space Station

10266 NASA Apollo 11 Lunar Lander

30365 Space Satellite

6079531 Classic Space Minifigure

21312 Women of NASA

31107 Space Rover Explorer

60226 Mars Research Shuttle

60227 Lunar Space Station

60229 Rocket Assembly and Transport
$500.00 IN GIFT CARDS! (GIFT CARD PRIZE #1)
$500.00 in gift cards of your choice!  Choose from retailers such as...
Amazon

Walmart

Target

Apple 

Disney

LEGO

...and many more!  Choose from many major retailers!
DC & MARVEL COMICS(CON) COLLECTION...
2008 Comic Con Batman and Joker Promotional Box Set (The Video Game)

76139 1989 Batmobile

40386 Batman Brick Sketch

76105 The Hulkbuster: Ultron Edition

76124 War Machine Buster

77905 Comic Con Black Widow Taskmaster's Ambush

76114 Spider-Man's Spider Crawl

76165 Iron Man Helmet
IDYLLIC IDEAS LOT
21317 Steamboat Willie

40448 Vintage Car

21316 The Flintstones

21319 Central Perk

21315 Pop-Up Book

21314 Tron: Legacy

92177 Ship in a Bottle

21110 Research Institute

21308 Adventure Time

21109 Exo Suit

21320 Dinosaur Fossils
THE STAR WARS CHARACTER COLLECTION...BB-8 and friends.
75187 BB-8

40431 BB-8 Brick Sketch

75278 D-O

75318 The Child

75255 Yoda

75253 Droid Commander (New/sealed set, box slightly damaged)

75274 TIE Fighter Pilot Helmet

75276 StormTrooper Helmet

75317 The Mandalorian & The Child Brickheadz
"I AIN'T AFRAID OF NO GHOSTS!" HAUNTED LOT
10273 Haunted House

10274 Ghostbusters ECTO-1

21108 Ghostbusters ECTO-1 (Ideas)

850487 Halloween Accessory Set
TWO "P"s (PORSCHES) IN A POD!
42056 Porsche 911 GT3 R3

42096 Porsche 911 RSR
HARRY POTTER HOGWARTS HOARD
71043 Hogwarts Castle

30628 The Monster Book of Monsters

75954 Hogwarts Great Hall

75969 Hogwarts Astronomy Tower

75953 Hogwarts Whomping Willow
AMUSEMENT PARK MADNESS!
10247 Creator Expert Ferris Wheel (New/sealed bags and complete...Box has some wear.)

40346 LEGOLAND

70432 Hidden Side Haunted Fairground

41375 Friends Heartlake City Amusement Pier

31095 Creator Fairground Carousel

60234 Fun Fair CITY People Pack 
THE ARCHITECTURE ASSEMBLAGE
21030 United States Capitol Building

21029 Buckingham Palace

21041 Great Wall of China

21034 Skyline Collection: London

21051 Skyline Collection: Tokyo

21047 Skyline Collection: Las Vegas

21052 Skyline Collection: Dubai

21044 Skyline Collection: Paris

BONUS BUILDING: 40415 LEGO Brand Retail Store
ST. PAUL SCHOOL MYSTERY LOT (#2)
LOT # 2...Similar to LOT #1.  Collected over the past six months by the St. Paul community...Dozens of LEGO sets that contain thousands and thousands of pieces.  All types, themes and sizes possible.  Jeff and I even threw some in for good measure.  Guaranteed 10,000 pieces...at least  This prize kicks butt!
$500.00 IN GIFT CARDS! (GIFT CARD PRIZE #2)
$500.00 in gift cards of your choice!  Choose from retailers such as...
Amazon

Walmart

Target

Apple 

Disney

LEGO

...and many more!  Choose from many major retailers!
Once again, this year's total prize value equals or exceeds the previous five year's total prize value.  The last five years, we had 51 raffle prizes and winners from around the world. From Vancouver, Canada to Reno, Nevada to Miami Beach, Florida to the Isle of Man, United Kingdom and everywhere in between, generous raffle participants were rewarded with awesome LEGO prizes. I wish we had some winners in New Jersey so I can hand deliver the sets...maybe this year!  We even had repeat winners!  The 2021 BRICKPICKER LEGO SWEEPSTAKES can be found here on the secure Rally.up.com site:
CLICK HERE TO GO TO THE 2021 BRICKPICKER LEGO SWEEPSTAKES FOR ST. PAUL SCHOOL!
Like the last five years, we will ship most of the prizes to anywhere across the globe.  Two of the large lot prizes (SPS Mystery LOTS #1 and #2) are so large I can only ship them to United States customers who live in the contiguous 48 states due to shipping costs.  If there is an issue with shipping or prizes, a comparable prize and/or shipping method will be arranged with the winner. The last four years, the LEGO BRICKPICKER RAFFLES worked very well.  The Rallyup.com site is a first class, secure site that made this all possible. They also issued the school a big fat check(s).  All raffle proceeds and donations benefit the school directly by bridging the gap between what tuition covers and actual educational costs. It also raises money to upgrade the school's technology, keeping St. Paul School ahead of the academic curve with a dynamic curriculum. The prizes have been donated by Jeff and I, the St. Paul School PTA and by some very generous BrickPicker members. I am hoping, like last year, that more people will donate sets after the raffle begins. It was fun adding to the prizes last year. You never know what can pop up as a prize! I AM ALWAYS ADDING NEW SETS!!!
On a personal note, once again, I would like to thank every person who donated sets/money and/or bought tickets to last five LEGO BRICKPICKER RAFFLES. It helped save a wonderful school and kept dozens of people employed and 175 kids with their friends and teachers. I don't like asking but will anyway...please help out again this year.  Even buying one ticket can help, and it gives you a chance to win some great prizes. Watching the raffle ticket total rise every day was an intense rush and extremely gratifying experience. It made me so proud to have started this site with my brother Jeff and made me realize there is still good in this world.  I know some people do not approve of donating to faith- based schools or charities.  I respect that, but also please respect my beliefs. This is not about religion. This is about helping a great school remain open and kids in their school and teachers in their jobs.  Please keep negative comments to yourself. Thank you...
***If you haven't already noticed, we have changed the term "RAFFLE" to "SWEEPSTAKES." The structure of this year's "sweepstakes" is similar to last year's raffle, with the exception that a person cannot buy entries/tickets/donations for a specific prize.  Due to changes in New Jersey online gaming laws in late 2020, online raffles are no longer allowed.  It would appear that online scammers and thieves were using the pandemic as a way to run fraudulent raffles; thus, honest, charitable causes have been hurt. Rallyup.com has developed the "sweepstakes" system to replace the raffle in states that do not allow such online gaming. 
People can buy entries/tickets/donations to win the prizes. They can also send in for a free voucher to Rallyup.com and mail in the voucher to be entered in the sweepstakes.  One entry/ticket/donation can win any prize.  People can win multiple prizes. The basic $10.00 entry/ticket/donation can win 10 separate prizes!  There are multiple entry/ticket price/amount combinations.  The more entries/tickets you buy, the cheaper the entries/tickets/donations. The more entries/tickets/donations that you have, the better chance you have to win.  The entry/ticket fees/donations will go directly to St. Paul School.  Remember, the school will receive ZERO donations if you choose the mail-in method.  Mail-in vouchers must be received and processed by Rallyup.com before the drawing date to be entered.
Rallyup.com will automatically and randomly pick and contact winners.  Winners should then reach out to Ed Mack on www.BrickPicker.com to arrange for prize shipment.  As with the previous four BrickPicker LEGO Raffles, prizes will be only shipped to a deliverable and legitimate mailing address.  Every effort will be made to get the prizes to the winners...no matter where they are on the planet.  In case safe and reasonable shipment is not possible, suitable prize arrangements/replacements will be made.  The prizes with large amounts of sets (St. Paul Mystery Lots) will only be shipped to the contiguous 48 states of the United States due to the excessive size and shipping costs.  Replacement sets/gift cards will replace those prizes in case of out of country(USA) winners.  
The ability to buy entries/tickets/donations will end on Sunday, May 23, 2021 at 11:59 PM.  The drawing date for the winners will be Monday, May 24, 2012 at 12:00 AM. If you are a winner, please contact me on the site so we can confirm the prizes and shipping addresses. The Rallyup.com site works very well and is secure, so please feel confident in donating to the school and purchasing raffle tickets. All the money goes to St. Paul School, which is a 501(c)(3), and to Rallyup.com for running the raffle.  I will make every effort to supply the winners with the appropriate prizes. If there are shipping issues, inventory issues or potential problems beyond my control, I will make sure the winners are awarded LEGO sets/gift cards comparable to the original prizes. Any questions, ideas or concerns, please reply below or PM Jeff or me…Thank you.
LEGO SWEEPSTAKES START DATE: MARCH 1, 2021
LEGO SWEEPSTAKES END DATE: MAY 23, 2021 at 11:59 PM
LEGO SWEEPSTAKES WINNERS PICKED/NOTIFIED: MAY 24, 2021 at 12:00 AM
Thanks again!
Ed Mack
1