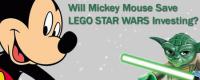 In a time, not so long ago, in a place, not so far away, the STAR WARS theme ruled the LEGO investment world. Iconic LEGO sets like the 10179 Millennium Falcon, 7191 X-Wing Fighter and 10030 Star Destroyer yielded fantastic returns on investment. Almost every STAR WARS set had better annual returns than the standard LEGO set and were universally thought of by LEGO collectors and investors as "can't lose" investments. But over the last several months, the LEGO STAR WARS theme has slowly started to decline in overall CAGR, dropping below the average LEGO Theme CAGR. Take a look at the chart below
As the reader can see, starting in August of 2012, the combined STAR WARS theme average CAGR dropped below the average CAGR for all LEGO sets and themes combined. In other words, your "run of the mill" LEGO set had a CAGR of around 10.47% in August and the once Gold Standard of LEGO investing, the STAR WARS theme, dropped to 9.9% CAGR and has remained below average ever since. What the Hell is going on you may ask? Well for one, the last major STAR WARS movie, STAR WARS III: Revenge of the Sith, was released all the way back in 2005. That is a long time ago in the world of entertainment and keeping people engaged in a movie franchise is rather difficult nowadays, even an iconic franchise like STAR WARS. With an eight-year hiatus in new STAR WARS ideas to base new LEGO sets off of, LEGO has had to base each year's new STAR WARS sets on retreads or previously done or minor vehicles or characters. Basically, LEGO fans and STAR WARS fans in general have lost interest in the stale franchise and remade LEGO sets. The once leader in LEGO investing, the STAR WARS theme, has turned into a below average investment in the world of LEGO investing.
But fear not my young Jedi, help is on the way and he wears yellow shoes and red shorts. His name is Mickey Mouse and he might just inject some life into this tired franchise and LEGO theme. Back in October, Disney bought Lucasfilm for $4.05 billion in cash and plans to release STAR WARS: Episode VII in 2015, with many other STAR WARS movies to follow. Knowing Disney and their proclivity to make sequels, you can be assured that the STAR WARS franchise will be reborn and live well into the future. Also, George Lucas will be an advisor on the next three films, so you know the quality and creativity will be there with the new movies. This is just fantastic news for the LEGO investor, especially those like myself who have a collection that is heavily based in STAR WARS sets. With the renewed and continued interest in the STAR WARS theme, many of the older STAR WARS LEGO sets might once again find strong growth, which has stagnated over the past several years. Depending on when the next movie will be based(in STAR WARS time that is...), it is quite possible many of the older STAR WARS ships, like the Millennium Falcon, will have new roles in the new movie. Can you imagine what a 10179 Millennium Falcon will appreciate to if it is in the next movie? I can only imagine.
So, all in all, the news that Disney will be producing new STAR WARS movies is wonderful to say the least. Not only because STAR WARS fans will get to see new movies, but that the once iconic line of LEGO sets will become iconic and relative once again. With new STAR WARS movies every 2 to 3 years, there will be a plethora of new vehicles and characters to immortalize in ABS plastic bricks every couple of years. No more retreads. Also, with the potential of all the new fans being introduced to the STAR WARS series, older characters and vehicles will find new fans as well. Some of these fans will undoubtedly be LEGO fans as well, which makes for a nice combination for the continued growth potential of STAR WARS LEGO sets that exist today. What's funny is that the STAR WARS Ultimate Collector's Series is what brought me out of my Dark Ages of LEGO collecting and has made me some nice paper profits over the years. But the recent downturn of the theme has had me recommending some of the other hot LEGO themes of today...Ninjago, Monster Fighters, Friends, CUUSOO...to name a few. Well, I am here today to tell you that the STAR WARS LEGO theme is back. Maybe not today. Maybe not next year. But when Episode VII hits the big screen in 2 years, lookout...the prudent STAR WARS LEGO investor will be one happy Geonosian...