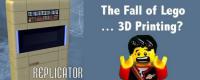 Anybody who buys LEGO sets and bricks daydreams about a future in which one does not need to go to the store to obtain them. There will be no need to waste a half an hour or more in time and several dollars in gas from the drive going to their destination, not to mention wear and tear on the vehicle. Not only that, but the time wasted being in the store and having to wait in long lines will be saved. In addition, there is a possibility that after all the wasted time, gas and effort, the retailer you are seeking this product from will not have what you seek. What's a consumer to do? Well, the first idea that comes to mind is Amazon.com. This online giant retailer will enable you to order tens of thousands of products from the comfort of your home and have it delivered to your doorstep in one day. But what's a person to do if the product is not available once again or is too expensive to ship or too fragile? I have a better solution...let's take a look.
Yes, now with the advent of the internet that Al Gore created for us… people can forego those antiquated procedures of trekking to a store and actually conversing with people. The ultimate solution comes straight out of Gene Roddenberry's imagination, into your screen via Star Trek, and what looks to be soon, straight into your home! I am speaking of the Star Trek Replicator...
The Star Trek Replicator has already become a reality through 3-D Printers. According to the website Wikipedia, a 3-D Printer/Printing is :
...a process of making a three-dimensional solid object of virtually any shape from a digital model. 3D printing is achieved using an additive process, where successive layers of material are laid down in different shapes. 3-D printing is considered distinct from traditional machining techniques which mostly rely on the removal of material by methods such as cutting or drilling (subtractive processes).
3-D printing is usually performed by a materials printer using digital technology. Since the start of the twenty-first century there has been a large growth in the sales of these machines, and their price has dropped substantially.[2]
The technology is used in jewelry, footwear, industrial design, architecture, engineering and construction (AEC), automotive, aerospace, dental and medical industries, education, geographic information systems, civil engineering, and many other fields.
The most well known 3-D Printer that has attracted mainstream media attention over the years is the MakerBot, founded roughly four years ago in 2009 by Adam Mayer, Zach Smith and Bre Pettis.
While mostly used by hobbyists, a few are trying to make money through producing small goods, like bottle cap openers and other small knickknacks. It is looked at as the beginning of what is to come. The MakerBot produces products in acrylonitrile butadiene styrene (ABS), high-density polyethylene (HDPE), polylactic acid (PLA), and polyvinyl alcohol (PVA). ABS plastic is of paramount importance for our discussion because that is what LEGO bricks are made of.
The newest incarnation from MakerBot goes by the name of The Replicator 2X, the same name used in Star Trek and goes for around $2,800.00. The Replicator 2X can produce objects in two colors and has taken over the 3-D Printing market since competitor 3-D printers, like the Thing-o-Matic, have been been discontinued. An even newer version, the CubeX, can print in three colors and goes for around $4,000.00. Even for those that lack the skill to be able to create their own products, MakerBot has a vast community made up of fellow hobbyists who create and share their designs for others to produce.
Other 3-D Printers exist and have even been shown on such popular shows such as This Old House. The $70,000 ZPrinter 650, by the Z Corporation, is one such example. To see what the future holds, watch this YouTube video segment from the show...
Like most revolutionary gadgets, their prices may be high to start and their processes slow, but in the next 10 to 20 years these gadgets should be able to produce detailed goods right in your home, at an affordable price. So what does this mean to LEGO investors and collectors? To the LEGO investor, it could mean that your retired sets will be valued at the level of vinyl records in today's age of digital music. There will still be a value in rare and vintage LEGO sets, but a decrease in your investment is a possibility. Why? Because LEGO fans will be able to easily reproduce an iconic set like the 10179 Millennium Falcon in their own parts, so why buy an old and expensive version...the box? Why buy a new LEGO set if you can reproduce them in your basement? This can lead to a possible demise of The LEGO Group itself.
Unfortunately for LEGO investors, your plastic brick empire will be the first to fall from the earliest mainstream 3-D Printing boom, compared to normal action figures which will fall in later upgrades, due to their simplistic shape and design. The days of making money off of "parting" brick pieces will be history due to the ease of printing whatever you need on a whim, and great for parents who deem LEGO an expensive toy for little Johnny or Jane! Free sourced data files by like minded tech savvies who deem the product too expensive will do to LEGO what many did to the music industry by sharing songs through file-sharing sites such as Napster founded by Sean Parker, Shawn Fanning, and John Fanning.
Who will need LEGO to produce bricks when you will be able to produce them cheaply yourself? Bigger sets. More creative sets. Cheaper sets. New colors. How about special bricks that MOCers have wanted LEGO to make for years, but have not had their wish granted? They can make their own "custom" LEGO bricks now. Not only that, the aftermarket MOC instruction business will explode with large and creative models that were only obtainable to a lucky few LEGO Master Builders years earlier. Some of the large CUUSOO models that were not approved because they were too big and pricey will be built by LEGO fans at reasonable prices.
Companies(...and not just toy companies like LEGO) will try to fight off 3-D Printers by slashing down their prices on their products to no avail. Companies will threaten lawsuits about patent infringement, but how can you stop people producing bricks in basements? Want to build a set from 2013? Want to build an exclusive or a new set from 2023 to 2033? No problem, just go on to one of the many Lego fan sites which will have instruction manuals for the vast majority of sets. The new cost of a LEGO brick will be the cost of the raw materials and some electricity to run the machine. No shipping, no gas, and the ability to have instant gratification! Century old companies will cling to lawsuits for survival and have sites taken down that have their patents. But the internet is too vast to stop the inevitability of these businesses going the way of the dinosaur. Beam me up, Scotty!
References:
1. "3D Printer Technology — Animation of layering". Create It Real. Retrieved 2012-01-31.
2. Sherman, Lilli Manolis. "3D Printers Lead Growth of Rapid Prototyping (Plastics Technology, August 2004)". Retrieved 2012-01-31.