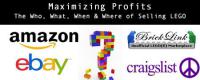 The point of investing in anything is to increase a person's net worth through the increased value of what we purchase. There's three main parts to an investment cycle where decisions need to be made, which affect its value: When you buy, While you hold, and When you sell. Making money the first two ways has been extensively covered, (very well I might add), by brickpicker.com. They identify stores' sites with their specified discounts, eBay listings below each item's analysis, and more. Brickpicker also assists you during the holding stage by offering advice on which sets have potential for increasing their values, as well as updated analysis of how each set is doing and current trends. So this article's intent is to cover the last stage of investing: selling...and not so much the When "to" sell aspect (because that is another large and in-depth article in itself), but Where to sell a LEGO set and Whom to sell it to. For without this aspect, any potential gains will not be realized.
Part I: Where to Sell
So you have a LEGO set...you bought it cheap, it increased in value and now it has plateaued or even decreased. So, you decided to remove it from your Brickfolio and sell it, but where? There are several venues available to you: Bricklink, eBay, Amazon, Craig's List, or private sales. But which one you go with should depend on your comfort level for risk, and how much you are willing to spend to sell. I've personally bought and sold on all but Amazon and all have their advantages and disadvantages. Let's look at each one, advantages and disadvantages, and provide a recommendation.
eBay
eBay is a well-known option that's been around almost as long as the World Wide Web. It has two primary and separate fees (three if you use Paypal): insertion and final value fees. You can read about them in detail here: http://pages.ebay.com/help/sell/questions/what-fees.html. Insertion fees will usually run $0.50 plus whatever add-on features you want. Pics are now free and even a requirement, so the initial costs have come down significantly. Final value fees are just what they sound like, the value of your item at sale. Although the amount depends on what you're selling and for how much, most LEGO sets will go between $50 to $1,000. This example makes the final value fee $5.50 for the first $50 plus 6% of the remaining balance up to $1,000. Paypal also depends on the size of the transaction, but ends up being around 3.6%. Overall, it's about 11% from start to finish.
A $200 sale would be as such:
$5.50($5.50 of first $50) + $9.00(6% of remaining $150) = $14.50 = 7.25% of $200 + 3.6% for Paypal = 10.85% of transaction
eBay Advantages:
Higher volume of customers = quicker sales, higher prices
You can auction or do a fixed price sale
Insurance included for you and buyer
Shipping service available at discounted price
Free educational products to take advantage of
Free mass loading software
Detailed sales records
Relatively great customer service
Easy international sales
Seller rating system and discounts for highest rated
If you want maintain a long-term presence, its easier to start/maintain your 'brand.'
eBay Disadvantages:
Higher sales fees in comparison to some competitors
They tend to be strict about their policies, so read them first
Reputation has a long memory (an advantage for a buyer) and can take a year to clean itself up.
Caps on sales are used to prevent you from taking on more than you can chew, but can be increased as you prove yourself.
Amazon.com
Amazon is another option for those wishing to say goodbye to their LEGO sets. Amazon's a very trusted site and one of the pioneers along with eBay. You can see a detailed fee schedule:
http://www.amazon.com/gp/help/customer/display.html?nodeId=1161240. Again there are two fees: referral and closing fees. For toys, the referral fee is 15%, plus a variable closing of $0.45 plus $0.05/lb. So depending on the size of what you're selling, your fees may be well over 15%, or a flat 15%.
Amazon Advantages:
Excellent customer service
Higher volume of customers = quicker sales, higher prices
Easy listing with their online catalog
Charge back protection (if you use credit cards)
Amazon guarantees all marketplace sales.
Amazon Disadvantages:
Painfully high fees
Sellers must adhere strictly to the site's policies or lose their presence on it.
It's hard to establish your individuality or brand.
Craig's List
Craig's List is very inexpensive...very! However, you usually need to do a face-to-face transaction, so eventually, you have to trust. There have been crimes associated with Craig's List transactions, so we recommend meeting in a public area and only accept cash. For the buyer, there is no recourse for faulty items, so thoroughly check the item you are buying before accepting it. Unless you are posting a job search, your fees are zero and the site shows where you are located (not your address), so your buyers can determine if they want to go that far to buy it.
Craig's List Advantages:
No fees
Buyers are guided to Seller in their local area.
Not just for selling, but can be used to look for services, jobs, cars, etc.(equivalent to the classified section at the back of a newspaper).
High volume of users, but not all buyers.
Easy to use
Craig's List Disadvantages:
Major issues related to fraudulent sellers and buyers
Buyer and seller meet face to face, so caution must be used during transaction. Never meet at your home or a private area.
No protection to buyer or seller after sale...example: insurance
No feedback or rating system
Bricklink
Bricklink is the eBay of the LEGO world. Everyone who invests and collects LEGO bricks is very familiar with this site and its clumsiness. The site has almost everything you could want, LEGO-wise, but the process of buying requires the buying, then the invoice, then the paying, then the shipping. All of which is handled by email and Paypal. But Bricklink only charges you 3% of the purchase price, plus the Paypal fees. Most of the LEGO info is already established there, so there's less info to put in.
Bricklink Advantages:
Very cheap fee schedule.
A very specified educated user/customer
International customer base
Easy to list products
Bricklink Disadvantages:
Not as large of a customer base
Buying and selling can be cumbersome and non-intuitive.
No shipping service
A lot of like competition
No insurance other than what Paypal provides.
Description and photos of items being sold is limited.
If all these fees seem overly complicated, fear not my young Padawan. There are many apps that determine the fees for you and some even compare them so you can decide the most cost effective route. We recommend the Auction Calculator, Professional Edition, by Logicworks. It determines fees based on preset variables; from eBay store ownership and Powerseller status, to Amazon's referral fees. Compare the fees and see which is best for you.
Overall, we'd recommend selling LEGO bricks and sets on either eBay and Bricklink. eBay has a wider audience, that includes the entire population of buyers, not just the diehard LEGO fans that have heard of Bricklink. eBay does allow you to set a price and let it run til it sells, but it also has the option to auction. So if you're in an emergency and need your money fast, eBay's the only way to go. However, if you're patient and want the most money out of your set, Bricklink may be your solution. You can still establish your price where you want it and sooner or later someone will come along and buy it. Both Bricklink and eBay use Paypal, which is a very safe option for both sides of the transaction. Both sites have relatively low fees in comparison to Amazon, so it all boils down to how fast do you want to sell it and how much you're willing to pay in fees for more exposure.
Part II: Whom to Sell To
So, we discussed where to sell your LEGO set, but to who you sell a LEGO set to can also make a difference and additional profits for the seller. In Part I, we recommended Bricklink and eBay for the LEGO seller. Bricklink's low fees and eBay's ease, safety and exposure outweigh Amazon's and Craig's List's advantages. But another major factor is their ability to sell internationally. The World's population is roughly 7 billion people and the US's population is 311 million. That means 95% of your potential customer base is outside the US borders. Still, most eBay sellers in the US elect not to sell internationally. Some sellers refer to customs paperwork and shipping restrictions/costs as the main ingredients leading to this decision. Some also worry about international import duties and charges. With most, its just the fear of the unknown and the potential for losing a package overseas. But with just a bit of education, you'll see that shipping internationally is actually very easy... especially if you're using eBay or Bricklink.
The additional costs of international shipping, such as import duties, are the responsibility of the buyer. The package arrives at their country's customs department and send this charge directly to the buyer, so it's not really something to worry about. The customs paperwork is an additional requirement to what you would need to do for a US buyer, but it couldn't be more simple... again, especially if you use eBay. When creating a shipping document, you first enter the weight and dimensional info as you normally would. Once entered, a US sale would lead you to print out the shipping label. But for international labels, you're instead redirected to input product information for your customs forms PS form 2976. On eBay, this is prefilled for you, using the data from your listing. All you really needs to do is click the acknowledgment field, (located at the bottom by your signature block and usually highlighted by a red arrow), that says you've read and understand what you can and cannot ship. From there, what you do next depends on how you ship, First Class and Parcel, or Priority. First Class and Parcel will print out a single label that you must sign and date and then attach as you normally would. For Priority, the only difference is the number of labels you'll print out. You'll cut along the dotted lines, sign, date, and put them into a Ziploc bag. From here, just tape the bag to the package as your label. Be sure to sign and date all the forms, but the sender's copy, before putting them into the bag; label facing out. The tracker for international packages currently tracks only to the US border, so it's only good for the start of its journey. But this will change once a new, easier system becomes available to the regular public.
Besides a larger customer base, there's an even better reason to sell international...price! Being born in the US is a blessing in many ways, but one of the most overlooked is our price of LEGO bricks and sets. The US LEGO market is significantly cheaper than most of the world. In Australia, the prices are about 33% higher, Europe the same way. Even Asia and Japan are significantly higher. When you combine this with the week dollar, many other countries are dying to buy their LEGO sets here. I've only been selling LEGO internationally for two months, but the day I started my sales went up 40%. Not to mention, it's a great way to teach geography to your kids. We have a world map on the wall and every international sale, in a new country, means another star and a chance to learn a bit about it. So far we've got over 34 separate stars we've sold to; amounting to over 147 sales in just two months...which amounts to almost half our sales.
There's always an opposite side to every coin and this one's no exception. So what are some of the down sides? There's the lack of tracking outside the US borders and some government's postal services aren't as trustworthy as ours, leading to missing packages. Rarely, there's even a communication gap. However, the benefits vastly outweigh the costs, especially with a new program just getting started at eBay, the Global Shipping Program. You can read about it here: http://announcements.ebay.com/2012/11/attention-sellers-upcoming-program-will-make-selling-internationally-as-easy-as-domestic/. Essentially, it's a program where you'll ship to a place stateside and they'll handle everything else, all the way to its final destination anywhere in the world. Now, no one has an excuse not to ship internationally. But of course we need to be fair, so here is a list of advantages vs disadvantages:
Advantages:
Enormous customer base
Easy to compete price-wise with other local LEGO stores and sites
Can sell at higher sales price...even new sets(This is why some new and "available from primary retailer" LEGO sets have current BrickPicker prices higher than MSRP).
Bring money into the US economy
Insurance available at discount
New program will make international shipping as easy as domestic
Disadvantages:
Increased number of fraudulent buyer
Potential for corrupted postal services
Extended shipping times, up to 2-4 weeks and sometimes longer
Tracker only works to US border, but will change with new program
As you can see, by picking the right selling venue and selling to the right people, you can actually increase your gains from your LEGO investments when it is time to sell. Bricklink, eBay, Amazon and Craig's List all have their advantages and disadvantages and what works for one LEGO seller might not work for another. Also, international shipping, while lucrative for some sellers like myself, might not be worth the added hassle for other sellers. That being said, the new Global Shipping Program, when launched by eBay, will give eBay a decided edge over its competitors and along with its other advantages, will make eBay the most effective site to sell your LEGO sets in my opinion. So, pick smart, buy smart, and sell smart. All three basics of LEGO investing should be taken into consideration over the life of your investments...otherwise, you might be selling yourself short.
JeffEditor's Note: This article written by one of our members, Eschdaddy. We would like to thank Eschdaddy for taking the time to write this excellent and informative article for all of our members to learn a litlte more about the marketplace options when it comes time to sell. Eschdaddy was awarded 500 BrickPoints for having this article published on the site. Thank you! -