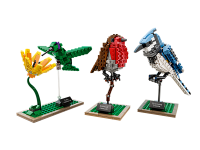 Good news for Lego Ideas completionists and set 21301 fans, the Birds set is being heavily discounted by Lego store and shop at home web sites.  The latest US-based sale seems to be working as shop at home is now sold-out and inventory is drying up at their physical mall stores.  This is also a good sign this set is near retirement.
I like this set's investment potential compared to most sets since Birds doesn't seem to be heavily hoarded by resellers and the production run seems limited like others in the Ideals theme.  While 21301 is not a flashy set, it's a fun build and looks great displayed.  The newly discounted price of $35.98 is also an attractive deal for a high quality set such as this.  
My recommendation is two thumbs up for both investors and builders.  It also doesn't hurt that past retired CUUSOO / Ideas set have at least doubled in value from retail price.  There is also the possibility that future similar sets are released that have a new set of birds or small creatures that would make it a "series," thus more valuable and collectible.  We can only hope...