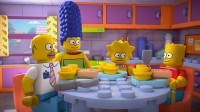 So, what is BigBlueDogBricks (Brick Classifieds Store) up to, you ask? Swimming in sales is the answer, and since those sales have resulted in money, I'm swimming in cash flow. Granted it is mostly just numbers in my Paypal account, so the swimming is more metaphorical than anything else, but I'm definitely in a Micheal Phelps kinda place. So, with money coming in from sales and inventory moving pretty much as projected I have some spare capital to reinvest. I believe the time has come for me to start getting to my magic number for 71006 The Simpson's House.
Pros:
The Simpsons! It is pretty self-explanatory. Regardless of your opinion on the show, the decline of the show, the funniness or lack of laughs you get from it, etc., it is pretty clear that The Simpsons are an indelible part of American (Canadian) pop culture in a way that not too many other phenomena are. I also play The Simpsons: Tapped Out and, based on the length and (because it is still working on my phone) success of the game, as well as their regular Sunday timeslot, the Simpsons are still at least somewhat relevant to some people in this day and age. Ratings are still around 5 million per episode according to my expert wikipedia research, and deadline.com has them ranked 35th last year in all shows in the 18-49 demographic, with the listing containing about 200 shows total. I actually think that is pretty solid for a show that has been around as long as the Simpsons and tells me there are probably enough folks like me out there that like both Lego and the Simpsons enough to want to build a brickfield, uh, Springfield.
First in line: The line was followed (obviously) by the 71016 Kwik-E-Mart. The Simpson's House preceded it. Enough said/written to get me on board. That isn't all, though, as rumors (unless someone has something more credible than the rumors that can be read by googling 'Lego Simpsons set 2016 – that is pretty much all the effort/research I put into this article) indicate that another set is slated for a probable June release in the form of the Android's Dungeon. If this comes to pass it might be a sign that the first in the series is on its last legs. I find it difficult to imagine three Simpsons modular style sets available at once. That being said, it is possible that TLG simply slaps another 'check back in XX' label and waits to see how much demand there is for X number of additional production runs. Since everything is #CHAOS, it is hard to accurately assess how the first in the line will fade away, but I do know I'd rather get some now rather than scramble later.
Gingerbread House! Insert Homer drool! Check out the sold listings for the Holiday Train. As of this writing (Nov. 19, 2015) the last half dozen have sold for around $35 CAD + shipping.
Click here to view recent sold listings of the Holiday Train (#40138)
That is absolutely amazing for a free set, especially for folks who have trouble getting discounts on exclusives, don't live near a Lego brand store or who are like me and see this as the best 'discount' they'll probably ever get on some sets. I suspect that the Gingerbread House is going to do similarly well, if not better, and almost certainly not worse. I hope. And think. That means I have a chance to get a sizeable discount on sets that are hard to get under MSRP in Canada, and it is hard to say 'no' to gingerbread. Or Gingerbread men; they practically beg you to put them in your mouth and crush them with your mandibles.
Currency Exchange: The state of the Canadian dollar makes the price difference between US and CAN MSRP very palatable for us Canucks. I won't pretend to know what the currency situation will look like when I actually want to sell these sets, but I certainly am happier with recent pricing for Canadians (as opposed to paying, say $50 more per modular when the two currencies were essentially trading at par).
Cons
Not many in the numbers I'm hoping to hit. If I can acquire a half dozen with double VIP plus a sweet limited edition Christmas set, I think it will be about the cheapest I can get it – at least in Canada. This buy in, coupled with the strength of the US dollar compared to the CAN dollar, really reduces my feeling of risk and the potential payout is pretty solid. I suppose if your goal is to get fifty or sixty of these, emazers-style, you need to tie up a heck of a lot more capital, space and potentially time, but for a small to medium-sized investor, ensuring as many exclusives as possible were purchased with a maximum discount or with the best freebies gives peace of mind. At least to me.
Limit 1 – For those without friends and family, or not close to a Lego brand store, this limit might get you a dance with the ban hammer. Tread carefully! I don't use my friends and family buyers very often, but I truly believe that the gingerbread house is tantalizing enough to get me to go through the effort of organizing some purchases. Despite the potential ban hammer with a limit 1 set if you get a little buying-happy, this limit also makes it more difficult for others to grab these five at a time, and even if you have contacts to buy sets on your behalf, their account will be limited as well anyway. This will likely discourage more casual investors or new(er) investors from hoarding a stockpile, which will hopefully reduce competition when this set does retire. BigBlue obviously thinks the effort is worth it!
Another obvious con is potential EOL – will it hit the two year mark in 2016 and keep going strong or will it be more of a Sea Cow style run? As a smaller investor, I'm willing to gamble it retires at some point in 2016, but even if it doesn't, I have a diverse enough portfolio that sitting on a few of these won't wreak economic hardship on me or mine. I'm lucky to be in a good place where I can carefully plan as opposed to playing the F5 game (not that I'm not into finger-jamming fun – just ask any of my, um, 'friends') and I'm also lucky enough to be able to sit on six of these or so without needing them to retire in the next twelve months at some point. Now is a great time to buy in if you have the capital, space and want to diversify your portfolio.
1