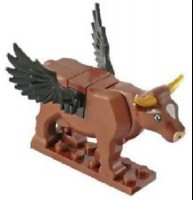 No quiet "moo moo" noises being heard regarding the 70810 MetalBeard's Sea Cow set.  It's quite impressive when any set increases over 40% from MSRP ($249.99) within only 2 months of "availability" *.  
Currently, MISB prices are $350 on average (bricklink, amazon, ebay, brickpicker)
* note: availability varied by region and retailer.
While most Lego collectors and investments were buying sets such as The Tumbler, Death Star, Pet Shop and UCS X-wing in the closing months of 2015, 70810 was quietly going in and out of stock before disappearing.   Not everyone was ignoring this set or quite by surprise of it's recent performance.  Check-out the forum topic for this set (link below).
So now that it's "retired", why the 40% jump in value in 2 months?  "Supply vs. Demand" in my opinion.
It appears Lego didn't produce as many 70810s as other Exclusive sets based on reported box tape seal codes.
Maybe the set lost it's initial appeal.  The Lego Movie debuted 2 years ago. Many of its features become available in cheaper sets such as 70816 Benny's Spaceship, Spaceship, SPACESHIP! and Emmit's 70818 Double-Decker Couch.  There was also a larger version of Metalbeard available (70807 The Movie MetalBeard's Duel)
The $250 cost was deemed too expensive.
We may never know why this set was ignored by many at retail.   One thing was certain, the majority of online 70810 reviews were  positive. 
Regarding the long-term aspects, only time will tell if demand continues to make this set rapidly appreciate.  The upcoming Lego The Movie sequel will most help as well as if Metalbeard appears in other Lego movies (Ninjago, Batman, etc...).
For more information about this set, please visit the following brickpicker.com page and the original Designer Video.
http://www.brickpicker.com/bpms/set.cfm?set=70810-1
Edited by jaisonline
2