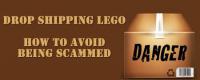 In today's world, there are many swindlers and shysters trying to separate you from your money. This theft and deception even finds its way into the world of LEGO bricks. As a LEGO collector and investor, there are many places to buy LEGO sets. One of the best is eBay. But there is an ever increasing illegal practice that is occurring on the eBay site and similar auction sites and the LEGO fan needs to be aware of it. It's called "drop shipping."
Just to be clear...drop shipping, by itself, is not a scam. It is a common method employed by sellers to reduce inventory costs. Basically a seller either has an agreement with a wholesaler or knows of a price cheap enough that he will sell it to you and make a profit. There are many websites on the Internet that sell things they don't have in inventory, even large, brand-name sites do this.
I have sold things to people via eBay and drop shipped them to their home because I could get it cheaper than they could so I could make a profit. There was a time when the cheapest prices were almost always on eBay but that is certainly not true anymore (I've been on eBay since 1997). Regardless many people only look at eBay to buy something and don't have the time or inclination to price shop.
Drop shipping is employed by scammers on eBay because they can use stolen credit card information to purchase an item that is shipped to YOU, so YOU are the first person contacted because of stolen credit card use as YOU received the stolen merchandise and thus benefited from the stolen credit card! If these scammers used a stolen credit card to ship to themselves, they would quickly be caught!
I have been taken in by scams on eBay, luckily the last time I detected it but not before I had already won the auction. Here is what you should look for to determine if the eBay listing is a scam:
Look for low feedback scores, under 100.
Look for feedback scores on very cheap items (99 cents) on almost all transactions in the last month or two. Probably most are purchases not sales.
Look for the eBay account to be suddenly selling a lot of high-priced items they haven't sold before. Look to see if the account is selling duplicates of these items.
Look for stock Internet photos likely from Lego. It is better if the photos look original, but don't rely on this as it is easy to copy pictures from other eBay auctions. The last scam I fell for had original pictures!
NOTE: If I see #2 or two of any of the others I never bid on their listings. This is very likely to be a credit card scam and the items will be drop shipped to you.
All high-priced auctions end at the same time. Also check shipping terms to see if there is any delay in shipping. Some will tell you they only ship once a week or will be on vacation when the auctions end.
NOTE: I actually saw one seller whose items all ended at the same minute, over 30 items! This is likely just a straight up scam without any stolen credit cards, the seller is hoping to make off with buyer's money before anyone realizes they won't get their item.
Look to see if the account has been inactive for a long time - usually more than six months and now has a lot of items for sale. And, even when it was active there was not a lot of activity.
NOTE: This is likely someone's eBay account that has been hacked and is now being used in a scam. Someone who has recently been inactive may not notice anything is going on in their account, or they can't access their account for months.
Is the LEGO set priced BELOW retail(MSRP)? Many drop shippers will give you a great deal to quicken the sales process and sell more items. I mean, it's not their money, right? They are happy giving you a discount if it makes them $100+ a LEGO set.
LEGO set has to be available through primary retailers like LEGO, Amazon, Target, etc... so the thief can use the stolen card to send you the set from in stock retailers.
Is there FREE SHIPPING involved? Many drop shippers will throw in free shipping as a "bonus" to sweeten the pot. Plus many retailers will give free shipping on higher priced items, so it actually costs the thief nothing.
What to do if you won an item and think it's a scam:
In December of 2012, I won a LEGO 4842 set for $130. I noticed the seller had six for sale and had used the same original picture for all six, which all ended within an hour of each other. I got a bad feeling about the transaction, but it was too late. I looked at the seller's feedback score of about 90, only to see they were almost all for purchasing 99 cent items and all in the last 6 weeks. My habit has been to pay immediately when I win something. But, I had a bad feeling about this auction so I sent an email to eBay. Then, I waited without paying for three days, at which time I started getting notices from eBay to pay for my item.
I called eBay to talk with a Customer Service representative on the phone. You can do this if you first get a number code online that is good for 15 minutes and allows you to talk with an actual person.
I reported what I thought was a scam and she said thank you, but they could not give me any information about their confidential investigations. I asked how long I had to pay for the auction and she said eBay had no set limit. I asked what I could do; she said I had the option of contacting the seller and asking that the transaction be canceled. Only sellers can initiate the transaction cancellation option in eBay.
I waited four more days and was thinking that even if it was a scam I would eventually get my money back from Paypal; but I was concerned that I might be blacklisted by LEGO or Amazon. I went to the auction and looked at the feedback again and another buyer had said Lego had contacted them about credit card fraud.
I sent a message to the seller asking that the transaction be canceled and the seller did cancel the transaction. I went back into eBay a week later and there was no registered user with the seller's ID and I could no longer bring up the transaction I had won.
I belatedly got an email from eBay telling me that some transactions I was involved with had been canceled and I could take it up with Paypal, if I was out any money.
So, if you win an item, then discover it is likely a scam, don't pay(although you will receive annoying reminder emails to pay) and you can always ask the seller to cancel the transaction! I would also suggest that you call or email eBay to ask them to investigate the seller. At the very least, it will be noted by the eBay Customer Service representative in your file and this will help protect you if the case ever gets escalated into a criminal matter. It is true you can go ahead and pay and will probably get your money back, but I'm more afraid of being blacklisted from a site like LEGO or Amazon!
I have since seen similar sellers and each time they were selling multiple LEGO sets, but the auctions always had under six items available. I think selling six identical LEGO sets(or any item) is under eBay's radar. Many years ago, I interviewed with eBay for a programming position and they told me at that time they had more than 45,000 active algorithms that review auctions for fraud prevention. So, while I think eBay is very active in trying to prevent fraud (I wonder how many listings we never see?) those algorithms will never be quite as effective as your own brain! Be safe out there!
eBay and PayPal(...and other large retailers) have improved their fraud fighting qualities and cover most types of consumer issues, but the only way to stop it 100% is for the educated buyer not to buy from these scammers. The best piece of advice I can give you on stopping drop shippers is to ask yourself this simple question before purchasing an item...IS THE DEAL TOO GOOD TO BE TRUE? Basically, why would any legit seller, who is in their right mind and not a large retailer clearing inventory, sell you a non-retired LEGO set below MSRP and with FREE SHIPPING? The answer is...they wouldn't! 99.9% of the time, the seller is not legit. Thank you and good luck in your LEGO acquisitions...
I have also had experiences with illegal drop shippers and have had my LEGO account temporarily frozen because of one. It is everyone's issue. These crooks cause our prices and fees on LEGO sets to go up because of their fraudulent activities. I've become a lot more aware of these kinds of listings, and this article will give you a good start on battling this sort of crime. As Talon pointed out in the above article, there are numerous red flags to pay attention to. He listed many of them, and if a questionable auction checks off several of those red flags, maybe it is best to move on to another auction.*Ed*itor's Note: