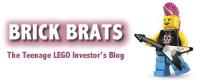 A new category in our Brickvesting Blog, BRICK BRATS: The Teenage LEGO Investor's Blog, will share some of the thoughts and words of some of our younger BrickPicker members. It will be a feature that we will share from time to time with the entire community. LEGO investing is a growing phenomenon that crosses all walks of life and different generations as well. The younger crowd might be able to teach some of us old dogs, some new tricks...
Our inaugural set of articles are combined into one big release. They were written by Darth LEGO and Comicblast. I hope you enjoy them and please feel free to comment on them afterwards...
TOYS R' US: The Good, the Bad and the Ugly...
By Darth LEGO
You walk into a Toys R' Us(TRU) one day and you see Jabba's Palace, set 9516, on the shelf. You then look at the price. Your eyes nearly pop out of your head...$164.88! You then look at the other sets and almost all of them are overpriced. Why would a retail store do such a thing? Well, I'm going to try to explain why Toys R' Us would do such a thing and discuss some of TRU's other sales practices and whether they are good, bad or even downright ugly!
The Good
BOGO 50% off!!! I know many members on the BrickPicker site like TRU's Buy One Get One(BOGO) policy. It makes paying prices over retail a little bit easier to swallow. TRU consistently run specials of BOGO 40-50% off.
Here is Popalzai's comment from a thread...
"For me TRU BOGO rocks...Especially when you live near NYC...Because in the NYC TRU stores they have BOGO on all the sets, including large sets like Death Star...SSD...Tower Bridge ETC...What I have noticed is that they did not hike the prices on large sets…SSD and DS were at $399...I even saw a Haunted House for $169.99 and BOGO...I think with BOGO and retail price, nothing else matches TRU!!" (Link to post: Click Here)
Here is Hxckid88's post...
"BEST DAY EVER….Got Helms Deep for $90.00. I didn't have to argue with them at all...they price matched. I also got 6 Minecraft sets. They didn't even check the ad. I simply stated I can get this set cheaper somewhere else and they said OK. One can only speculate what a dishonest person would have done. I then went to the other TRU where I had the exact opposite situation as the manager was difficult to deal with. That's the ever brief Cliff Notes version of my find, as I'm too lazy to type everything that transpired, but it was quite a day. ALWAYS talk to a manager, you never know what they may do for you. Just hone your approach, have a game plan and be polite." (Link to post: Click Here)
Popalzai's comment brings up another great point. Toys R' Us has larger sets for sale than other retail large brick and mortar stores(not online), like Walmart or Target. This fact makes the BOGO deal even sweeter for us LEGO investors and collectors. This is also convenient for people who don't live near LEGO stores(...which usually carries the larger sets). I think you can find some good deals during BOGO, especially on higher priced items that are close in price, which enables you to maximize discounts. Now we will get into the bad sales practices that Toys R' Us exhibits.
The Bad
Item is damaged during shipping.
I've ordered only once from Toys R' Us and it was from their website. The box came so beat up the actual Lego box had a gaping hole. It was absolutely horrible and they even wanted me to pay to ship it back. I ended up returning it at a store. I know this can be a problem anytime you ship something from anywhere, but I paid $15 dollars to ship it and they put only one thin layer of bubble wrap around the set.
Here is Talon's comment about an order not nearly as bad as mine, but still wasn't satisfactory.
"So today I received the two 7965 Millenium Falcons that I had ordered from TRU (@$99) and NO shipping damage. But, and a BIG BUT, one of them has a hole poked in the front about the size of a finger. It obviously occurred before shipping. It was sent from a fulfillment center in OH. Now I need to decide if I am going to build that one or not. I had no plans to build one in the near future but you never know. Unfortunately, I have to decide now because I will have a limited time to return it. Gotta love TRU!" (Link to post: Click Here)
This is another example of bad practices during the fulfillment of online orders. The only way to avoid this problem is to go to a store and pick out the perfect box, which for many people is not possible. Also, brick and mortar stores don't carry every LEGO set. Like I stated earlier, Toys R' Us is not alone with poor packaging techniques. Amazon, eBay sellers and even LEGO itself messes up occasion, but TRU's customer service is the weakest of all major LEGO retailers, so a simple return becomes a major hassle.
Poor Customer Service (Not receiving conformation emails or reward points.)
This is just poor management from the executives on down. They should care enough about their customers and give them at least okay customer service. When customers don't receive their order conformation emails, they are left to wonder if they will even get what they ordered.
TheDarkness had this problem...
"…I have placed 2 orders for TRU under their latest deal. My credit card has been charged, yet I haven't received a confirmation email for either. Neither order show up on my account. I have sent off an email, but have heard that TRU are useless with their customer service…"
This is a major problem for people. Sometimes TRU might just cancel your order out of the blue without giving you any reason why they did so. Another problem is people not receiving their reward points after purchasing from TRU.
Stackables had this issue.
"I have to get this off my chest. I have made 2 purchases over the last 2 weeks and have not received any reward points. TRU is also running a promotion where you get 10% back and double reward points if you use the TRU credit card.
I called them 6 days ago to report the issue. Of course the person I talked to couldn't do anything and forwarded everything to corporate. She told me to wait 5 days. 5 days have passed and in the meantime, I placed another order. Which, of course, I didn't receive rewards for that order either.
That brings us to today. I called, gave them my reference number and told them about my new order problem. The ordeal sent me to 5 different TRU customer service people, 5!!!! Nobody could really help me. Finally the 5th person I talked to said she was going to send the report to the "Rewards" people or something and wait another 5 days. I assume this was probably already done. Absolutely pathetic. I better get something more out of this fiasco.
I have no clue why I keep dealing with them."(Link to post: Click Here)
This shows their customer service is a wreck. You shouldn't have to call them five times to get something done about a problem. Amazon would fix any problem with their transactions almost immediately. TRU needs to step up their game big time if they want happy customers.
The Ugly
This is probably one of the worst stories I've heard about rude employees.
Let's look at Mushedroom's incident...
"So...I was on the hunt for G.I. Joe Kre-O figs and then got swooped up by some LEGO sets that I hadn't seen in my local TRU. The Hawthorne location was a store that had a lot of what I was looking for. BUT…What I didn't realize or know was that there is a caveat with shopping at the Hawthorne location…they are an experimental "bump up" store, where they actually charge more for EVERYTHING! So everything I had purchased was marked up!
I didn't understand why this was the case and immediately I was greeted by a supervisor with a really bad attitude. I inquired about why the prices were different and I even produced a receipt from a different TRU displaying the differences in prices for the minifigs, various small LEGO sets and Kre-O items that I bought at 2 other TRU's before coming to this store and then asked for price adjustments for all of the items I was buying. One of them was a sealed case of minifigs. They grabbed me one and this woman opened it, even after I requested her to not do so, and then half-yelled at me saying she needed to count each out. I told her there were 60 in each sealed case. She even had an opened case on the counter…with all the info she needed but she was being a jerk and opened 1 side of the box, until the supervisor told her to use the already opened one. Then I asked for the empty factory shipping box and she practically threw it at me and all the while she had this vibe about her like I was some kind of badgering/bickering parent and she was a pissed off teen filled with angst…
After she disrespectfully threw the box at me I got upset and firmly called her attention and asked her flat out, "Are you having a bad day?" She responded with, "No, I'm fine. I don't know what you mean." And I fired back with, "Because this...ALL OF THIS…"I can't be bothered with" attitude isn't working for me and I don't appreciate your attitude. I'm about to spend over $300 here and you're acting like my business is unwanted here. Is this the case?" That's when a supervisor came over and said, "I'm so sorry. Do you want another case of minfigures? I can get you one." He started to call the back. I told him no, it's OK, but that I was looking for Walking Dead figures, so he took me to a section in the back and I found some. While in the back I asked him what her problem was and then I laughed because she was a supervisor. He told me that he was her supervisor and apologized for her behavior and then told me to call him whenever I needed anything. I grabbed up about 12 figures and walked back to this woman. Meanwhile she had been price adjusting everything and then began to apologize for her behavior.
I'm not one to kick a dead horse so I let it go, but I was seriously shocked at how POORLY this person acted and she is supposed to be the example of what this corporation is trying to achieve in GOOD CUSTOMER SERVICE. At the end of it all, she had price adjusted everything and again apologized for her attitude. So all in all, I got what I came for, received discounts and price adjusting and even got more items than I was expecting.
Bottom line…
DON'T TAKE ANY KIND OF ABUSE FROM TRU EMPLOYEES. But at the same time, DON'T OVERREACT emotionally. Handling a situation with reserve and poise serves to be a better counterattack." (Link to post: Click Here)
This is pretty sad. If TRU ever really wants loyal customers, they have to start with the employees that directly deal with the customers. Maybe the supervisor was having a bad day, I really don't know, but these stories are far too common to ignore. The customer will probably not come back if you treat them like the lady did.
At least he ended up getting what he wanted. I truly believe this is one of the ugliest things about Toys R Us.
The main ugly issue I have with Toys R' Us is price gouging. They do it because they can hide it with their BOGO offers. Many LEGO sets are marked up 20% or higher over LEGO MSRPs. But if you can find a location with some large sets close to MSRP, then the BOGO can be an effective way to save some money.
Conclusion
In conclusion, TRU is generally thought as a bad place to shop. However, many of us shop there for the BOGOs. Many of us LEGO investors are on the fence about buying from Toys R Us. I am in that boat as well and I'll tell you why. They make the slightly overpriced sets worth it and you can get the bigger sets like the modular and USC Star Wars Sets. They also have nice deals during their BOGOs. I believe I would have a better experience from TRU if I went to a store and I'm willing to give them another shot. Let me know about your Toys R Us experience in the comments below. Good luck investing Brickpickers! – Darth Lego
"Ed"itor's Notes: I have to say that I agree with a lot of points that Darth LEGO made about Toys R' Us and its business practices. Their customer service is weak at best and their prices are usually MSRP or higher. That being said, you can find a very good deal with patience and some research. I bought two 10188 Death Stars a year back on a BOGO 50% off deal. Basically, I paid $300 each for the $400 sets. Not a bad deal. Let's take a look at Darth LEGO's second article..
The Magic Number: Investing in LEGO Sets on Sale
By Darth LEGO
We have all probably had this experience. Waiting and waiting for a good deal on a LEGO set and then before you know it, poof...it's sold out. Now you are left without that set you wanted to invest in and few options other than paying more than the retail price from the LEGO secondary market. I'll try to lay out some tips on when to buy a set and at what price(and % off) when there is a sale...
*** Please note that these tips vary from situation to situation and set to set.***
0-20% OFF: Only get a couple if you are certain it will retire in about the next 6 months or it is in the process of being retired or EOL(End of Line).
*** Monster Sets other than the Haunted House might fall into this range if it EOLs this Summer. ***
11-30% OFF: Once you start getting higher in this range, most LEGO sets are good buys. Just be sure that you won't be able to get it cheaper later.
*** Amazon Lego deals are usually in this range. ***
31-50% OFF: Any LEGO set is basically solid as far as investing goes. Don't wait too long so you don't miss out on the deals.
51%+ OFF: Always buy. You can't go wrong at this % and higher.
So what's the Magic Number(% off) so you won't be left empty handed or buy it too early before the real deals are enacted? I would say 30%. It's not too low so it leaves you more margin for profit, yet it won't probably sell out too fast, enabling you to get at least a couple of them. Themes like Star Wars and Lord of the Rings are going to be more popular, thus making some great deals, harder to find. Some City and Creator sets are more likely to have better deals. How well certain sets sell can vary from store to store which can affect deals on different themes. For example, my local stores always sell their Star Wars stock, but they have consistently had clearances on their Harry Potter and Ninjago sets because they just don't sell in my area. Where you live could be a totally different story and that makes a "good deal" sometimes hard to agree on.
In conclusion, everyone is going to feel different about when to buy a set. I'm just trying to lay out my personal guide and if you guys have any more tips/experiences, please feel free to share them below. Happy investing Brickpickers!
"Ed"itor's Notes: I usually use our Amazon Discounts Page as a good place to start finding deals. A set will catch my eye at 15% off. Then I really start to pay attention at 20%. I usually buy any and all sets 30% off and more, even if I hate the theme. Now, there are some popular sets like the 10228 Haunted House that will just not get discounted that much, so I will have to pay close to retail for that set. I did buy a few 10228s during LEGO's Black Friday's deal for 10% off plus free shipping, so that was a bonus. Just don't wait too long or within a week of being retired, you will be paying 10% or more on a LEGO set that was just on sale. Last but not least is Comicblast's article. Let's check it out...
Out of the Mouths of Babes: Teen LEGO Investing
By Comicblast
Before a person becomes an investor, he must first ask himself, "What am I interested in?" and "What is going to make me some money?" Common answers would be stocks, precious metals, like gold or silver, or even baseball cards. One day I brought this up with my older brother. I asked him, "Do you think I should invest in LEGO bricks and baseball cards?"
He replied, "In 20 years, no one will be interested in cards anymore. I think that people will still be interested in LEGO bricks in 20 years. Plus, it doesn't take as long to make some money."
Smart man...
As many others here on BrickPicker and others throughout the LEGO world, I discovered LEGO bricks upon my 3rd birthday. Now, three might seem like a young age to start playing with LEGO sets, but you see, they weren't mine. I would grab a brick or two here and there from my older brother's collection to make my own. At first they started out small, making a "camera" out of a door and window with a flat piece connecting it. Now that I am 13 years old, I have made much more large scale creations and MOCs, one of my proudest being my own version of Jabba's Palace that I constructed for a contest, but forgot to submit.
From Building to Collecting…
I have heard numerous parents complain about LEGO bricks being "pricey" and saying that they don't buy very many LEGO sets for their children because "once they build it, they take the little people and then put the set to the side, basically wasting my money." This sounds very similar to the experiences of my family. I started out with small bits and pieces from other peoples' collections and eventually received my own set at the age of 6. This was just a little police car and oversized minifigure(everyone remember those Lego minifigs that have "3 stud butts" as I call them?). I probably played with this set for a couple weeks and then set it aside when I got another one and another and another. Soon the sets weren't in any particular order and were just lumped together in a couple totes.
From Collecting to Investing…
Because parents also have made an "investment" into these sets, they are reluctant to throw them away. You, yourself are reluctant because they bring back memories. This basically leads to massive hoarding of LEGO bricks in the attic, basement, under the bed, and between the seat cushions on the sofa. Just like many of the other children across the world, I played with LEGO bricks at least once every couple months. Sometimes my building area would occupy the living room and kitchen, and other times, it would occupy my room. After awhile though, my LEGO-ing took a different turn.
Now, 11 years old, I wanted the LEGO sets that I wanted and rarely took "no" as an answer. Spending 5 hours a day, looking at eBay listings, with the search term, "lego star wars," isn't exactly the life your parents wish you to have, but they somehow persevered.
I am not exactly sure if this is how other parents are, but my parents soon began to limit the amount of "screen time" that my siblings and I could spend on a computer for recreational reasons. They were also very picky about my buying. One of the only ways that I could get my parents to give me permission to buy a set was by opening at least 5 different tabs of the last couple sales for that set. Looking at trending patterns of sets allowed my parents to figure out if I was spending my money well. Another way that I persuaded them to allow me to buy was by saying how good of an "investment" it was to buy it at that moment. Then I, of course, didn't know a thing about investing at all, but I figured it was a big word and I had learned from debate team, that big words make you sound smart, only if you know what that word means. I was learning about supply and demand in Social Studies class, so I included terms like "annual return rate" and "capital gains" into my conversations, which promptly led to me being allowed to buy more freely.
This past year, we were staying at a hotel and we received a complimentary USA Today newspaper every morning. As most of us know, that was the fateful day that BrickPicker was on the front page of the financial segment of the newspaper. On the front page were the smiling faces of Ed and Jeff Mack. Two days later, I joined the ranks of many new investors of MISB (Mint In Sealed Box) sets.
The Afterword…
If you are reading this, you most likely are an AFOL, Adult Fan of Lego. You may be single, married, have kids, etc. Many of you might have forgotten the actual experiences that a child has with LEGO bricks and why a child will keep on buying more sets, since you haven't been a child in 10+ years! This article's purpose was to help you get a better understanding of the perspective of a 13 year old and his love for LEGO bricks and his introduction to making money from this love of the little plastic bricks. I hope you enjoyed it.
"Ed"itor's Notes: I can tell you that I have not forgotten my passion for buying LEGO sets. I was also a very demanding 11 year old. I remember asking for the 375 "Yellow" Castle for Christmas(for the plentiful yellow bricks)....and NOT GETTING IT!!! Oh boy! My mother got me a Technic 951 Bulldozer instead, saying it also had plenty of yellow bricks and that you "can't always get what you want." Ironically, I also asked for and received the Rolling Stones "Hot Rocks" album that same Chrsitmas, with the song, "You can't always get what you want" on it so fittingly. LOL.
I hope that you have enjoyed our first edition of the BRICK BRATS Blog. I will post more articles as they come in. Please contact me with your ideas and articles. Thanks. Ed Mack