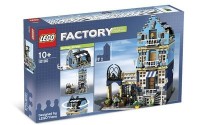 I don't know about anyone else, but I like looking at bulk lots and playing a guessing game about what might be there. Sometimes I can figure it out and come out well, other times I am left scratching my head wondering what other people are seeing that I am not. I usually assume that it's a modular building and shrug it off as my lack of experience with them. However I don't have to shrug it off, I could educate myself.
I begin my analysis by picking out a desirable set. In this case, I have chosen 10190 Market Street. Market Street was made in 2007 and retailed for $89.99. This set was significantly cheaper than any of the other modular sets when it was released. The lower retail cost is probably due to its smaller size. It is 1248 pieces, including 3 minifigures. Market Place was the only modular building set that was not released under the Creator imprint. It was instead released under the Factory imprint. LEGO Factory is the imprint used for a series of sets that were created in LEGO Digital Designer by fans and submitted to LEGO for approval and eventual release.
The original LEGO.com description:
Add Market Street to your LEGO town!
Designed by a LEGO fan, this realistic LEGO Factory exclusive features interesting colors and details like spiral staircases, awnings, removable balconies and a terrace roof. The modular construction allows you to put it together in different ways and to enlarge your LEGO town or city as your collection grows!
Combine with set 10182 Café Corner to expand your LEGO neighborhood!

Designed to minifigure scale!

Includes 3 townspeople!

Build each floor separately and put them together to complete the building!

Top three stories lift off to reveal inner rooms and staircases!

Street base measures 10" x 10" (25.4 cm x 25.4 cm) and the building stands 13"" (33 cm) high!

Realistic features include opening doors and windows, gate, street light, striped awning, fruit to sell at the market and more!
The set comes with printed building instructions which are also available online at www.LEGOFactory.com/buildinginstructions.
In the most recent update of the Brickpicker price guide we see that this set has risen in value to $1461 for a new copy and $631 for a used copy. For an unopened copy that's more than 16X the original cost of the set and even the used copy is more than 7X. I don't know if that used price includes instructions or a box. As we all know, the sets cannot be rebuilt out of just random parts that you find in your kid's LEGO bin. It takes a certain selection of parts, and that's what you or I would look for in a bulk lot to see if this set is present. If you were to buy this set broken down, you'd probably want to check out specific expensive pieces to make sure they were present. If you were thinking of building this set from scratch, what pieces would be the key pieces? I'm going to separate the parts into 3 groups. The first group is the most common pieces in this set. That doesn't necessarily mean that these pieces are common, just that they are the most numerous  in this set. To that end, I will list the parts that occur 19 or more times in this set.  The second group are the rare or expensive pieces. Any piece or minifigure that sells regularly for more than $1 and/or appears in less than 10 sets will make up this group. The third group, are the rest of the pieces, I'm not going to talk about them. There are lots of places including Bricklink and rebrickable.com that you can get a complete inventory, this article is focusing upon the highlights.
If you decide to try to gather the pieces to build this set, you'd be looking at 1239 individual pieces (If the minifigures are treated as a single piece.) Those pieces can be broken down by unique color/part combinations, or elements. This set is made up of 184 elements. When I take an average used price of all elements, I get a total of $366.62. That's not actually that bad considering the cheapest used set I can find is $499. However, one should take into account that most sellers are only going to have a portion of the pieces that you need and each additional order is going to increase your expenditure. Also, as I mentioned, I used the average price, savvy shoppers could find many of the pieces cheaper, but you'd have to make a determination of whether it makes most fiscal sense to purchase a part for more if the seller has more parts that you need or for less from a seller that might not have anything else that you need..
I always have a hard time labeling this section, most numerous, most occurring, most common? I'm going with most common. Anyway, Let's take a look at the pieces in Market Street that you need 20 or more of. We have 13 different elements that occur 20 or more times. I will list them from most occurring to least. I apologize for the times when the image is not the exact part/color combination. Sometimes the image was not available in the right combination. The part will always be correct if not the correct color.
The most commonly occurring piece in this set is 82 Medium Blue 1x4 Brick. Element 3010 averages $.11 and the cheapest seller at the quantity you need is also at the same rate. This piece appears in 54 sets.
The next most occurring piece is Dark Blue 1x4 Brick, element 3010. You need 79 and they're going to cost you about $.27 each. Actually one seller has the quantity that you need for $.21. The price difference is probably due to this part being available in fewer sets at 46.
Medium blue is a dominant color in this set. You need 65 1x2 bricks in that color. Appearing in 89 sets, element 3004 is going to set you back about $.05 each, or somewhere in the neighborhood of $3.25 for all of them.
Averaging close to $.06 (which to me is weird because I have a ton more of these than the previous piece.) Element 2877 shows up in 164 sets. You need 44 light bluish grey 1x2 brick modified with grill.
Dark blue 1x2 bricks cost a little more, averaging $.18. Element 3004 appears in 48 sets. this set require 38 of them.
You need 37 medium blue 1x1 bricks. It appears in 66 sets. Element 3005 averages $.05.
Tan 1x1 tiles appear in this set 29 times. Element 3070b appears in this color in 89 sets. It averages about $.08 each.
You need 28 1x1 round plates in light bluish grey. It appears in 428 sets and element 4073 could cost you as little as $.01 each.
Light bluish grey 1x1 tiles appear in this set 26 times. Element 3070b appears in this color in 161 sets. You're most likely going to spend about $.05 each
Appearing in 153 sets and averaging $.10 is element 3069b. For this set, you need 26 tan 1x2 tiles.
Anyone who loves tiles has to be really excited for this section. Our next part is Dark Bluish grey 2x2 tiles. you need 24 element 3068b. THis part averages $.15 and appears in 217 sets.
It's deja vu all over again. Dark bluish grey 1x1 tiles appear in this set 22 times. Element 3070b appears in this color in 148 sets. You're most likely going to spend about $.07 each
Our final part for this section appears 20 times in this set. The white Window 1 x 2 x 3 Pane appears in 64 sets. Someone has plenty of new element 3854 for $.05 each.
Between these 13 different elements, (~7% of the set) we have 520 pieces (~41% of the set.) If you take the average value of these pieces you're at about $58.64.
Thankfully, there are no stickers. No one really likes stickers it seems, and they tend to cost more than anyone really wants to spend in these expensive sets.
I'm going to split the minifigures from the individual parts that make up the rare/expensive pieces. For the purposes of this article, the rare/expensive label will be any part that is a part of 10 or fewer sets and/or costs more than $1.50 on average. The parts in this section will be listed from most expensive to least. We have 11 parts that meat these criteria.
Our first part averages $24. Element 73435c01 appears in 6 sets. You need 1 light bluish grey Door 1 x 4 x 5 Right with Trans-Clear Glass. We explored this piece in the Cafe Corner. You might be able to find this part in a partial Krusty Krab set for less than $20 though.
You need 4 white Hose, Flexible 8.5L with Tabbed Ends (Ends same color as Tube.) The average for element 73590c02a is about $12. You may want to try looking for Alien Fossilizer 6854 which sometimes sells in the $7 range. This part is found in 4 sets.
When I wrote about the Cafe Corner, I also talked about element 3308. Dark Blue Brick, Arch 1 x 8 x 2 appears in 5 sets, and you need 5 of them for this set. Each one of these is going to run about $6 each.
I feel like I need to issue a warning about element 4095. Light bluish grey Bar 6.6L with Stop Ring (Patio Umbrella Stand) might be replaced by element 63965. A $6 part could be substituted by a shorter $.12 piece. Thankfully, you only need 1. This part appears in 21 sets including 10179 Millennium Falcon which is why such an undistinguished part is so pricy.
The counterpart to our earlier door is light bluish grey Element 73436c01. The Door 1 x 4 x 5 Left with Trans-Clear Glass appears in 5 sets (including the aforementioned Krusty Krab.) It averages $6 each, probably cheaper because it is not in the Cafe Corner. You need 1.
Dark bluish grey Baseplate 16 x 32 is part of 23 sets. Most of those sets are fairly large. You need 2 element 3857. It averages a bit more than $5 but several sellers have a large quantity for less than $4.
You need 10 Window 1 x 4 x 3 Train with Shutter Holes and Solid Studs on Ends. It appears in 14 sets including 10173 Holiday Train. Each element 6556 averages $5.
Element 2039, White Lamp Post, 2 x 2 x 7 with 6 Base Flutes is almost a staple of the Modular theme. It appears in 21 sets and runs about $3.60, you only need 1.
I'm sort of confused why there's an Exo-Force hairpiece in this set. I guess, it would look interesting as a houseplant, or maybe Mr. Greenjeans wears it on the weekend. Anyway, you need 1 Bright Green Minifig, Hair Angular Swept Back. This part appears in 8 sets and is part of 3 minifigures named Takeshi. Element 53982 averages $3.50, despite the fact that Takeshi can be found for less.
You only need 1 element x39c02. The black Door 1 x 4 x 6 with 3 Panes with Trans-Black Glass appears in 9 sets and you can get it for $2 or less used. (New, this thing is over $11.)
So, I guess this set might double as a Harry Potter set? The black Owl Large, Rounded Features is found in 10 sets. Element 40232 is actually in mostly Harry Potter sets (8). On average it sells for about $1.50.
So the minifigures are unique to this set. How unique are they? As we saw with the Green Grocer, all of the minifigures shared parts with other pre-existing figures. We'll look and see if the same holds true here. Before I get into the breakdown, let me share with you a bit of trivia that I read. This is the only modular set that uses faces that are not the basic smiley face. Each of these minifigures has an individual personality.
Our first minifigure is twn045. Dark Blue Jacket, Light Blue Shirt, Dark Bluish Gray Legs, Square Glasses, Dark Tan Female Hair. I'm going to call him Roger. Now Bricklink says that his shirt is light blue, but I think it's white paint on top of dark blue plastic. I think it's supposed to be a white shirt. You're going to be able to get him in the $6 range. When I price out the parts though, I'm looking at about $2 in parts.
I'm going to call the next one Wendy. I have no reason for it, but I hate referring to the figure as Medium Blue Jacket, Dark Blue Legs, Reddish Brown Ponytail Hair. Wendy is not a number, she is a human being, so don't call her twn044 either. Wendy's not a cheap date, She's going to cost you about $17 on average. What makes this figure so pricey? I made a mistake when I wrote about Cafe Corner when I said that twn040 had a unique torso print. It's definitely not unique since it is shared by 8 minifigures. That's actually a lot of minifigures to share a part with. However, those minifigures all seem to be part of somewhat expensive sets. You won't find the torso piece for less than $12. (Keep your eyes peeled for twn024 which seems to sell for less than $10 frequently if you want to grab the torso for cheaper.) The rest of Wendy's pieces are less than $1 total.
I want to call this guy Mr. Greenjeans. I know, he's got on overalls instead of jeans, but I don't have something for green overalls. Wilbur? Anyway, ovr032, Overalls Green with Pocket, Green Legs, Light Bluish Gray Male Hair is the cheapest of the three. I thought Roger was boring, but Mr. GJ is super dull. He's in the $4 range. His parts are about $2.75 with the torso being responsible for $1.75 of that.
If you feel like your set's not complete without instructions, you can find a set, but it's going to run you about $200.
I was unable to find data for the box having been available anytime within the past 6 months. I can't make an accurate estimation of the value.
If you would like to discuss this set, please join the conversation.
All images are the property of Rebrickable.com, Bricklink.com, and the LEGO Group.
If you liked this article, please check out the others in the series:
10019 UCS Rebel Blockade Runner
6