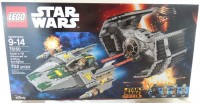 I've built both the A-Wing and Darth Vader's TIE Fighter before. Neither build had previously done a lot to excite me. I remember building 7150 TIE Fighter and Y-Wing back in 1999. That particular build colored my perception of Star Wars LEGO for the next decade and change. I also built 8017 Darth Vader's TIE Fighter which was miles better and 75003 A-Wing Starfighter. None of them really excited me enough to keep. I wish I had held onto them in order to compare and contrast, but that's the breaks. I didn't really need another Darth Vader or another Sabine Wren without her helmet. It feels overpriced. The original retail for 75003 was $24.99 and 8017 was $29.99. But their piece counts were 177 and 251 respectively. This set is more than 270 pieces more than both of those combined. Is it worth $35 more?
REVIEW: SET DETAILS
Set #: 75150
Name: Vader's TIE Advanced vs. A-Wing Starfighter
Theme: Star Wars
Parts: 702
Price: $89.99
BOX CONTENTS
Some people may wind up picking up a set that is open box or, want to verify the box contents before beginning a build. For this set, there are 7 numbered baggies (numbered 1-6 with duplicate bag 6) and a bag containing stickers and a pair of instruction books.
BAG 1: Instruction book 1 is all about building the A-Wing. When you begin construction of this fighter, it's different from previous versions of the ship, or most of your average Star Wars ships. You create a tile platform below a set of railing. It's pretty obvious that something slides here, but what and why? 
This segment appears to have be the part that slides. I'm not sure if it's the impeller or impelled.
It appears to be the lever. The base of the fighter appears to be the platform that the upper section slides upon. You may notice that more of the body shape is being filled in, but it's quite a few steps before it looks like the end product.
It's sort of hard to see here, but there are a pair of spring missile launchers underneath the front. The slide appears to be part of a completely hidden feature to launch the spring missiles. I like that it's unobtrusive. I actually couldn't picture what an A-Wing looks like at this point in the build. I had to pick up the box again to try to make it out.
Underneath of the chassis is a pair of rubber bands. This prevents the top from sliding on its own and launching the missiles by accident. I like that the slide feature isn't loose.
And here's the end of bag one. It's not much yet, It's a lot more complex than the last A-Wing that I built though. 
Bag 1 also contained the 2 hero minifigures, Sabine Wren and an A-Wing pilot.
BAG 2: I like that the details are green. I get a little tired of the white grey and red of most of the Star Wars universe.
You expand the body and fill it in. It really begins to bulk up from here on out.
You add slopes to continue shaping it, but to me, it still doesn't look like the ship I remember.
Bag 3: I love these new wing pieces. I love the way these engine pods look. You guild them out separately.
You snap the engine pods on. They pivot somewhat which is kind of offputting, but look great.
Make a duplicate/mirror image engine pod. attach it in the same way with a hinge.
You make the gun pods separately. They seem a little large to me.
The guns rotate, reminding me of the old Kenner A-Wing. It looks great to me. The action feature is nice in that it is hidden. There's no dial or lever or hole. For a smaller build, it had a lot of stickers.
BAG 4: You begin the build of Vader's TIE Advanced. You also begin Instruction book 2. As you can see, there's 2 spring missile launchers fairly early in this build. Since you can't really do round, of course you use slopes.
There's a lot of random colors that will be hidden in the final build. I don't really understand why there's tiles in here. Vader's got a comfy seat and a Battle Droid torso to steer with.
You have to frame the TIE Fighter because the TIE Advanced has a lot of extra bulk.
It looks like the tile is there to let you slide a sideways slope on.
Youngish Tarkin and Vader inhabit bag 4.
BAG 3:  I'm going to call this section the Hyperdrive. Maybe it's the shield generators. What kind of Star Wars geek am I that doesn't know what this section is for? Anyway, it's the part that sticks out from the back, making it obviously different than most TIEs. That's what makes it advanced. Maybe it's just the advanced stickers.
Where 8017 used various pieces of kibble (or greeblies if that's your thing) this one has a couple stickers. Sort of disappointing from a build perspective.
It's kind of hard to see here, there are 2 technic pieces that act as triggers for the spring missiles.
You fill in the body shape and snap on a couple rounded hatch covers. I like the forward hatch a lot better than the old style cockpit piece. The upper one is larger and more detailed than before too.
BAG 6:
there's 2 different attachment points for the wings. There's an axle hole in the center to hold the axles sticking out of the main build. You also have a post attached to the wings that slot into the ship.
Filling in the back of the wing was actually kind of fun. I liked the variety of pieces used to match the shape.
Grab the second bag because there's a X2 at the end of book 2.
Snap the wings in place and put the spring missiles in. Vader's TIE is complete now.
REACTION:
The individual builds are satisfying. I think that they look good and represent the vessels well enough. The size of Vader's TIE seems a little puny.It really seems that, for the cost, they could have made it a bit bigger. I honestly liked the puzzle aspect of putting the inside of the wings together. Remembering how flimsy the first TIE's wings were, this is a definite improvement. Plus, no blue.
The A-Wing is satisfying in the build, but doesn't necessarily look to me like what I think of . The cannons are bulky, the body is stubby and not too sleek. But, when I look at pictures of the Rebels A-Wing, it's all accurate enough. When I thought that it would work well enough for an original trilogy display, it's going to be a bit off.
Ok, so I'll talk about value for money. $90 is a lot for 2 smallish ships. The price per piece is high and there are no large pieces to offset the cost. The number of minifigures is low for the price point. For $90 we're overpaying for a few unique minifigures and a couple of redone ships. $65 or $70 seems more in line with what you get. If it weren't for coupons and discounted gift cards, I'd feel really put out by the cost of this set.
Vader's the same as the Death Star Final Duel with the white head and the 2 piece mask. I didn't review that set, so I'll say what I would have said then. The design of the helmet causes it to tilt up ever so slightly, so Vader appears to be looking up. The head in white seems a little goofy to me, but that's a personal thing. I understand it entirely, but neither of these are changes that excited me.
Tarkin really reminds me of the 12th Doctor. Probably because of the hairpiece. The tan costume is a weird choice. I don't think that he's even depicted in that color in Rebels. Kind of a fail for me from top to bottom.
The female A-Wing pilot looks good. She's functional as far as troop building, and since her body isn't decorated to be obviously feminine, you can head swap to fill out any number of aliens or others.
Sabine Wren is almost entirely different than the previously released version. I think the body deco is better on this one and the black sleeved arms is better than the flesh arms in the previous versions. I hate the hairpiece used. I wish she came with her helmet. I'd rather have a Mando helmet than that ugly hairpiece any day.
FINAL THOUGHTS:
At $89.99 this should be a pass, unless you're hardcore. I don't know how long after retirement it will be before it even reaches MSRP. This set should be clearance fodder. OT purists will be disappointed that they took liberties with the designs. I expect that there will be discounts for a while. I just don't see huge potential on a set that was way overpriced from the beginning.
EXTRA PIECES:
Most of the extra pieces are exactly the ones that you would expect. I didn't picture the brick separator, but rest assured, there is one. The lower part of Vader's mask has low utility.
Please take a look at the other Star Wars Reviews:
2