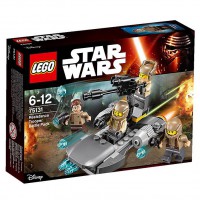 I happened upon some of the new 2016 battle packs almost an entire week before their street date. I was excited to get a jump on them and to increase my personal armies.
REVIEW: SET DETAILS
Set #: 75131
Name: Resistance Trooper Battle Pack
Theme: Star Wars
Parts: 112
Price: $12.99
Before we get to the build, let's talk value. At $12.99 the price per piece works out to a bit over $.115 each. This is on the high/medium side of pricing for a licensed set. There are 4 minifigures, all of which are, surprise surprise, Resistance Troopers. Okay, I stretched a point. The guy without the helmet is a Resistance officer. I cannot tell for sure at this time, but I think most of these figures are unique. (I will edit once I have clearer pictures of the Resistance Troop Transporter or one in hand.)
BOX CONTENTS
Some people may wind up picking up a set that is open box or, want to verify the box contents before beginning a build. For this set, there are 2 unnumbered baggies, a 4x10 light bluish gray plate, and an instruction book.
Now before I continue, I want to take a moment to talk about the box, which I almost never do. They have redesigned these smaller set boxes to be taped closed instead of glued. There's no punch out area on the back for you to messily tear apart your box, instead, you can cleanly cut open the seals and collapse it for storage, if that is what you do.
THE BUILD AND EXECUTION
So, the first thing that you build are the minifigures and the guns. I'll go more in depth about the minifigures in my reaction. I do want to talk about these helmets. It's a 2 piece helmet with a transparent yellow piece inside that creates a visor. I don't know why there's a hinged jaw piece. I don't think it's purely aesthetic, there has to be a reason for it, besides adding piece count. I do think that this helmet on its own looks good.
So, for now, I'll talk about the guns. The standard stud shooters are back. This time, to make them different, we've added an additional handle to the backs of 3 of them. Don't they look so rifle-y? Rifle-ish? Whatever, they're still ugly.There is one interesting thing to note. Building the 2 Force Awakens Battle Packs back to back allowed me to recognize that LEGO gave the bad guys red studs to shoot, and the good guys blue. Either way, I still hate these things. As a parent I really hate for my kids to play with these things too.
Now, on to the secondary reason that anyone would buy this set, the construction. We're going to be building a kind of landspeeder with a cannon. "What, like the amazing Flash Speeder?" you must be asking. Well, yes, only much smaller. So, as with anything, we make the base that everything else rests upon. On the underside, we attach those little 2x2 domed rounds so that it "glides"
Layering, layering is the key to a good lasagna. You have to put the right stuff on in the right order or it's just a mess.
Once you've stuck enough pieces on the back, you can attach your engine pods. I don't know why landspeeders have engine pods, it seems like military vehicles with their propulsion stuck way out to the side like that are just asking to be crippled and stranded on a battlefield.
Don't forget an open cockpit and a weak looking stand for the cannon.
I guess those blue things on the front are lasers?
It appears that I have forgotten to take a picture of the cannon. It's just another 1x2 modified plate with a stud shooter that has more stuff attached to make it look cannonish. The control stick of the landspeeder is cartoonishly short, so the poor driver will never reach it.
REACTION
I was not a fan of this set. For me, the highlight was the Resistance officer. His design looks like a uniform. he looks good, even if he only wears browns. The other troopers are not too exciting. I think if you remember back, I referred to their predecessors in the 75103 First Order Transporter as space farmers. Looking at these guys in their helmets, I can see that was unfair. With their tan helmets on and their tan and gray uniforms, these are the most bland army in the galaxy. The only interesting thing about them is that one guy has a huge moustache.
The vehicle is just small and lame and, to the best of my recollection, never appears onscreen. The resistance troops do nothing onscreen except mill about and dash from place to place. I guess the tan and gray infected them and left them largely ineffective, which is probably why they show up after all the Stormtroopers are dead.
FINAL THOUGHTS
There's not a lot to recommend this set. The Resistance troopers will be good for displays and troop builders. Minimal screen time or action involving these guys will put a damper on the casual collector buying them. The only thing going for this battle pack is that it's kind of the cheapest thing out there for the Force Awakens in LEGO that will be easily found. If the film producers don't redesign the Resistance uniform, then these guys will probably (hopefully) play a bigger role in future Star Wars films. If they do, then a battle pack of 4 of them will pick up. If they are redesigned (like the rebel uniforms were in every original trilogy film.) This will be a bigger dog of a set than a clone wars battle pack.
Of course, this set will sell at retail. mom, dad, grampa, grandma, and little Timmy with a small allowance will pick it up. I anticipate slow growth and low returns post EOL. (At this time, Amazon does not have a listing for this set. when they load it, I will happily add the link.)
Check out the companion 75132 First Order Battle Pack review
EXTRA PIECES:
Edited by thoroakenfelder