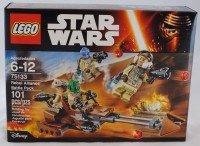 The Rebel Alliance Battle Pack is not based on anything in the Star Wars films. It's a set of expanded universe figures based upon the game Battlefront. I'm generally hesitant about battle packs, the builds are an after thought to the minifigures. The builds are forgettable and look generally like nothing you'd like to have as part of your display. I'm even more hesitant to build a Star Wars set without anything canon. LEGO has given us more of the same. In my review of 75133, we'll see if it's not just that. Hopefully it's something truly interesting.
REVIEW: SET DETAILS
Set #: 75133
Name: Rebel Alliance battle Pack
Theme: Star Wars
Parts: 101
Price: $12.99
Before we get to the build, let's talk value. At 12.99 the price per piece works out to more than $.12 each. This is on the higher side of pricing for a licensed set. There are 4 minifigures in this set, all unique.
BOX CONTENTS
Some people may wind up picking up a set that is open box or, want to verify the box contents before beginning a build. For this set, there are 2 unnumbered baggies and an instruction book.
Speaking of boxes, did you know that these glue sealed boxes have a date stamp on the bottom? This set has a stamp of 50R5. It's strange to me that it took so long for me to realize it.
BUILD AND EXECUTION
I hope that people are amused enough by watching minifigures building sets that they like these pictures. My 6 year old thinks that this type of stuff is really funny.
It's been years since I built a speederbike, but it turns out, it's kind of exactly like I remember.
These guys work well together and don't separate by species, so yay for the Rebellion. We're all inclusive here.
Let me take a moment as an aside about the number of parts in this set. 101 parts sounds like an adequate size for a small vehicle, right? Well, 101 pieces includes the 4 minifigures and all of their accessories. Between the minifigures, jetpacks, stud shooters and ammo, we subtract 37 pieces. More than 1/3 of the set is already X'ed off.
Several 2x4 tile pieces are a welcome addition for folks who part these things out.
The body of the speeder is really coming together. Goggle helmet is checking the underside.
I was curious about the plate with the axle pieces.
I like the flat silver lances. They're in a lot of fairly new sets, but I think Castle fans will want them. 
You build some controller rods out of battle droid arms, they actually look nice. Another stud shooter on the back. I really don't like stud shooters.
All done, time to ride.
REACTION
I got this set hoping that the novelty of unnamed alien Rebel troopers would be enough to make me interested. Unfortunately it really wasn't. The printing is well done, but dull to look at. It's basically just the Endor trooper print done on tan. Ugh, tan does nothing to make people interested. The mix and match torsos and legs give the illusion of uniqueness. The 2 person speeder was uninteresting. I could see it showing up in the background of someone's display. It would be more of an afterthought I think. I did like the use of the A-Wing pilot helmet. I just wish that I could have liked this more. As far as it goes, I'm just going to dump all of these guys on ebay and get my money back. The speeder's not even worth throwing on ebay so will be disassembled for parts. I should know by now that battle packs are great for cheap gifts, not for collecting. If they wanted some species diversity, they could have thrown in a Twi'Lek or a mon calamari. Maybe a future battle pack will have those.
FINAL THOUGHTS
Battle Packs have their place in the universe of Star Wars LEGO sets. They're cheap, you get a bunch of minifigures, and they are easily found. Grandparents, parents, and friends love giving these little sets as presents. 4 army builders usually work well for collectors. The big problem is that unlike 75131 and 75132, this set is not full of characters from a movie or even from a cartoon. These are Expanded Universe figures and that means that they are going to be lowest rung of the collector's ladder.
I expect to see a good number of these on clearance when the time comes. I do not anticipate them to become very sought after long term. If they double in value before they get to 3 years post EOL, I'd be surprised.
EXTRA PIECES
You get an extra 1x1 printed tile from the back of the jetpack. The extra studs from the stud shooters belong here, even though they are a part of the official piece count. Extra goggles and a black mechanical arm are the only other pieces of real note.