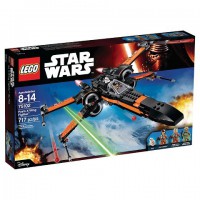 A short time ago in a toy store not too far away . . . I was looking at this set on Force Friday and wondering if this set was worth getting. I haven't seen Star Wars the Force Awakens yet, so I don't know if this is Poe's primary fighter, or if he loses it 20 minutes in, like Obi-Wan and Anakin in Revenge of the Sith. It's $20 more than the previous X-Wing 9493, which I felt portrayed the X-Wing adequately. I knew I was likely to get this eventually when it went on sale, but I fear I fell to the dark side.
As a countdown to the Force Awakens, I will be writing at least one Star Wars review each week.
REVIEW: SET DETAILS
Set #: 75102
Name: Poe's X-Wing Fighter
Theme: Star Wars
Parts: 717
Price: $79.99
Before we get to the build, let's talk value. At $79.99 the price per piece works out to a bit over $.11 each. This seems to be on the low average side of pricing for a licensed set. There are 4 minifigures, of which 3 are unique. (I am counting the tiny BB-8 as a minifigure. It is the only reused figure)
BOX CONTENTS
Some people may wind up picking up a set that is open box or, want to verify the box contents before beginning a build. For this set, there are 5 numbered baggies, a sticker sheet, and an instruction book. The instruction book is nice and thick. It's square bound: The stickers are plentiful and in some cases small, which will make some collectors unhappy.
THE BUILD AND EXECUTION
There are some new elements in this set. I will focus on the most obvious ones. First are the helmets. The new helmets are nice. They've got plenty of decoration and the pilot helmet has an interior piece that is transparent yellow. Now, your pilots don't need a weird orange stripe on their heads to look like they have a visor.
The other new piece that I want to focus on is the cockpit canopy. This canopy has been the focus of a lot of discussion, because a production run of this set had a defective canopy. This caused a recall that created a shortage of this set initially. This part is a beautiful piece. It fits the design aesthetic of the X-Wing better than the part 30372 that has been used since set 7140 back in 1999.
Bag 1 creates the utility sled, a movable ladder and the base for the X-Wing. The little cart reminds me of the larger cart that was part of the 7140 build. Neither one is integral to the overall build of the X-Wing, but add a little bit of background details for displays or dioramas. The ladder is very simple, and a great element for displays. Until now, X-Wing pilots had to either stand on other people's heads or force jump to get into their craft.
Bag 2 continues to elongate the body, filling it out and developing its shape. So far, there's not a lot of difference from what I recall of the 9493 build.
Bag 3 has the most pieces so far. the body is fully developed now. Long and sleek and black and orange. The pins sticking out of the back are for later, attachment points for the wings.
Bag 4 we create 2 of the 4 wings. Disappointingly, the wings are not front/back like they appear in the trailers for Star Wars, they are slightly offset top/bottom. A lot has been made about the use of blue bands instead of white. For me, white would be just as jarring, red might blend in better, or black. But, honestly, I don't care about the color of that particular element
Bag 5, maybe as many pieces as bag 3. You create 2 more wings, engines for all 4 and laser cannons. The interesting thing is that the 4 wings are built in different orders. In order to not seem too cookie cutter, the designers took pretty much the same pieces and had you arrange them in a different sequence to get pretty much the same result. It's amusing that they put that much effort into it. I know that each of the wings is a unique build, in like previous X-Wings that would have had 2 separate builds for offside wings, but the sections of these wings that are the same read differently.
There were a lot of small extra parts, nothing really interesting, just the pieces you would probably expect.
REACTION
Well, it certainly is X-Wing like. I was happy that my set didn't have the defective canopy. It's a nice set, the detailing is good, and the minifigures look great.
This is not an entirely successful representation of the X-Wing from the upcoming movie. Those X-Wings appear to have a truncated, snub nose compared to this much longer one. It seems to me that the designers tried to take a shortcut by starting with the 9493 build and trying to alter it. The wings don't meet in the middle and separate front/back. So, while it was an interesting build and looks good, it is not exactly what I wanted it to be. The places where it succeeds, it really  hits the mark, smoother lines and better details than the 3 year old 9493. The Stud shooters on the sides of this one were slightly more successful proton torpedo launchers than the things hooked onto the side of 9493. More hidden studs should appeal to those who don't want their models to look like they are built from LEGO.
FINAL THOUGHTS
I frequently compared this set to previous offerings, 7140 and 9493, because some of the design aspects were direct call outs to the previous ones. Collectors have already been calling out the differences and appraising the value of this one versus the previous one. The disparity in retail price will give some pause to consumers. a 33% price hike from a similar set that was still available 1 year ago may give them pause. The price per piece is fine and shouldn't give pause.
Long term value is a very hazy question. We are standing on a precipice when it comes to Star Wars sets. For 16 years sets have been produced, sometimes to coincide with the release of a film. When each new film was released, the initial offerings were fair to poor representations of the new vehicles. The majority of these sets would later be remade with new techniques and new elements and were generally better sets on subsequent offering. Now, for the foreseeable future, there will be a new Star Wars film every year. Each of those films will call for their own new offerings, whether they are remakes of older sets with different minifigures (the speculation for Rogue One is that there will be Death Star and X-Wing and TIE Fighter sets from the original trilogy time frame) or entirely original designs, there is less space to recreate sets for older movies.
The Force Awakens features a variety of X-Wing fighters in a variety of colors, so we are likely to see more of the "new design" X-Wings, and if Poe appears in later episodes, he is likely to continue flying an X-Wing, so we'll probably see updates then. Updates/rehashes/re-releases are the death of long term value. The X-Wing set will probably have a huge demand for holiday 2015 with the release of the film only a week before Christmas, and the initial shortages, I can see a run on this set. I cannot see a long term investment value on this set at retail. You have to get discounts, and possibly significant ones if you want to see acceptable returns. With Episode VIII only 2 years away, the turnaround time to realize significant gains could be incredibly slim. If we assume an 18 month life span, it should retire in March 2017. If they have a Force Friday type release in September of that year, you have something like 6 months before I expect to see a new Sequel trilogy X-Wing.
It's a nice, fun set. Jimmy and Johnny and even AFOLs will want it this holiday, so QFLLs might have a field day in the weeks before Christmas. It looks good with 9493 and will be more in demand as the Star Wars hype reaches fever pitch. The new characters Poe and BB-8 will be fairly popular for at least the short term.
COMPARISON
I decided to take some pictures so that you could see what the 75102 and 9493 look like together. You can see the similarities and the differences.
Edited by thoroakenfelder
3