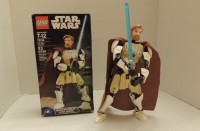 Let me start by saying that I had no real interest in this set, or any of the constraction figures when it comes down to it. I got this set as an open boxed item as part of a Shopgoodwill lot that I actually wanted. I figured that I could try selling this set for some small amount, since the box was destroyed, or try building it and see if it changed my mind.
REVIEW DETAILS
Set #: 75109
Name: Obi-Wan Kenobi
Theme: Star Wars Constraction figure
Parts: 83
Price: $24.99
Before we get to the build, let's talk value. At $24.99 this is the 3rd most expensive of the Constraction sets. The baseline seems to be $19.99, which is where Jango Fett, Commander Cody, and Luke Skywalker fall. So, this figure must have more parts or something to justify a 25% increase, right? Nope, the 3 previously mentioned sets have similar piece counts, and one can only imagine similar construction. The only difference is that Obi-Wan has a cape. Is the cape worth $5? Not in my mind. The price per piece works out to a bit over $.30 each, which seems terrible for those looking to be about $.10 per piece. So far, my mind has not been changed.
THE BUILD AND EXECUTION
The build is incredibly simplistic. You create an armature and just clip decorative bits all over it. This creates a fairly articulated figure, but that figure is ugly. Angular chunks and bits with gaps all over really don't interest me in a humanoid clothed figure. I am sure that the aesthetic is better with armored or robotic characters, but this is not one of those. The waist seems awkward, but I can tell it's designed to look like the lower part of his tunic.
My 6 year old helped me with this set, because she saw what I was doing and wanted to be involved. It was much easier for her than comparably priced sets like 75099 Rey's Speeder.
So, after the figure is done, does it look like what it's supposed to? Pretty much. It looks like a stylized representation of Clone Wars Obi-Wan Kenobi. When I think of him as the animated Obi-Wan, the angular features and armor pieces make more sense. They are not as awkward as Luke Skywalker.
REACTION
I still don't like these models. My wife and daughter both thought it was cool, but as a longtime Star Wars collector, I know that Hasbro makes a comparably priced line of figures that have greater detailing and similar articulation. Hasbro's figures are considerably smaller at 6" but to my eye look better.
I don't think that this line is for adult collectors. I think with the simpler build and greater play value, it's designed for kids. One might argue that most LEGO building sets are designed for kids, but this one really shows a lack of style and ingenuity.
FINAL THOUGHTS
This set has many drawbacks in my mind. A higher than average price point, a simplistic build, and it's part of a new subtheme that was created just for the sake of having something different. I'm sure that some people will dig these, but I doubt the mass appeal. Of the Super Heroes that were created similarly, there's a few long term winners, but I remember a lot of those hitting clearance and sticking around a long time.
With this being a part of the first series, if they do take off, the longer reaching value should be a modest increase, in my opinion. I haven't heard anyone say that they really wanted this set or the Luke. I can see there being demand from completists later on, and with a lower demand now, the population will be lower than Vader or Grievous.
This set will either sit on my shelf until I decide to dump it, or will go to my kids. I don't know that I could get more than a few dollars for it now. I'd say stay away, you'll see plenty on clearance. Even then, wait for deep discount.
Edited by thoroakenfelder
2