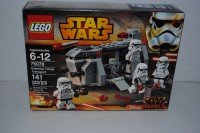 As a countdown to the Force Awakens, I will be writing reviews on Star Wars LEGO sets this week.
Today, we are going to be looking at a set that I have opened a fair number of previously. I have only built it once before, but at the time I felt like that was enough. Luckily I had a couple that I bought on discount to fill in on a day when I wanted to bang out a quick set and a quick review. I made an "artistic" decision with this set to portray the minifigures involved as building the set. Hopefully it's more amusing than annoying. 
REVIEW: SET DETAILS
Set #: 75078
Name: Imperial Troop Transport
Theme: Star Wars
Parts: 141
Price: $12.99
Before we get to the build, let's talk value. At $12.99 the price per piece works out to a bit over $.09 each. This seems to be on the low side of pricing for a licensed set. There are 4 minifigures all of which are Stormtroopers. The Stormtroopers have 2 different expressions, frowning, and very unhappy. The frowning ones are exclusive to this set.
BOX CONTENTS
Some people may wind up picking up a set that is open box or, want to verify the box contents before beginning a build. For this set, there are 2 unnumbered baggies, a 2x12 Light Bluish Gray Plate, and an instruction book.
THE BUILD AND EXECUTION
So, here we go, No numbered bags, time to open them up and dump them in a pile. I dislike this method of building larger sets, but on smaller sets, I guess it's fine.
It looks like I have a helper to put this together. Maybe he has some friends who can  help.
Now I was just thinking of a conversation in Clerks where Randall says "You think the average stormtrooper knows how to install a toilet main? All they know is killing and White uniforms." Well, let's hope these guys are better at making their own crafts than installing plumbing.
The basic size of the vehicle is very small. There's no driver's compartment, and the shape is moderately reminiscent of the Kenner toy that they show based their design on.
The front and rear have some interesting shapes. Nothing is terribly complex with this build. Honestly if I weren't taking pictures of Stormtroopers building it, the review would be very short.
The crew area is 4 slots on the outside. It has 2 flick missiles on top  in a rotating turret.
There were 4 extra pieces. Actually, that's kind of a relief, I get a little tired of seeing all of the extra studs. Speaking of Extra studs, there are 4 in the box in the center of the vehicle. I did not include them in the extra parts because the instruction book indicates that's where they belong.
REACTION
Back before this set was released, I was excited. The version in Rebels and the original Kenner version indicate a nice midsized vehicle, probably in the $20-$30 range. I understand that LEGO makes a small, inconsequential thing for their battlepacks, but this was never the thing that I wanted. It's ugly, it's short, it's squat and cannot hold the proper number of characters. Plus, I hate the stud shooter guns.
The minifigures are great, army builders to a man. Basic Stormtroopers without odd decorations that you never see on screen are awesome. That's probably why I have opened like a half dozen of these sets. I just need to give them real blasters.
FINAL THOUGHTS
Troop Builder packs have limited growth potential. They're cheap to begin with. The figures are usually commonly available in other places, and at the price point, they are easy impulse buys, so are massively produced. All of that said, Basic OT Stormtroopers are always going to be needed and popular. I could see the Episode VII toys eclipsing these for a while in popularity, but when Rogue One comes out, people will want their classic troopers. I would never stock up on these for resale at MSRP, but if you can get them at a discount go for it. They don't take up a lot of room. I foresee moderate gains post EOL. Something we probably won't see with the PT/CW/EU battlepacks. Maybe it's just me, but I don't think a Stormtrooper should be black or have red on him.
The customers that you will be looking for in future just want to build a scene, the bricks will be nice to try to MOC a better Troop Transport with, but the 4 Stormies will be what drives the sale of this set.
Edited by thoroakenfelder
1