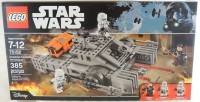 As a lifelong Star Wars fan, I know that I am either supposed to be super excited by every new thing or super critical of them. Isn't that the way that fandom works? Love the innovation or hate the fact that it's not just like the stuff that I loved when I was 7. I'm cautiously optimistic about Rogue One. The Hovertank however struck me as a bad design. It's dull and boxy. It makes me think of nothing so much as a much more boring version of the Republic Fighter Tank. I got to thinking about it, and maybe I was judging it too harshly. So, I got one to build for myself and see if it turns out to be better than I expect.
REVIEW: SET DETAILS
Set #: 75152
Name: Imperial Assault Hovertank
Theme: Star Wars
Parts: 385
Price: $29.99
BOX CONTENTS
Some people may wind up picking up a set that is open box or, want to verify the box contents before beginning a build. For this set, there are 4 numbered baggies and an instruction book.
BUILD AND EXECUTION:
BAG 1: The first step is always to create the base of the vehicle. I assumed that the 4 axle holes here were for wheels of some kind. Invisible wheels to make it hover.
I like that they are placing the spring missile launchers so deeply into the build. The more recent sets have done a good job with hiding the boxy launchers and the tails of the rockets. This tank is a 2 seater.
With all the studs on front, I would expect some kind of decorative panel to be forthcoming.
We're creating more of the boxy shape. Sure, there's some slopes,but for the most part it is a box to store a couple drivers so far.
So, we add an upper hatch and a couple cannons. I feel like these cannons are underwhelming. 
In bag 1, you also create Chirrut Imwe (Sorry, I don't know how to make the fancy letters.) You also make his staff and his crossbow rifle thing that's not a bowcaster.
BAG 2: First, you create the hood, I guess you could call it the hood. It hinges upwards, completely obscuring everything. There's a slightly different technique for the grey round piece here. There's not a single control surface inside of this tank.
This appears to be the beginning of the drive system for the tank. In an effort to make it less boxy,they're just adding some square stuff to the sides.
I don't know if you can call this decorative or not. I guess it has assorted different shapes and colors, but it doesn't look terribly interesting.
I guess it looks better with the big side cannon.
You put together some kind of vented decoration for the front. You also add clear wheels so that it can "hover."
Snap the 2 assemblies together, and you are half done.
BAG 3: You start by creating a mirror image of the last portion of the build.
Everything is the same, but mirrored.
Just trying to show a slightly different set of images than previously. Note the gear, it's the trigger for the spring missile.
When you snap the assembly on, you realize how small the crew compartment of the tank is.
You also put together both Tank drivers.
BAG 4: Well, it turns out, this isn't so much a tank as a flat bed truck. So, we're going to build out the bed.
There's a lot of attachment points for stuff here. Instead of just leaving regular studs all over, they designed it to have the easier to remove jumpers.
Add some fins and the body of the hover tank/truck is done.
We build a storage container. It's fairly simple construction, but the space inside is incredibly small.
You can fit a pistol and a pair of binoculars inside and that's about it really.
Just attach the storage to a pair of jumpers, and you are ready to go.
REACTION:
I like that you can attach the rifle to the top like a .30 caliber on a modern tank. I feel like this set doesn't really remind me of a tank. The cannons on the side remind me of the Tank Droid, but that's just superficial. The design of the hovertank isn't terribly interesting. I had hoped that it would be more than a block of grey bricks, but no such luck. I don't really blame LEGO for that though. The production designers should have tried to get a little more style in.
Chirrut Imwe looks good. He's got a skirt and dual sided head and torso. He's got a stick and a fancy gun. He's got one hand that's a different color. The character has a sort of gauntlet on, so I guess that's why he has a white hand. Donnie Yen's character is supposed to play a crucial role in Rogue One. People who want all of the mains from this movie will definitely want him. He's not selling the set for me though. Maybe when I see Rogue One, my opinion of the wannabe Force user will change.
The Hovertank Pilots are just sort of there. To my eyes, the helmet is fine but not really necessary. The body decoration is well done, but not really a stand out. I'm again not blaming LEGO. The people working at Disney licensing need to have a longer talk with their production people to get them to make things look more interesting and playable. Sort of a riff on a Stormtrooper has been done and done and done. Make the tankers more unique.  
FINAL THOUGHTS:
As the cheapest Rogue One set, I expect it to be heavily purchased at Christmas time by all the relatives who remember Johhny likes LEGO and Star Wars toys. I would expect it to be ~$25 on Amazon in a year. It's going to be the most readily available set because of its price point.
I don't expect Rogue One toys to bean ongoing staple of the theme. Army builders will like this set for its relatively low price point and cheap utility vehicle as well as the pair of tankers. It will fit into many scenes, so I don't expect it to be a stinker that lingers like the First Order Snowspeeder. If this is the only way to get Chirrut, that should help the aftermarket. Unless his screen time is basically everything that's been shown in the trailer. I don't expect this set to be a longtime fan favorite though. Unless someone really wants Chirrut or has all the AT-ST walkers they can store, this set won't make it to the top of many later buyer's choice list.
EXTRA PIECES:
nothing too spectacular here in the extra parts.
Please take a look at the other Star Wars Reviews:
5