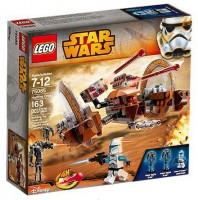 As a countdown to the Force Awakens, I will be writing reviews on Star Wars LEGO sets this week.
I haven't really done an exclusive set before. I kind of wonder if the exclusives are the sets that people would be most excited about getting, or the ones that people wouldn't mind missing. Let's dive into the Hailfire Droid set and see if it's a can't miss, or a swing and a miss. 
REVIEW: SET DETAILS
Set #: 75085
Name: Hailfire Droid
Theme: Star Wars
Parts: 163
Price: $19.99
Before we get to the build, let's talk value. At $19.99 the price per piece works out to a bit over $.12 each. This is to be on the high side of pricing for a licensed set. There are 3 minifigures Clone Trooper Lieutenant, and 2 Super Battle Droids. The Clone Lieutenant is exclusive to this set.
BOX CONTENTS
Some people may wind up picking up a set that is open box or, want to verify the box contents before beginning a build. For this set, there are 3 numbered baggies, 2 decorated 10x10 trans clear radar dishes and an instruction book.
THE BUILD AND EXECUTION
Bag 1: You build your clone trooper and the central body of the Hailfire Droid. There's not really any interesting techniques in this portion of the build. You're basically setting up a solid chunk in the middle that you are later going to pin everything to.
Bag 2: This bag combines with the 2 radar dishes to create the fenders and attach the dishes as the wheels. Shown below are the fenders and the new attachment points for them.
You also build both of your Super Battle Droids. I have no clue why there's a trailer hitch on this thing.
Bag 3: You finish out the build by creating external fenders and the missile racks. I'm usually not a fan of these spring missiles, but for this particular set, I feel like it works. A few greeblies to give a bit more dimension to this thing, and a tilt of the wheels, and off you go.
REACTION
I like the look of this set. It's a fairly quick build. It needed a small gun emplacement or something for the Clone Trooper. He's massively outclassed in the firepower department, and a small build for him, would have made this seem more like a $19.99 set instead of a $14.99 set. I'd say it fits in well with all of the Geonosis stuff from 2013. Too bad that means it has been out far too long without anything to pair it with.
The Super battle Droids are standard. Nothing terribly exciting about them. They're nice to fill out a scene. I like the Clone Lieutenant though. The blue pops, and looks good when mixed in with all of the standard clones. He's got a standard trooper face, not a Clone Wars one, so that's a real plus.
FINAL THOUGHTS
This set is overpriced. It's a Prequel Trilogy set in a Sequel Trilogy world. There's nothing big to lift it up, and there are no main characters to draw in Timmy's mom. Scene builders, completionists, and impulse buyers are probably the target market for this particular set. It looks cool, but it's not instantly recognizable in the way that an A-Wing, Luke's Landspeeder, or the Droid Escape Pod is. If they had thrown in a main character or a unique Jedi, there would probably be more demand for this set.
What I haven't mentioned yet is that this an exclusive set shared by Target and the LEGO Store. In the long run, it will be harder for completionists to get if they want to fill in holes later. I don't know if the demand will ever be huge, but I anticipate the value to climb modestly just due to the fact that it is an exclusive. I would recommend pairing it with the AT-TE or Republic Gunship.
EXTRA PIECES:
Edited by thoroakenfelder
3