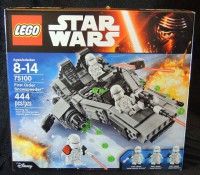 I know I bought the First Order Snowspeeder in order to get the C-3PO polybag. I wasn't exactly excited about the looks of this thing before Star Wars VII: The Force Awakens was released, but I assumed it would get more interesting to me once I saw the film. I figured I might review this LEGO set with added appreciation once I had seen it in action. So I stuck 75100 on a shelf to age like a fine wine. The First Order Snowspeeder did not make a triumphant and exciting appearance. The enclosed Snowtroopers didn't battle valiantly against anyone. 75100 sat quietly on my shelf, waiting for a time that didn't seem likely to come. When I review a LEGO set, sometimes I have to hope that what I get is more than what I see. Let's see if this set wound up being more interesting than it first appears.
REVIEW: SET DETAILS
Set #: 75100
Name: First Order Snowspeeder
Theme: Star Wars
Parts: 444
Price: $39.99
Before we get to the build, let's talk value. At 39.99 the price per piece works out to about $.09 each. This is on the low side of pricing for a licensed set. There are 3 minifigures. The minifigures are 2 First Order Snowtroopers and 1 First Order Snowtrooper officer. The only difference is a red shoulder pauldron and the weapon that you give the officer. The same Snowtrooper is available in the First Order Snowspeeder microfighter 75126 without a skirt.
BOX CONTENTS
Some people may wind up picking up a set that is open box or, want to verify the box contents before beginning a build. For this set, there are 4 numbered baggies, a large sticker sheet, and an instruction book.
THE BUILD AND EXECUTION
BAG 1: You start the First Order convertible pretty much like every other ship in the universe, layering stuff to give an approximate shape. It does make me wonder sometimes, why do we get stuff like these grills that are just going to be buried in the build? Is it just to give MOCers something to use?
This convertible is starting to look like the finished product. Sadly, it hasn't really been terribly interesting to this point. There's a couple hinges to help shape the chassis.
With this number of brackets, we're obviously going to be sticking stuff to the outside. I hope it's not just panels.
Hey, look, it's a panel with a sticker. . . yay. The most interesting thing of note is that they went SNOT on the edges. So we know that we are done building up the walls of this jalopy. First Order Snowtrooper Officer has the red shoulder pauldron that you also get with the First Order Officer in Kylo Ren's Shuttle. Plus you make him a special gun by adding a white lightsaber handle to a blaster pistol. 
BAG 2: The stickers awaken. Fr people who love putting stickers on LEGO, this is the bag for you. 7 additional stickered panels get added to the outside of this thing.
We start adding something to the underside. I was surprised because I thought the body was fairly skinny. but obviously we're adding something tall to the underside of the structure.
Oooo, it's clear wheels in a bunch of Technic pieces. Now it will give the impression of floating as it sits in the background of scenes. 
Attach the Technic construction and start to try to disguise that the whole thing is there. (A side note. I have no idea why that light bluish Gray Technic pin gets put in there on both sides. Nothing attaches to it.)
Turn it right side up so that it can hoer and disappoint the way it was always intended to.
BAG 3: What's this? 2 Axels stuck together in a box? now it gets crazy up in here.
I am not a fan of the single stud shooter, but this crazy 6 stud shooter has a charm that I can't shake. I mean, who doesn't want to rapidly fling 6 studs as quickly as they can into the dark corners of a child's room?
Attach the knob do that you can most efficiently launch your projectiles.
Snap that bad boy onto the structure. So, now we've got 2 little pea shooters on the front and a big honking gun on the side.
And replicate it for the other side, and we should be all gunned up, right?
We need to greeblie up the back a bit, so here's your plate.
And another one for the front.
Cushy seats for the cushiest job in the First Order, plus 3 boxes of laser bolts. Why do we need 3 boxes? Well, as soon as your kid loses the first 12 studs, you need to be able to quickly replenish the stock of studs for them to lose. But, why 2 more on the deck? I bet you think we need one more gun.
Of course we do. another gun with another stud shooter. Now our Space convertible with the reclining seats is ready for inaction. Plus, the officer just picked up 2 of his buddies to go grab some beers. Probably, he'll use the storage boxes as coolers once he's lost all his laser bolts. My daughter did ask if these were girl Stormtroopers since they had skirts. The minifigures look excellent with lots of detailed printing and sweet new helmets.
REACTION
I was whelmed. I got exactly what I expected out of this set. No more, and no less. The build was routine with no interesting surprises. To me, the fact that LEGO added floaty wheels to the bottom of this thing says that even they knew it was dull. 3 Snowtroopers make this an armybuilder's dream. You can take these guys who did nothing in the movie and pit them against the Resistance ground forces that did nothing in the movie.
I am not sure, but this build may have made me accept the First Order Transporter a bit more. Apparently the First Order goes in for dull, utilitarian vehicles that have floaty wheels.
FINAL THOUGHTS
So, this vehicle was used as set dressing in a few places in the movie. It has the distinction of being mostly forgettable and almost entirely forgotten. If JJ can somehow add the chase scene back into the movie, interest in this piece will finally take off. An indication of its performance is that it got an early 20% discount that it still maintains. The price point of this set did not break the bank. It was the cheapest Bad guy set when it came out. It did sell out at Christmas, unlike Kylo Ren's ship or the Transporter. I think that was mainly due to the price point and not fan demand.
Unless this vehicle shows up in the next movie, or the scenes get added back into the film, I don't see a big upsurge in demand later on. A deleted scene extra is hardly likely to excite long term growth. Kids and adults like to see their toys in the media that they are watching. If the Snowtroopers had done anything interesting, they might have given this a boost. I spent an hour looking for pictures of the 2 occurences that I remember of this vehicle in the film. I could not find them. No one cares enough to point it out, as far as I can tell. I forecast low to no growth on this set. I'd be happy to be proved wrong, but nothing about it says "Buy me for a premium."
EXTRA PIECES
You get a couple extra backpack pieces and an extra white and black lightsaber hilt. The white is much less common, although not incredibly rare.
BONUS
Check it out concept art, cut scene and promotional still. Now you can feel like you saw these in the movie - ish.
2