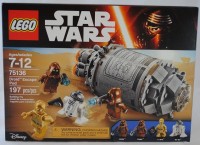 LEGO has released a version of the Droid Escape Pod twice previously. In 2001 and 2012, they released sets called Droid Escape (7106 and 9490.) Each time the set has been visited, it has gotten more expensive. Accordingly, the number of separate pieces has increased in each set. This set should be the most detailed and complex of the sets released to represent this scene. In 2001 the set only had the droids. In 2012, the Escape Pod came with the droids, 2 Sand Troopers and a speeder. This time, we get 2 droids, 2 Jawas and no speeders.
Most people were content with the fairly recent version. Most collectors would have preferred something else take this slot. I have never actually bought an Escape Pod, so this is my first time building it. Upon cursory examination, I thought it looked good for a $19.99 set. Then I recalled that it was a $24.99 set. After a huge sigh, I decided to go ahead and look again.
REVIEW: SET DETAILS
Set #: 76050
Name: Droid Escape Pod
Theme: Star Wars
Parts: 197
Price: $24.99
I want to talk value for a second. Instead of concentrating on the price per piece, I'll look at the actual item that we get. It's a small box, smaller than all of the other $24.99 sets released at the same time. (Why did they have to all be $24.99 anyway?) You get 4 minifigures, which is more than any of the other sets released in this wave and price point. The number of pieces are small, but some of those pieces are big.
BOX CONTENTS
Some people may wind up picking up a set that is open box or, want to verify the box contents before beginning a build. For this set, there are 2 numbered baggies, a sticker sheet, and an instruction book. Boy, there's a bunch of big stickers here.
BUILD AND EXECUTION:
BAG 1: You start almost immediately with the stickers. 2 of them are trying to add depth to the curved panels.
The next thing that you make is a little platform with a rounded base that will snap into the base of the Escape pod.
Here you can see the platform with all of the side studs slotted in between the existing bottom and the new top.
Turn it over and start creating some new shapes for the bottom. Also, please note the swinging panel.
Hinged rounded panels complete the cylinder of the Escape Pod. 2 large stickers go on the inside. I hate these stickers. I'm not sure I got them anywhere near straight.
Lots of slopes go on the bottom. I was trying to remember the shape of the escape pod. Were these the thrusters? It really wasn't coming to me. I guess I could look at the box, but that's not me.
You can't really see it here, but there's a platform that snaps onto the slopes. It has tiles to facilitate the opening and closing.
BAG 2: The stickers on the outside actually look good and go all the way around. These stickers are really big.
Thankfully, they created "seating" for the droids with a steering column. I liked how they shaped it to try to follow the curves of the ship.
There's a window that you can't really see through. I'm actually liking the shaping and the way that they added a few small thrusters on here.
You add some various thrusters onto the bottom platform. There's main thrusters and directional thrusters. All in all, the design is satisfactory.
It is a bigger, more complex craft than any previous version. It is satisfying to look at.
REACTION:
I forgot to show it before, there's some Death Star plans that slot into the front of the craft. While I think that this ship looks fine, It really doesn't do a lot for me. It feels expensive for what you get. If you're not a fan of stickers or have a problem applying them straight, this is not going to be a fun set for you.
There's 4 figures in this set. The more recent R2-D2 is dying for some back printing. They've updated nearly everything else on him. It must be difficult to print on curves if they're not willing to update that.
The 2 Jawas are the same as the ones in the UCS Sandcrawler and the 2015 Advent Calendar. Way to devalue the Jawas on the aftermarket there LEGO.
This C-3PO is unique. He's better than most of the regularly released C-3POs, but not as good as the Sandcrawler version or even the Force Awakens C-3PO polybag.
FINAL THOUGHTS:
Amazon will probably discount this set for most of its life. I can't imagine it staying at $24.99 if they want to sell any. People will want to army build the Jawas, and this is the cheapest way to do it. R2-D2 and C-3PO aren't major draws. If you want a hero set for investment, this probably isn't it. The 2 previous versions of this set hover in the mid to high $30's. I would expect this one to be the same.
EXTRA PIECES:
There's not a lot of extra pieces. I feel like the cone isn't supposed to be extra. I think it's supposed to go somewhere, but I can't tell where I missed it. 
1