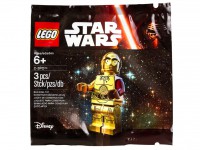 As a countdown to the Force Awakens, I will be writing at least one Star Wars review each week.
This polybag was available for free with a $40 qualifying LEGO Star Wars purchase from Toys R Us. Some stores allowed buyers to purchase some for $3.99, but not every store did, and not even the same quantities.
EDIT: Toys R Us appears to have shipped more of these to some stores and increased the price to $5.99.
REVIEW: SET DETAILS
Set #: 5002948
Name: C-3PO
Theme: Star Wars
Parts: 3
Price: $3.99
Before we get to the build, let's talk value. At $3.99 the price per piece works out to $1.33 each. However, it's ridiculous to do the 3P math on a single minifigure, because you're rarely going to part one of these out.
BAG CONTENTS
3 pieces are in the bag, a head, a torso and leg assembly.
THE BUILD AND EXECUTION
If you have built one minifigure, you have built them all. I got exactly the build that I expected and there were no extra parts. He came with no accessories.
REACTION
I didn't go overboard taking pictures. In fact, I only took comparison pictures. I really like the looks of this figure. He's got a lot of detailing, and the coloring is really nice. He definitely pops in comparison to the older C-3PO that I had on hand. I guess the detailing is the same as the Sandcrawler version, but I don't happen to have one. This one hit on all cylinders (ha, robot jokes) and really made me happy to add him. Not only is the torso better detailed, but the arm and leg detailing are exciting. Plus, they painted his eyes! My only criticism is that the packaging implies a chromed figure, but oh well.
FINAL THOUGHTS
This polybag will be a nice to have piece in the coming months/years. The fact that TLG decided to put a character like C-3PO into a polybag is puzzling. The implication is that either Threepio will not be in any Force Awakens sets, or it will not be this version of him. Without having seen the film, I think that he has a very minor role, so could easily be shuffled off to a polybag, where kids who don't know better, won't miss him, but longtime fans will be demanding it later.
I doubt that TLG will release a TFA C-3PO with different Deco. So, if they do issue him in a boxed set, that will suddenly call all polybagged figures into question. How long until they reissue Darth Revan if they do?
Speaking of Darth Revan, this figure will never equal that one in value. It will be a nice little earner, unless it gets picked up for a LEGO Shop at home promotion, then it will tank.
Edited by thoroakenfelder
2