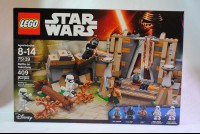 The winter wave of Star Wars LEGO sets has begun to hit. The Force Awakens sets are front and center, just the way that should be expected weeks after the movie is released. Since they are here, it is time for a review. In this installment, we'll be looking at the set that is the turning point of the movie that brings our heroes and villains more firmly into their roles, the Battle on Takodana.
REVIEW: SET DETAILS
Set #: 75139
Name: Battle on Takodana
Theme: Star Wars
Parts: 409
Price: $59.99
Before we get to the build, let's talk value. At $59.99 the price per piece works out to a bit under $.15 each. This is on the high side of pricing for a licensed set. There are 5 minifigures. This version of Kylo Ren and the Maz Kanata minifigure are unique to this set.
BOX CONTENTS
Some people may wind up picking up a set that is open box or, want to verify the box contents before beginning a build. For this set, there are 3 numbered baggies, a small sticker sheet with 2 stickers, and an instruction book.
THE BUILD AND EXECUTION
So, we're going to go bag by bag and talk about the build of this set.
Bag 1: The first thing that I want to talk about is the thing I was almost indecently excited to make, the baton that the riot control Stormtrooper brandished. It's a simple build that consists of a white telescope piece 64644 (its first time in this color,) a white baraki eye 58176 which is not terribly common, a black 58176 (which is new in this color) and a gray clamp bar 48729b. I was genuinely more excited for this single thing than the rest of the build, which says more about y personality than the set itself. Every time I look at my Stormtrooper carrying it, I imagine him yelling out "Traitor!" I only wish that the tip was blue or forked, but I will live with it.
So, now that we're past the exciting part, let's build Maz Kanata's castle on Takodana. We have to build the façade, and that needs a base. Very early on, we build the first play feature, a push bar that shoves out rubble in the form of 6 black studs. (I know, more tiny loose studs for the kids to easily lose.)
Then you begin building the doorway that marks the main display feature of this set.
TR-8R and his squadmate discuss how the TC-17 is not any better than the TC-16.
Bag 2: First, you build some doors. Of course, they're simple. They're going to be a very minor part of this set, with nothing through the doorway, you're probably unlikely to even open them.
Then you build up the façade. creating a lot of nice, temple/alien details. The triangular doorway is fairly accurate to the film design, including the lines on the door.
To represent the large number of banners hanging outside of Maz's castle, we get one. Is this one the Mandalorian Bantha Skull associated with Boba Fett? The one that is prominently seen front and center? Nope. We get one that looks like a strip of bacon.
Despite looking like bacon, it looks good hanging from the front of the castle build. I only wish that LEGO would release some more.
I'm not sure what to call the decorative bits that come next, I guess antennas? Maybe Maz Kanata is getting space ESPN for her bar, and has to use satellite dishes in order to make her bar patrons happy.
Bag 3: The final bag is full of play features. as an AFOL, these are not my favorite uses for LEGO. I'd prefer more complexity for the pieces, or more decoration. Anyway, you already have 2 play features in the making.
Next, you build a collapsing tree, and add some levers for one of the play features (the collapsing wall)
Then you top up the wall and make a box. I assume that the box is where you might conveniently find a lightsaber. The box slots into the inside of the wall. You can turn the knowb to kick it out.
Finally, you make the wall pieces that explode when you turn the gear in back.
REACTION
I really like the looks of the façade. It will look great as a background display piece. It has a lot of little levers and play features for kids, and the number of minifigures is not shabby. This is the cheapest way to get Kylo Ren and Finn, as well as a couple First Order Stormtroopers. Maz Kanata is the only unique character, but I don't think that she is what will drive sales of this set. She looks good for what she is. The detailing on these figures is good. All of them have back printing. The Stormtroopers have the standard angry face. Ren and Finn (sounds like a folk group) have dual sided heads.
Kylo Ren is probably the star attraction for this set. You can decide whether he's angry, or very angry. He comes with the same hairpiece as Ezra Bridger, all the young force users go to the same stylist I guess.
I forgot to mention, I was so happy that all of the guns were the standard blaster. You may remember from my previous Star Wars reviews how much I dislike the stud shooters. LEGO provided the Battle on Takodana with the proper weapons. If I had to make a complaint about the weapons, I would wish that they were molded in white to distinguish them as the Stormtrooper guns from The Force Awakens. LEGO hasn't done that yet, I just think it would be cool.
FINAL THOUGHTS
Playsets are not great in the aftermarket. They do moderately well, but people want the vehicles for display. What generally drives a playset are the minifigures. The more unique and interesting minifigures, the better the playset does. For now, we have 2 unique minifigures and one that is only available in another set that costs more than twice as much as this one. Maz Kanata's unlikely to be a must have for collectors. She's more of an inaction hero, so not a lot of fun playtime with her telling people about their eyes.
Kylo Ren and Finn are very likely to be reused. Interestingly, I think that the advent of this dual sided head will drive the price of the previous Kylo Ren figure up in the long run. I think his unique headpiece will eventually draw people back around. I would suggest that parter outers should get a hop on this Kylo Ren, since it's the one fans wanted most. 
People wanting to get this set for themselves will probably see a 20-25% discount down the road on Amazon, and eventually probably a clearance deal on these. It's not a terrible set. There's a lot of great architectural pieces for MOCs, 1x2 bricks with bricks molded onto them and 1x2x3 slopes. None of that though translates into long term gold. This set will likely appreciate after EOL, but unless it retires extra quickly, there are better places to park your money in the Star Wars world.
Support the site Go buy it on Amazon
If you want to see more of the 2016 winter wave check out
EXTRA PIECES
you get an extra white telescope and a claw as well as a couple lightsaber hilt pieces including the pearl dark gray hilt for Kylo Ren.
What's a review without a few action shots? Well, at least they amuse me.
I know Rey's not in this set, but I had to take a couple shots with her and Kylo.
Edited by thoroakenfelder
2