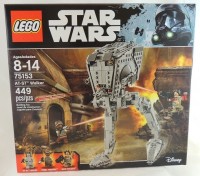 I never had a LEGO system scale AT-ST. I got a UCS one from a comic shop, but that's not really the same. Even when I was a kid in the 80's, this was never my favorite vehicle. Now I look at my AT-AT and feel like it's missing something. The AT-AT is missing its little brother AT-ST. I was so excited to find out that this vehicle was coming for Rogue One. I really needed to fill out my display. It doesn't matter what minifigures are with it, as long as it fits with my Original Trilogy stuff. I didn't want to backtrack and find the 2007 system scale version because a set that's a decade old usually looks like a set that's almost 10 years old. This set looks good on the box. Can it be as good as it looks?
REVIEW: SET DETAILS
Set #: 75153
Name: AT-ST Walker
Theme: Star Wars
Parts: 449
Price: $39.99
BOX CONTENTS
Some people may wind up picking up a set that is open box or, want to verify the box contents before beginning a build. For this set, there are 3 numbered baggies, a sticker sheet, and an instruction book.
BUILD AND EXECUTION:
BAG 1: I'm interested from the beginning. There's a gearbox and a pair of axles right from the start. We're building the hips/pelvis/base of the walker. I was interested in the hinges as well.
We're building out the base of the walker. We have to make it sturdy so that it can support that massive head on the spindly legs.
Speaking of spindly legs, once we have finished the base, we start the legs. Honestly, I was hoping for more articulation here.
The leg only has a single joint. I could see where the ankle could have a joint. In fact, optimally, there should be at least 4 joints. maybe that's just me griping. How much should we really expect from a $40 set?
I'm not going to show multiple steps  making the second leg. It's just a mirror build of the first leg. You just finish some details, cover the corners.
And, we've finished Bag 1. I was wondering why a $40 set had less bags than a $30 set. It seems to me that there was a lot of build for one bag. I'm guessing that it's more than 40% of the set.
BAG 2: We're starting construction on the "head." Notice the little push levers on the back there. I've been noticing more and more that the triggers for the spring missiles and the missile launchers themselves are getting better incorporated than a year ago. A year ago I was unhappy with how poorly they hid the boxy shooters in the First Order Transporter. Now, I sort of look forward to seeing how well it is hidden.
I'm still not seeing a cockpit coming together here. I can see the cutout where the missile launcher will go. I also appreciate the cutout for the push trigger. However, this base seems far too narrow.
There's a thermal detonator piece on the orange 1x1 round plate. It's interesting to me that we're building up instead of out. I say that because in Return of the Jedi, we saw that the AT-ST is a 2 seater. I'm disappointed that this looks to be a single seater.
I notice the posts and pegs and it says to me that we'll be slotting panels in place. We've also got pegs on the front and sides where decorative panels can be placed.
Notice the spring launchers are now in place and we're shaping the head with wedges and slopes.
Plug the head in place and add a couple of grey lightsaber handles for guns. I am not sure they're quite big enough. We also build out the AT-ST Pilot and Rebel Trooper in this bag. I'm wondering why they didn't just do 1 figure per bag.
BAG3: The first side panel is coming together. Notice the peg holes.
We put together a set of guns for the first side. Finish the panel and snap it on the posts.
We're going to build another panel that is the mirror image of the previous one.
There's a different weapon on this side of the vehicle which is actually accurate to the movie version.
There's a roof panel that we're building now. It's going to hinge up so that you can place your figures.
Finish the decorative bits and add a hatch to replicate the movie version. It's not really effective for playing inside, so it's purely decorative. I do like the panels on the front that represent the blast covers that would fold over the eyes.
Peg it all together and we're done.
REACTION:
I love the way this looks. It's well designed and looks fairly accurate. I'm a bit sad that it's not a 2 seater. I'm also disappointed that there is only a single joint in the legs. To me it isn't as good as the legs of the AT-AT. I do realize that it's a much smaller set and you can do more with bigger sets, but I would think there could be a bit more flexibility. Despite my problems with the legs, I really do love the way this one looks. The assembly was fun enough and appeared to take a lot of cues from the UCS version. It is much more simple than the UCS version, so don't expect that level of complexity.
The minifigures are good. I think that the AT-ST Driver with the goggles painted onto the helmet is nice. We've seen plenty of these guys with goggles on the faces, so it's nice to have something a little different. He's also got a dual sided head as well. I think the paint job of the goggles is a little goofy, but still, nice to have a little variety. I can't tell you how nice it is to have new Rebel Troopers. The helmet seems new and his uniform is different enough from the Hoth, Endor and Scout Trooper uniforms. It does look like a uniform, moreso than the Resistance Troopers from last year. Baze Malbus is an interesting looking character. He's got a dual sided head and he's got a big backpack and gun linked by a short piece of chain.
FINAL THOUGHTS:
On the day of release, Wal-mart  started selling this set for $32.83. It's surprising to have a discount on a new Star Wars set on the day it comes out. I have a theory that $29.99 is the upper limit for a gift for kids from friends or relations. This set is an outlier, but it's close enough that people might get it instead of the cheaper hovertank. This set is going to be popular for army builders and OT Purists. Since the last version of the AT-ST is so old, there's going to be a wave of people buying them new for their Ewok Villages or Assault on Hoth sets. I think this will be the most popular Rogue One set post retirement. It may not be the set that gains the most in value, but it will be the easiest one to move.
EXTRA PIECES:
There's an extra roller skate and even an extra thermal detonator. The rest is a mixed bag of the smallest pieces in the set.
Please take a look at the other Star Wars Reviews:
4