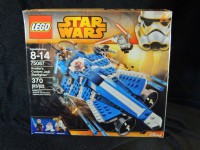 In a previous review, I looked at an exclusive Star Wars LEGO set from Target, the Hailfire Droid 75085. This time I thought I would look at the one remaining exclusive set from Walmart, Anakin's Custom Jedi Starfighter. This is the ship that Anakin flew in Star Wars: Clone Wars. For those of you who don't know or don't remember, in 2003 between Attack of the Clones and Revenge of the Sith, there was a short lived animated series called Clone Wars. This series was loved by some, hated by others and largely forgotten until used as trivia. None of the events are considered canonical anymore since the CGI The Clone Wars series was launched.  
All of that to say thatafter about 2005, there was not a single product released in conjunction with the first Clone Wars cartoon series until someone at LEGO decided to greenlight 75087 Anakin's Custom Jedi Starfighter. Let's take a look at this unicorn, this beautiful anomaly.
REVIEW: SET DETAILS
Set #: 75087
Name: Anakin's Custom Jedi Starfighter
Theme: Star Wars
Parts: 370
Price: $39.99
Before we get to the build, let's talk value. At 39.99 the price per piece works out to almost $.11 each. This is on the high/middle side of pricing for a licensed set. There are 3 minifigures. The minifigures are Episode 2 Anakin Skywalker (also available in 75021 Republic Gunship), a unique Asajj Ventress, and a red astromech droid (unnamed) that also appears in 75039 V-Wing Starfighter.
BOX CONTENTS
Some people may wind up picking up a set that is open box or, want to verify the box contents before beginning a build. For this set, there are 3 numbered baggies, a sticker sheet, and an instruction book.
THE BUILD AND EXECUTION
BAG 1: I honestly can't remember the construction on the last Clone Wars Jedi Starfighter that I built, so I'll be going into this without a comparison in mind. The first thing that I noticed was the place where the Astromech would eventually sit. If I remember one thing, it's that LEGO puts an ejection system into the deeply seated Astromech ports, a slot that an axle will fit in.
Obviously the attachment points for the wings, but what about that Technic pin with towball? Ys, this is a separate chunk from the first  one.
I was kind of surprised at how long this was. I guess for $39.99 I should have expected a longer/bigger ship, but I was thinking of how short every other Jedi Fighter in my collection is. (OK, maybe I was comparing things more than I originally thought.) There's 3 stickers applied to that 16x4 wedge. Too bad that they didn't print it, hopefully I got the stickers on straight.
Now, flip it over and add some details and a landing gear. The details consist of a pair of pearl gold binoculars on each side.
You also build Asajj Ventress with her dead white eyes, just like the 2003 Clone Wars character model. It would be nice if she had arm printing, but that's asking for a lot for a Walmart exclusive set, I think.
BAG 2: You keep building up the structure of the ship. You're surrounding the Astromech port to protect it in battle, or from just randomly falling out.
Instead of another landing gear or 2, they built a foot, and additionally some weird flap things. I wasn't really thinking ahead of the build, so I was wondering what these decorative flaps might be for.
Ag, attachment points for the engine pods. It's weird because I thought for sure that they were bigger in front.
Oh, there it is. Also 2 more stickers. I may have attached the stickers angling the wrong way. I didn't really feel like taking it apart to shift the stickered pieces around.
Now, you build a wing. Thankfully, the striped pattern is brick built instead of stickers. I probably would have stopped if these wings used ugly stickers.
Each wing has 2 guns and 2 spring missile launchers. But that wing looks short, right?
So you build a smaller wing and attach it to the tow ball. This creates the more fluid wing shape that appears on this version of Anakin's fighter. It's not super easy to pin the smaller wing to the bigger wing. I kept fidgeting with it.
Why is there a Red R2? Where's R2-D2? I don't remember the cartoon series, but back in 2003-04 Hasbro also had a red R2 dome. Maybe it's because in Episode 2, the Jedi Starfighter didn't have a full droid, just a red dome.
Bag 3: I see where we're going here, time to build the other wing. For some reason, I was thinking that the cockpit was in front of the Astrodroid at this point. Guess I was tired or not thinking clearly. Rest assured that even though I did not picture it, the wing builds are similar.
Looks like we're making the cockpit, look a sticker control panel.
Don't fly in space with a giant hole in your cockpit.
Ooo, another fin, and the last sticker.
Here it is, the final product with young Anakin. This is pre-mullet Anakin. He's still got that ridiculous braid too. I guess that's why he's so angry. 
REACTION
The set looks good, but to me it just doesn't fit in. There's really no other sets from this era of Star Wars. It's an anomaly that it appeared so long after the cartoon that spawned it. Asajj was never my favorite villain, even though I was reading the comics and watching the cartoon that featured her.
I think I set up my lighting wrong, so you can't really see the details on her head. Both minifigures have dual sided printing on their torsos and printing on the backs of their heads.
They did a good job matching the unique shape of this ship to the original cartoon image. It's not perfect, but then what is?
FINAL THOUGHTS
I looked at my thoughts on the Hailfire Droid, and I find that my thoughts for this set echo that one, only moreso. In this world of the Sequel trilogy and the anthology films, Clone Wars is becoming increasingly marginalized. The fans of 2003's Clone Wars are rarer than fans of The Clone Wars (2008) or Rebels. The only thing going for this set long term is that it is an exclusive. Its' exclusivity has not helped it terribly during its retail lifetime. I have never not seen this set on shelves somewhere. Walmart and the LEGO store stock it, and if it went out of stock, no one really noticed or cared.
What would have helped this set the most is if it had been retired at the beginning of 2016 along with the raft of other Star Wars sets from 2015. It seems that LEGo had no new exclusives for The Force Awakens to take its place though. Target, Walmart and Toys R Us seem to require an exclusive to be available at all times. Because of this, this set is sticking around, and won't get a discount until the week it finally retires. By then, consumers will be so sick of seeing it on shelves, it will quietly disappear into the stockrooms of the few who buy everything on clearance. I expect minimal gains long term. I just don't see a lot of people who were kids in 2003 to be clamoring for it later on when so many other, better sets are available.
EXTRA PIECES
As with most Star Wars sets, you wind up with some extra lightsaber hilts. You've got the metallic silver and the light blue gray Asajj ones in this set. Plus a gold pair of binoculars that is not very common.
3