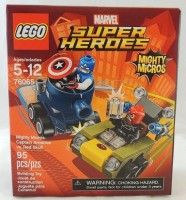 I couldn't really get behind the Mighty Micros sets. Something about the short legs and the goofy expressions didn't click with me. At least the Microfighters have normal sized minifigures. But I kept looking at those goofy expressions and I could sort of dig them. I like Captain America, and the idea of a Unique, goofy Captain America half appealed to me. I kept picking up Captain America Vs. Red Skull and putting it back because I didn't relish the thought of spending money on something soooo goofy and juvenile. Eventually I felt like I had to, just so I could give it a real shot and not let my prejudices take over. This review will take a look and see what I actually think of this set.
REVIEW: SET DETAILS
Set #: 76065
Name: Mighty Micros: Captain America Vs. Red Skull
Theme: Marvel Super Heroes
Parts: 95
Price: $9.99
BOX CONTENTS
Some people may wind up picking up a set that is open box or, want to verify the box contents before beginning a build. For this set, there are 2 unnumbered baggies, a sticker sheet, an ad for Civil War sets and a pair of instruction books.
BUILD AND EXECUTION:
There are 2 builds in this set and each build has its own instructions. The parts for the 2 builds are mixed between the 2 bags. To help me sort and build, I asked Li'l Captain America to help me.
Li'l Captain America: Call me Cappy.
Well, Cappy's assembling the base of the mighty micro.
Cappy: Made with pride in America.
I'm beginning to notice more of these car pieces with the molded headlights. I'm not entirely sure what these megaphones are supposed to represent. I'll call them exhaust pipes.
Cappy: If I talk through one of these, it sounds like I am taking your drive thru order. Would you like fries with that?
The jumper plates are sort of interesting, It's so you can offset the 2x3 plate in the next step
Cappy: This car is automatic, it's systematic, it's hydromatic . . .
I think that the turret for this tank is pretty interesting. You put a pail on to represent the barrel of the tank. It doesn't look too bad. Sure, it's stubby, but so is the whole aesthetic. The whole turret slots onto the pin. It barely has any room for rotation, so not much of a turret.
Cappy: Who needs guns when you have fists of righteousness. And a shield,don't forget my shield.
The wheels are small and wide. You also attach a light to the front of this go-kart.
Cappy: Easier than changing the tires of my old bicycle when I was a wimp.
I'm not entirely sure, but I think this is the first time LEGO has made a tank. They've made Star Wars tanks, but I think this is the first time that they made one that looks like it belongs here on earth, well sort of.
Cappy: Well, tanks for the memories.
Here's the Li'l Red Skull with his Cosmic Cube or Tesseract as the case may be. Let's call him Skully.
Skully: You vill call me Ze Red Skull!
The body of Skully's Hydra-mobile is even more simplistic than Cappy's tank. Plus, he's got a steering wheel. It should be easier to drive with a steering wheel.
SKully: Insolent worm! Ze Hydra-mobile is hydramatic!
I really have no idea why you attach a steering wheel to the back of this thing.  It's interesting, but totally pointless.
Skully: Ze best of German engineering to provide a smooth ride.
This mighty micro is a representation of the hydra tank that retired at the end of last year. You can see the sloped body shape coming together here.
Skully: I zink zat ze people at ze automotive store were messing with me when zey said zat I needed headlight fluid.
I'm not sure if this part is intended to just be a structure to support the additional floodlights and missiles, or if Skully just needs a super plush headrest.
Skully: German engineering is both functional and comfortable, SHWEINHUND!
Hey Skully, I'm not sure we really need rockets.
Skully: ZE RED SKULL ALWAYS NEEDS ROCKETS! Zey call me rocket man!
As a chibi representation of that Hydra tankish thing that LEGO released previously, it works. It fully represents what it is supposed to.
Skully: Born to be WIIIIIIIIIIIIIILD!
Together the vehicles don't look so ludicrously out of place as they do when you photograph them one at a time. Just havingthem inthe same shot, they look like a part of something. Something crazy.
Cappy: You know, I just realized how hard it is to steer this thing when I am sideways and have a shield in front of my face.
Skully: DUMBKOPF! Watch where you are going, or you will hit me!
REACTION:
These sets are not really for me. While I find the simplistic, cutesy builds appealing on one hand, they just don't fit my desire for more comic accurate figures. I think that the minifigures are hilarious, but they don't meet my wants/needs. I found it hard to talk about the build process because there just wasn't anything to talk about, and I couldn't even make any smart-alec remarks. That being said, these guys may photobomb future reviews if I am not overly interested in those builds. These sets are like the microfighters in that they are smaller, cuter, simpler sets at a lower price point that will appeal to younger kids. Unlike Microfighters, for the same piece count you are building 2 small vehicles instead of one. That means that your simple build is super simple.
The shorter stature and simplified decoration with comedic expressions will likely turn off a lot of "serious" collectors. That having been said, a truly serious collector might want to grab these unique figures. Like Pokemon, they have to catch them all. Captain America reminds me of a sketch that the original artist of Walking Dead did for me years ago. He insisted that if he was going to draw Captain America it would be the 70's TV version with the motorcycle helmet and the see through plastic shield. I told him that in that case, he should have a big dumb grin and a thumbs up. I love that picture.
FINAL THOUGHTS:
There's a part of me that says that serious collectors are never going to go for these things. Serious collectors sometimes like to go outside of their particular box. Once you've bought the regular stuff for your chosen theme, these lower cost sets might appeal to fill in the gaps. Remember what happened with the microfighters series 1. A lot of people discounted them, but fans were willing to pay 2-3X MSRP a year or less after retirement. The chances of Chinese bootleggers wanting to make these figures seems slim, so maybe their initial unappealing nature makes them perfect for later large gains.
EXTRA PIECES:
2