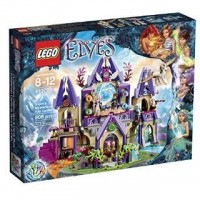 LEGO Elves was launched in March 2015. This set was released in a small second wave late that summer. I purchased this set at RRP a few days after release, but it has taken me until now to actually put it together. Below is my finished product:
SET DETAILS:
Set #: 41078
Name: Skyra's Mysterious Sky Castle
Theme: LEGO Elves
Parts: 808
Regular Retail Price: $79.99
BOX CONTENTS
For this set, there are 7 numbered bags, one loose 6 X 12 dark sand beige plate, one sticker sheet, one pegasus-style horse and one thick 132 page instruction book. 
I liked that the book was a single binding as compared to the multiple inconsistently-sized variety I have seen in other sets.
SET AND BUILD OVERVIEW:
I will start with the figures, as they are assembled in bags 1 and 3.
Mini Dolls (Queen Skyra, Naida the water elf, and Emily Jones) and Pegasus:
And their capes:
The smaller capes are the standard coarse material while the full-length cape is of a softer, silkier variety. I would like to point out that I had some difficulty stacking both of Queen Skyra's capes on her very slender neck and then attaching her head. Once assembled, I enjoy the look of the white embellished "collar" against the dark violet cape.
Basic assembly of the other figures was fairly simple. It is always a bit tricky to snap the round tile onto the curved elf hand. The pegasus design is nice, but I found myself trying to figure out how to position the wings while the creature is standing. Fully upright wings look too heavy, but when they are placed in a downward posture, I think the animal looks vaguely wounded.
BUILDING THE STRUCTURE:
Bags 1 through 4 assemble as independent structures. At the end of 4, three of them are connected to provide the base of the finished build while the structure from bag 1 remains separate. (I had a picture of this, but used the box as the background. When putting my review together this image was scrapped because it was hard to see what was box art vs. built pieces in front). Bags 5 and 6 are also assembled independently of the structure, but the resulting piece is attached at the end of the instructions for bag 6. It was a bit tricky to determine the point of attachment for this upper deck. Further scrutiny led me to decide the bottom plate should be flush with the frontmost part of its supporting structure (completed in bag 2). I'm not sure if one could build 5 directly attached to structure 2 because of the portal mechanism. Bag 7 contained all of the finishing touches including the lilac turrets, elemental keys, leaves and jewels.
The elemental keys are pretty great looking:
But they have no mechanical function (with regard to opening the portal) when they are positioned as pictured in the instructions. I cannot explain this, so I guess I need to watch the show...
THE GOOD AND THE BAD:
I love the colors! Despite my distaste for mini dolls, Elves is one of my must buy themes because of the colors, shapes, and unique pieces. I like the design of the Element elements. The lilac fences, use of transparent and jewel accents, and the fact that it's a castle drew me to this one in particular.  Build was fairly straightforward and simple without becoming boring or tedious. There was a bit of trouble trying to line up the mech and axle beneath the portal, but I was able to work it out with some determination. NOTE: Younger builders may need assistance with this.
The biggest flaw, in my opinion, was the mechanism that opens and closes the portal. It was slightly confusing trying to get it all lined up, and in the end, the portal is activated by turning a large knob. (Again, maybe I need to watch the show). Perhaps Skyra's sceptre was supposed to turn it, but it doesn't fit. I think you could use one of the keys, but I believe the idea is that each key needs to be in place to activate the portal. My best guess is that the portal is opened and closed by magic forces, so the actual opening mechanism is not intended to be part of the play function, but I found it disappointing. In my opinion, magic levers should be behind the active play area to maintain the illusion.
Queen Skyra: "If you wish to return home, Emily Jones, I must summon the power of the mysterious sky hand to open the portal."
Awkward maneuvering as Sky Hand presents itself and completes a quarter-turn of the center pedestal
Emily Jones: "Thank you Queen. Your mysterious sky castle is mysterious no more."
My only other gripe is regarding the stickers. Although I don't particularly enjoy ANY stickers, these were the worst kind. I have yet to figure out how to keep my fingerprints from becoming a permanent addition to the application of transparent stickers. I have trouble with small decals as it is, so tweezers or gloves seem to me that they would only add to the clumsiness. Thankfully, all decorated pieces after bag 5 are all pre-printed.
All said and done, I enjoyed building it. I understand that the build-by-section method is accepted as a good way to break up the build, but I did find myself asking when is this going to turn into one integrated piece. (I'm still not sure where to position the earth doorway or the dining table). 
Spare parts:
I found it odd that there were so many duplicate spares. The additional fuchsia (official color name?) flowers give the builder an option to balance the bouquets into three of each color (which I prefer). Each round 1 x 1 element tile also has a backup. I can always use extra cherries and cookies, but it would appear that I may have already misplaced one of those spare cookies.
INVESTMENT POTENTIAL?
My best guess is that this will have little demand as a set. There are some new and unique elements from a parts perspective, but there's no real way to tell if they will stay rare as more sets are produced. If you can pick one up for yourself or as a gift, great. If plan to buy this as an investment, I think you will be hard-pressed to find a buyer desperate enough for this one to pay above RRP. (As of now, this set is already being reduced at major retail outlets). That's my two cents. Thanks for listening.
Disclaimer: This being my first published review, I recognize that my photography leaves a lot to be desired. I appreciate your patience through my learning stage.
5