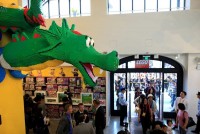 LEGO opened its largest store to date on Wednesday May 11, 2016 at the Shanghai Disney Resort in China.
Lego said in a statement the Chinese market was "one of the best performing markets in 2015".
Lego is also setting up a factory in China which should be operational in 2017 in Jiaxing, 100 kilometers from Shanghai.
Links to Reuter and Baidu for video and pictures from the opening day.