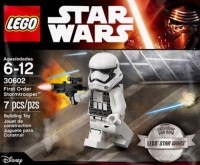 Tonight starts the LEGO May the 4th Star Wars Event.  To start with, you at least get 20% off most Star Wars items.  On top of that you get your Double VIP points on all Lego Star Wars products which ends up being a decent discount.  Based on discussions in the forum, it appears that many are starting to eye up the 75094 Imperial Shuttle Tydirium. 
Free shipping on all orders with no minimum.
Free 30602 First Order Stormtrooper (pictured above) with your order of $50 or more of LEGO Star Wars products.
Double VIP points on all LEGO Star Wars products.
Free LEGO-fied Star Wars The Force Awakens poster with all LEGO Star Wars purchases.
All offers are good from April 30th through May 4th while supplies last at all LEGO Brand Retail Stores and online at LEGO Shop@Home.
If you were lucky enough to get one of these invites below, you can get early access to a LEGO retail shop and hopefully get yourself one of those Limited run Space Slugs

If you are located in the USA: CLICK HERE
If you are located in Canada: CLICK HERE
If you are located in the UK: CLICK HERE
LEGO Star Wars May The Fourth 2016 Sale List
Item name – US MSRP / US Sale Price / CA MSRP / CA Sale Price
Other Sale Items
If you've made it this far you should also know that there are additional non-Star Wars items going on sale during the same sale period, from April 30th through May 4th. The items on list, too, will see the same 20% discount applied and free shipping with no minimum, but unfortunately there are no other perks to this list. Here are the items on sale:
Item name – US MSRP / US Sale Price / CA MSRP / CA Sale Price