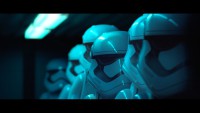 Many Bothans died to bring us this information. The official Xbox website has launched a page showing screen captures from an upcoming entrant into the LEGO Star Wars game series. This time it is Star Wars: The Force Awakens. The date given for the release of this game is 6/28/16. Players will be able to play as their favorite new and classic Star Wars character. One screen capture shows Han, Leia, and Chewbacca as they appear in the 75094 Imperial Shuttle Tydirium set. What that means about playing older movie scenes has not been shown yet.
Warner Brothers games has not officially announced the forthcoming game
Is this the release that will come with the FN-2187 Polybag that has been spotted, but has no official release information?
The leaked trailer on YouTube mirrors the trailer for the film. At the end it shows that the game will be released on the following platforms PS4, PS3, PS Vita, Xbox One, Xbox 360, Wii U, Nintendo 3DS, and PC.
Check below for more pictures.
2