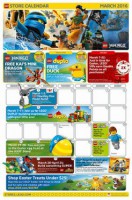 Looks like Lego has some interesting events and offerings planned for next month.  Get the kiddies ready (including your inner kid).
Some highlights...
Double VIP points on all purchases between March 7 and 22.
The Classic TV Batcave becomes available to non-VIP members starting March 1.
Various polybag and promo items based on money spent or themes.  Themes include DUPLO (a duck polybag), Ninjago (mini dragon polybag).
Look for the annual Easter set (40202: Easter Chick)
Events for children include bunny, DUPLO and Superhero monthly builds and club meetings.
Maybe best of all for children...bring them to an Easter Egg Hunt that runs from March 21 to 26.
Please review the calendar for more information especially exact dates.
1