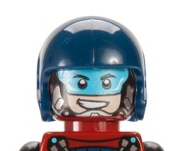 The next 2016 SDCC Lego minifigure giveaway has been released via Twitter.  According to this tweet from Lego, the next Lego DC Comics minifigure promotion will be the Atom:
This great looking minifigure represents the DC Comics character from the Legends of Tomorrow TV series.  It appears the minifigure also comes with an exclusive Palmer Technologies printed base that really complements it nicely.
What are your thoughts on this DC Comics Lego exclusive giveaway?  Let us know in the comments section below.
Edited by Quacs