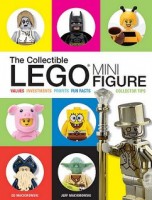 Today, we are happy to report that our second book "The Collectible LEGO Minifigure: Values, Investments, Profits, Fun Facts, Collector Tips" is now available for purchase.  This was a fun book to put together since we were able to work with the Lego community to obtain fun photos of Lego minifigures in action. In the coming weeks, we will be announcing winners of the contest that we had when we first introduced that this book will be published.
The first review of the book has been published by Huw over at Brickset and he states that "Nevertheless, it is a fascinating book that will appeal particularly to minifigure collectors."
Here are a few screen grabs from the inner pages of the book.
Order your copy today!!!!
2