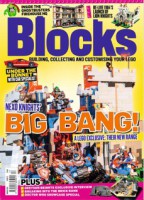 Issue 17 of Blocks Magazine is now with subscribers, and will be in shops on Thursday 18th February.
This month, we dive headfirst into LEGO's latest Big Bang theme, with full reviews of every Nexo Knights set, plus an in-depth interview with LEGO Designer Mark Stafford – who reveals a few tantalising secrets behind the space-castle mashup, and gives us some hints as to its future direction.
Elsewhere, we head back to the glory days of Castle, with a detailed look at the 1984 Lion Knights range, and showcase an incredible collection of Doctor Who builds from Thorsten Bonsch – as he unveils his latest timey-wimey creation exclusively in Blocks.
There's much more besides, with comprehensive reviews of the brand new Brick Bank and Ghostbusters Firehouse HQ, while Simon Pickard introduces us to the art of microscale. It's all topped off with an exclusive interview with Tom Poulsom, LEGO's very own birdman, on books, building and, of course, birds.
Get your copy on Thursday in the UK, and why not subscribe to get future copies early and enter monthly free prize draws? See www.blocksmag.com for more details.