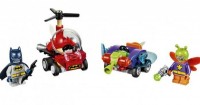 According to a story by Andrew Paul, Contributing Writer to Comicbookresources.com, the next wave of DC Mighty Micros will be released January 2017, and include three new superhero/villain pairs:
Batman vs. Killer Moth
Superman vs. Bizarro
Wonder Woman vs. Doomsday
For more on this, check out the Comicbookresources.com story here.  Thoughts on the new pairings?  Please feel free to share in the comments section below.
Edited by Quacs