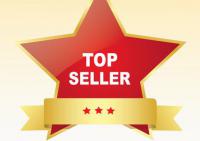 Welcome back to the November 2013 entry of best selling LEGO sets based on ebay data. As I mentioned last time, I will only be commenting on those sets that are completely new to the Top 10 listing, as it talking about the original Minecraft set or the Millenium Falcon gets a little repetitive after a couple times.
Interesting about this list is that we can actually starting watching some trends regarding sets that may become very popular during the month of December, and in some way help us predict which have some "flipping" potential. This year's shopping season is almost over, but by comparing this November data against December's we should have a pretty good idea of how useful this may turn out to be in 2014.
November 2013 Top Ten
1-

636 Sold (New)
One of the many promotional mini sets released during the holiday season by LEGO, there is really no surprise this nice set made its way to the top of the November Top 10. As it happens with sets from the Winter Village theme, there is a really big demand for this kind of build during these months, as people really get into building Christmas displays while others take advantage of selling the set to effectively reduce the price of their "actual" purchases.
2-
611 Sold (New)
3-
579 Sold (New)
One of the most unique and specialized sets ever released by TLG, in my opinion. This proved to be extremely popular during its very short run both with investors, flippers and LEGO fans in general (with some architect buffs thrown in the mix as well). It's really impressive that Architecture Studio managed to place third in the list surpassing other well known staples like the 7965 Millenium Falcon and the 2 new Minecraft sets. At this point, you'll be really lucky if you can find one at MSRP.
4-
339 Sold (New)
As a very distant fourth position we find the 2010 version of the SW Advent Calendar. Personally, I find it kind of surprising that the older version managed to be on this month's Top 10 while the 2013 version didn't. I am really not a follower of this particular line of sets, but I assume that a big part is due to the fact that you could still find this version at deep discounts at some retailers, and it would ultimately serve the same purpose as 2013's. Another related factor could be that buyers found the new version's mini builds less appealing, but I defer to the calendar fans to confirm or dispute this.
5-
319 Sold (New)
Riding on the success of the original model, LEGO decided to produce a couple more Minecraft models that proved to be an instant hit (as expected). Even though the original model continues to be a very distant "winner", The Village positioned itself as the 2nd best of the theme surpassing The Nether (#11). I actually prefer the latter, but it seems the I'm in the minority.
6-
284 Sold (New)
7-
256 Sold (New)
This entry actually confirms that for some reason the older Advent Calendars seem to sell way better than current versions, at least based on what it happened during this season.
8-
228 Sold (New)
9-
249 Sold (New)
One of the nice surprises of the year is the confirmation of the Friends theme as an extremely successful line of sets. If you have been shopping in B&M stores this season, you probably noticed that almost every single set from the line had completely disappeared from the shelves. The Dolphin Cruiser will definitely place somewhere in December's Top 10.
10-
216 Sold (New)
Had this list been September's and this little polybag would have been just 6 sales away from taking the first position. The mini version of the Camper Van is probably one of the best designs for a promotional item ever released, and fits perfectly when displayed along its larger and equally impressive brother. This excellent design proved its popularity among LEGO fans, and made me wish more mini sets like this were released more often. I would personally enjoy a mini version of the soon to be released Maersk Triple-E.
--------------------------------------------------------------------------------------------------------------------------------------------------------------
This ends our Top 10 for November, until next time!
Thanks for reading.