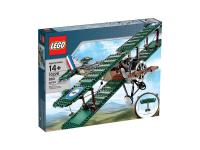 I decided to start a new kind of feature or at least semi-regular type of article that will focus in the impact of re-released models on their predecessors. I intend to at least do one of these per month as a minimum, but may increase the regularity based on how much time I have available from time to time. Also, I can only do this with sets that have been released over the past 12 months, as that is the only data I have available from Brickpicker, but I consider that is more than enough time to evaluate the effects of remakes most of the time.
I will be starting this section of my blog with one set that has been talked about a lot on Brickpicker's forums, the 10226 Sopwith Camel.
Back in 2001 Lego released its first version of the Sopwith Camel, a somewhat famous plane from the World War 1 era. The set included almost 600 pieces and was the first of a series of several advanced models dedicated to famous aircrafts (the other two being the Red Baron and the Wright Flyer). The model was very well done, for its time, and in the end performed very well in the secondary market. More specifically, it currently has a CAGR of almost 10% and a Holding Period Return of close to 210%, great numbers when we consider it has been retired for almost a decade at this point.
Fast forward 12 years and LEGO decides to bring back a larger and more detailed model based on the exact same plane. The newest version released last year includes 883 pieces and looks just so much better than the older one. From the fresh color scheme to the vast collection of details and features, this set really proves that LEGO has stepped up its game in the past few years. The 10226 Sopwith is one of those sets most investors expect will do great, but that it's a completely different conversation.
So, what has been the impact of this newest release on the older 3451? Let's take a look at the numbers of each set compared in the graph below: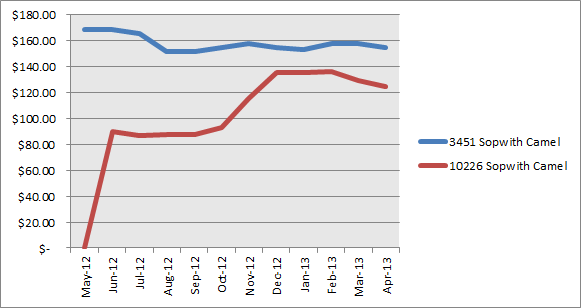 So, I don't know if you can notice it very well on this graph, but I think you can see that since the newest Sopwith was released the older version has been on a downward trend as far as value is concerned. It has not been a sharp 30% drop, but it has been somewhat significant. In fact, If you take a look at the numbers in the Price Guide, the 3451 has lost almost 8.4% from where it was last year and it seems to keep going down.
These results are hardly unexpected. Who would really want to pay more than $150 for an older and inferior model when there is a clearly superior and more affordable one currently on the market based on the exact same plane?. Other than some serious collectors, there are probably very few individuals that would for the older one. The older Sopwith will not, of course, lose value indefinitely.
Even though in this case the re-released version has cause a dip on the older set, we can't really assure that this will always be the case. And we will see if this holds once we get to our 2nd Edition of the Re-Make Impact Evaluation.