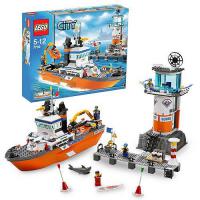 First, yes, yes, I know the Coast Guard isn't actually part of the navy, although did you know that at any time the President can transfer the USCG to the Department of the Navy, or that Congress can do this during times of war? So, accuracy aside, just let it slide as it makes for a better title. Who doesn't like Village People references in the Lego investing world?
Now, down to nuts and bolts and anchors. The City Theme doesn't get a lot of posts and discussion, which is just crazy as its current CAGR%(Compound Annual Growth Rate) is a hefty 20.22%. This dwarfs much more discussed themes (I'm looking at you, Star Wars) that don't provide rates of return (SW, still you at 8.24%) and offer many possibilities for the small to mid-sized investor. One of the drawbacks for an investor might be the sheer number of City sets that are available at retail at any given time - where to put your hard earned capital? Luckily, the City theme has plenty of sub themes that seem to rotate regularly and might even offer better opportunities than simply closing your eyes and randomly throwing sets into your cart. In addition, City themes are available at many retailers and I've never had trouble tracking down City sets with sales/promotions quite easily. So, let's take a look at a really great sub theme that is currently available at retail right now - Coast Guard sets.
A little light reading at Brickipedia provides a nice snapshot of this particular theme, which has been around in some form or another since 1978! It turns out that Lego decided to mark my birth in '78 with this theme - thanks, Lego! Feel free to explore some of the really old sets if you'd like, but for the purposes of this post, I'm going to focus on the 2008 sets for comparison purposes. One key and noticeable difference between the 2008 and 2013 sets is that this release doesn't have a 'base' like the 4210 Coast Guard Platform. It would have been nice to have an updated reissue of this set with a higher piece count. Another factor to consider is that the most recent BrickPicker information is clouded by the reissue factor - since the release of the 2013 Coast Guard sets, it seems that the 2008 sets are losing value.
As with all City sub themes, there is a danger in a reissue. It seems the Coast Guard theme is pretty popular and gets regular installments, so I'd expect another round of sets in 2017 or 2018. It seems likely that the current range of sets will be available for all of 2014 and might become hard to find or EOL(End of Line) by late 2014 or early 2015, giving a savvy investor about a two year window to allow for appreciation and then sales before another reissue. I'm not advising a basement full of each set in the range, but I think it would be wise to grab the two biggest sets (60014 Coast Guard Patrol and 60015 Coast Guard Plane) over the course of the next year when you see them at a solid discount. I think if you can get them at 20-30% off you'll be pleasantly rewarded with a solid ROI%(Return on Investment). A conservative expectation for these two larger sets might be 75% growth from retail two years post-EOL with the possibility of growth over 100% from retail bringing it in line with the sets from 2008. If you don't mind the hassle of lots of shipments and the related pains of selling lots of little sets with a good ROI% but not much total profit, feel free to invest in the smaller sets when on sale. Just make sure you're willing to do a fair amount of work for a small total profit!
In short, it is time to get your sea legs. All aboard! Next stop, Profitville!