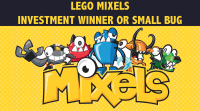 Seemingly out of nowhere, Mixels have taken hold.  These small polybags have become popular enough, that a smart investor needs to consider whether adding Mixels to their portfolio makes sense.
What are Mixels?
LEGO says, "Mixels features a world of colorful creatures who can mix and combine with each other, with hilarious and surprising results."  Mixels are a collaboration between LEGO and Cartoon Network.  This includes the LEGO toys, but also includes a variety of multimedia approaches, including apps, websites, and cartoon shorts, ranging from 30 seconds to 5 minutes in length. The cartoon shorts premiered on Cartoon Network on February 12, 2014.  The cartoon was created by John Fang (Ben 10) and Dave Smith (Powerpuff Girls), and the characters are voiced by well-known American voice actors, such as Jess Harnell (Animaniacs), Tom Kenny (SpongeBob Squarepants), and Billy West (Futurama). Mixels involve a number of different tribes, each with a different color scheme and representing a different ability.  They all inhabit a land of fantasy and adventure. Using mysterious cubits, Mixels can: [table id=46 /]
Mixels Series
Series 1 was released in March 2014, and consists of the Infernite (Red), Cragsters (Gray), and Electroid (Yellow) tribes.
Series 2 was released in May 2014, and consists of the Frosticons (Blue), the Fang Gang (Orange), and the Flexers (Brown) tribes.
Series 3 was released in September 2014, and consists of the Glorp Corp (Green), the Spikels (Tan), and the Wiztastics (Purple) tribes.
Series 4 will be released in February 2015, and will consist of two new tribes, Orbitronz (Light Green) and Glowkies (Dark Blue), along with three new Infernites (Red).
Each Mixel has an RRP of $4.99, £2.99, €3.99 and consists of between 48 and 72 pieces. [table id=48 /]
What's in the box?
Each box of Mixels consists of 30 packs.  Each box has four complete sets of one tribe, and three complete sets of the other two tribes.  This allows for building of three complete sets of Mixels for any particular Series.  For Series 1, the Infernites (Red) tribe had four sets.  For Series 2, the Forsticons (Blue) tribe had four sets.
Members of the Gray, Red, and Yellow Tribes from Series 1
Investment history
Complete Sets
Series 1 of Mixels started disappearing from store shelves to make room for Series 2 and Series 3 around August/September 2014.  Although you could still find them in some stores at RRP, eBay prices saw complete sets of Series 1 going for $65-$70.  By the end of September, prices were hitting $85-$90.  By the end of October, prices had risen to $105.  As of the middle of November, Series 1 sets are consistently selling at $120.
Tribes
With such a consistent and even distribution of characters in each box, you would expect to find sales to be similar for all three tribes.  However, that is not the case.  Yellow tribe seems to be the most sought after.   Yellow tribe commands anywhere between $50-$60.  Red tribe, despite being packed four to a case (versus three to a case as the other two tribes), is consistently coming in at $40 per set.  Gray tribe comes in around $30 per set.
Individuals
As you might expect, individual Mixels prices reflect the tribe sets.  Individual Yellow tribe members, especially 41508 Volectro are the hardest to find, and therefore command a premium on the secondary market.  The other Yellow tribe members are also difficult to find, which causes a similar spike in their price, although not as much as Volectro.  Prices are around $15-$20 per individual. Red tribe members, despite the four versus three per case, as individuals are similar to the sets.  Individual tribe members are going for $10-$15 per individual. Gray tribe members, much like the sets, are easiest to obtain.  Most Gray tribe members are available around $10 per individual.
Creativity
Mixels allow for an incredible amount of MOC'ing.  LEGO encourages a lot of creativity with the Mixels line.  On the Mixels website, LEGO has published instructions on how to MIX, MAX, and MURP a number of different versions of Mixels.  Not only can you do that within an individual tribe, but LEGO has shown you how to do it between multiple tribes.


Mixels MEGA Max MOC - Tyrannosaurus Mix 1 by TheOneVeyronian on Flickr


Mixel Mega Mix! by Andrew Lee on Flickr Mixels have allowed imaginations to run wild.  The part/color combinations are a little unique.  The combinations are endless, and really encourage the initial design as a starting point, rather than an endpoint.
Why so scarce?
Mixels compare well against other LEGO products.  The price per piece is between $.07 and $.10.  There are 524 parts in the Series 1 set.  At $45, that is about on par with other similarly sized sets.  21108 Ghostbusters Ecto-1 is $49.99 for 508 parts, 4209 Fire Plane is 522 pieces for $59.99 and 76028 Darkseid Invasion, coming in 2015, is 545 pieces at $59.99. The desirability of certain colors appears to be driving the market.  Yellow appears to be the most desirable of Series 1, which would explain why the individual sets of Yellow are the hardest to come by.  And other there are more Red tribe available than any other color, Red tribe appears to be more desirable than Gray. The same seems to hold true for Series 2 as well.  Blue tribe is more available than any other tribe, but appears to be the most desirable of the three tribes.  Blue tends to be the most scarce of the three Series 2 tribes. With 3 series coming out per year, past Mixels sets could easily be forgotten.  But the collector mentality has seemed to grab hold; consumers want to complete full collections of Mixels. Just like the 3-in-1 Creator Sets, many consumers will want to have multiple sets, to allow them to display the different versions. LEGO encourages this, by including past series in the new series (Infernites in Series 1 and 4).  By publishing instructions MIX'ing and MAX'ing multiple tribes, LEGO will continue to help drive the desirability of the older sets. And at the end of the day, these sets just look cool.  And combining them just make them look cooler.
Outlook for Series 2 and 3
Series 2 is quickly disappearing from stores.  Some outlets, such as Toys R Us and Target still have limited supplies.  As supplies become limited, prices should continue to rise.  Already, sales on eBay show pricing between $60 and $85 for complete sets.  As these disappear from primary sources, you should continue to see prices climb.  Series 4, while expected to debut in February 2015, may arrive on shelves as early as late December 2014.  At that point, any remaining Series 2 will disappear quickly.
Best ways to Acquire
As with all LEGO investing, don't wait to acquire product.  However, Mixels do allow you some safety with your acquisition methods.  As with the CMF line, you have insight to the general availability of the line;  you can expect that the line will debut at a certain time, and will begin to disappear around the time the next Series debuts.  This provides plenty of opportunity to pick up product on sale when those opportunities presents themselves.
2015 and Beyond
[table id=47 /] Mixels are here to stay.  They won't be disappearing anytime soon.  With an endless array of combinations, Mixels should remain popular with kids and adults. Note:  All pricing accurate as of November 2014. Sources: Mixels Official Website - LEGO.com The Mixel Invasion Has Begun! Wikipedia - Mixels