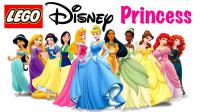 Welcome to part 2 of the Disney sets! While going through these sets for this set of blogs, I think I have gotten even higher on them. Obviously I am going to go over why on each of the last 3 sets, but I think overall there are some big reasons to think that these sets will be huge down the road. So let's take a look at the last three (All CAGR values based on a two year run and two years of retirement):
41053 Cinderella's Dream Carriage
Lego.com Description: Lead Cinderella on an enchanted carriage ride to the royal castle ball! It's the night of the grand ball at the castle! A pumpkin has been magically transformed into a carriage by Cinderella's fairy godmother who has left behind her magic wand. Open the door, unfold the steps and help Cinderella into the beautiful carriage. Be sure to remember the invitation! Watch the golden wheels turn as the white horse leads the carriage past the pretty fountain on the way to meet the Prince. Includes Cinderella mini-doll figure and a white horse.
Includes Cinderella mini-doll figure and a white horse
Features turning golden wheels, opening doors, unfolding steps and a removable roof
Includes a flower gazebo with pumpkin patch and a fountain with translucent water element
Accessories include an invitation to the ball, magic wand, broom, flowers and a golden head decoration for the horse
Open the carriage door and unfold the steps for Cinderella
Dress up Cinderella's horse with the head decoration
Detach the horse from the carriage and set it free for its own adventures
Remove the roof of the coach for easy play
Cinderella's Dream Carriage measures over 3" (10cm) high, 7" (19cm) long and 1" (5cm) wide
Investment Outlook: 
While this one isn't one of my favorites, I think there is obvious serious investment potential in this set. Cinderella's Carriage does not necessarily have a huge "iconic" scene tied to it - unless you count it turning back into the pumpkin - but the carriage itself is something desirable to any Cinderella fan. Lego lovers love vehicles like carriages and they also love horses - which this one comes with! This set is one of the most display-able of the series to while still having a decent amount of play value. The extra stuff included like the horses head decoration and the fold-up steps actually make sense to the set unlike some of the other smaller sets in this theme. Being able to remove the roof of the coach adds a lot of play-ability as well. On the very slight downside, I don't love 30$ sets with only 1 minifigure. It does have the horse, but since there is another Cinderella in a much more desirable set, I think this hurts it a little bit. I also feel like the carriage could have been just a bit bigger as we already have the smaller 20$ and 30$ sets in this series. If they added maybe Cinderella's sisters and the Step Mother, made it bigger and a $50 set, I would have liked it more. Also, who the heck is driving this carriage?!? Either way, the set will still be wanted by pretty much every Disney fan just because of what it is. If this was a whole line of Cinderella, I would say this set might be overwhelming, but with the one minifigure being an exclusive variant and the Carriage being what it is to Cinderella, I think this set easily doubles your money.
Predicted CAGR: 25%
Predicted Value: $73.24
41054 Rapunzel's Creativity Tower
Lego.com description:
Help Rapunzel paint the walls, bake cookies or capture Flynn Rider in her enchanted tower! Rapunzel has been locked in the tower with only Pascal the chameleon for company. That's why this princess, with her famous long hair, has become extra creative. Help them as they spend their days painting on the walls and baking cookies in the kitchen. Brush her lovely hair and decorate it with the pretty bows. When Flynn Rider breaks in with the stolen tiara, Rapunzel has to bash him with the frying pan and tie him to the chair. Join the pair on their adventures with each other! Includes 2 mini-doll figures: Rapunzel and Flynn Rider, plus Pascal the chameleon.
Includes 2 mini-doll figures: Rapunzel and Flynn Rider, plus Pascal the chameleon
Features hidden stairs, attic, large window, fireplace, mirror, chair and a flower decoration
Also includes a small separate kitchen
Accessories include Rapunzel's hair brush and bows, book, chocolate chip cookies, paint brush and palette, chest with extra paint, frying pan, tiara and a bottle
Play hide and seek with Rapunzel and Pascal the chameleon
Bake chocolate chip cookies with Rapunzel
Pretend to comb her long hair with the brush and decorate it with bows in front of the mirror
Paint beautiful images on the walls with the brush and palette
Reveal the hidden stairs for Flynn Rider to access the tower
Pretend to help Rapunzel tie Flynn Rider up in the chair and go after him with the frying pan!
Rapunzel's Creativity Tower measures over 12" (32cm) high, 4" (12cm) wide and 4" (11cm) deep
Investment Outlook: 
Honestly this is probably the most complete set of the series. The tower is excellently done and the small "fluff" pieces like the painting set and the cups and hairbrush just add tons of play-ability to the set. This is the one set that I think all the parts and extra pieces really match well together. I think the tower is very nice looking - definitely something display-able and because they finished the whole front of it - it looks like its a full tower from a distance. The fact that the tower isn't finished is great for children playing with it so they can get to it easier. The hidden stairs are also really nice and it has two great minifigures as well. I think the fact that this is the only Rapunzel set will make sure its a winner no matter what, but the amount of detail added to this set is really nice. My only complaints would be - the price is a little expensive for a set with only 2 figures and 299 pieces at 40$. I think that will hurt its investment value just a bit. I also really think they should have emphasized Rapunzel's hair a little more as well. It is supposed to be stupid long, but it should definitely stand out more on the minifigure. I also am not hugely fond of the giant stickers on the side of the tower. Even with those facts, with the height in popularity of "Tangled" still among us, this set is going to be a winner. It will not be the set I stock up on the most, but will bring a pretty good return for a $40 set and will definitely be worth paying attention to. Honestly, I would take both the Carriage and Kiss the Girl set over this one though.
Predicted CAGR: 20%
Predicted Value: $82.94
41055 Cinderella's Romantic Castle
Lego.com Description:
Make the royal ball at the Castle with Prince Charming a night to remember for Cinderella! Prince Charming has invited Cinderella to a romantic royal ball! Play with Lucifer the naughty cat and with Bruno the frisky dog. Explore all the different rooms at the Castle and find the key that unlocks the treasure chest with all the jewels. Romance is in the air as Cinderella and Prince Charming enjoy their first turn around the dance floor and a cozy moment in front of the fireplace. Just make sure Cinderella leaves the Castle before the big clock strikes 12 and the magical spell wears off. And remember to leave behind her famous glass slipper on the stairs outside so the Prince can find her again! Includes 2 mini-doll figures: Cinderella and Prince Charming mini-doll figures, plus Lucifer the cat and Bruno the dog.
Includes 2 mini-doll figures: Cinderella and Prince Charming, plus Lucifer the cat and Bruno the dog
Features tall towers, flags, throne, clock, bedroom for Cinderella, beds for Lucifer and Bruno, outdoor eating area, river, bridge, flowers and a swing
Accessories include Cinderella's enchanted shoe, a hidden love letter, tiara, 5 heart-shaped diamonds, treasure chest and key for the door, a lipstick and a brush
Also includes a bone for Bruno and a bowl with milk for Lucifer the cat
Help Cinderella get ready in the bedroom
Discover the hidden love letter under her bed
Take a romantic walk over the bridge and give Cinderella a push on the swing
Feed Lucifer and Bruno and tuck them into their beds
Cinderella's Romantic Castle measures over 11" (30cm) high, 9" (25cm) wide and 8" (22cm) deep
Investment Outlook: 
Ok I don't think anyone here needs me to tell you this is a winner. Lego builders LOVE LOVE LOVE castles. Really they are something that make the most sense to build out of Lego bricks right? Much more sense in the beginning than a Millennium Falcon or a Train, right? So thinking about it, what is the most popular castle you can think of? I think you would have a hard time arguing it isn't Cinderella's Castle. If you have ever been to Disney world, you know how huge and amazing this castle is and how important it is to the Disney brand. When people get to Disney who have never been there, this is one of the first things they want to see. Combine this with Lego lover's affinity for Castles and you have a match made in Heaven. This will absolutely be a huge winner. As for the set? Putting aside the iconic argument, the Castle is really so-so. It's not a "full castle" and seems a little bare in a couple of places.  It only comes with two minifigures and 646 pieces is one of the smaller castles in the Lego collection. On the other hand, it does capture the scene really well. It looks like it would display very well and all the little extras provided add play-ability for smaller children. I do really like the dog and cat and the treasure chest as nice added bits. While small, there aren't a ton of cheaper "mid-level" castles in the Lego portfolio so it may almost help this set that it is a more affordable $69.99 as most Castles are $100 sets. In the end, this set really is just too iconic to fail. Despite the Cinderella figure being in the other set and the other flaws I mentioned, I don't think there is a Disney lover out there that wont want this set. Don't think about it - if you see this set for $50, buy it immediately. You will see a serious return.
Predicted CAGR: 30%
Predicted Value: $200
My Wife's Take: 
Since this was a theme just absolutely made for my wife, I asked her to weigh in on a few sets and tell me what she liked about them and which were the best. First off, Kiss the Girl was immediately purchased. She said that set was one she had to have immediately and she really didn't care about my "don't buy a retail" rule. Other than it being really small, that is her favorite set and she has already shown it off to several jealous friends. As for the theme in general, she loves what they did and sees it geared towards kids more than anything, but there is enough there for adults who love Disney too. She wants the whole theme. Cinderella's Castle is the most "well made" set in her opinion and thinks it will be the one that is most desirable in terms of demand. In all honestly, her biggest complaint was that they didn't make more of these sets (which I don't think will be a problem). There isn't a bad set in the theme in her eyes.
Other Thoughts on this theme: 
I think Lego is serious, as they should be, about this theme and I think they have really learned a lot about what is popular with their Lego Friends theme. If you have seen or built any of these sets, they are extremely similar to the makeup of those. There is less emphasis on multiple minifigures and more on exclusive minifigures (every one but Cinderella in this theme is) that look really good and have more play value than a normal minifigure as they move a little smoother and are just a bit bigger. With the success of the Friends theme so far in the secondary market and this theme mirroring that, I don't think there is any way this theme does not absolutely kill in the after market. Its a licensed theme, meaning it will probably retire a little quicker and its one that you have to imagine will be continued with how many Disney movies and fans there are. With Lego Friends as a theme sporting over a 50% CAGR at the moment, I am going to say that my predictions for this theme could be extremely LOW. I certainly will be looking for these sets every chance I have on sale and will not hesitate to buy them. They are all relatively smaller sets too which should bode well for storage. If anything, this theme will pull tons of new people into Lego bricks which is good for everyone. I worry with every passing month that we will hit a period where Lego just really doesn't have a great lineup of themes - like now that Harry Potter is done and LOTR is possibly nearing the end. This merger proves that is not the case and we are all going to find that out... with our wallets.