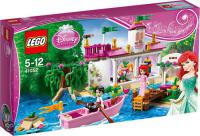 As we all know, The Lego Group is currently experiencing the prime of their existence of a company. They made over a Billion dollars for the first time ever, have even more products than ever, and is by far the most popular toy in America. They have teamed up with the likes of Marvel and DC, Star Wars, Lord of the Rings, and Harry Potter to get there and improve what is already a mighty brand. So what could they add next that will be able to take them a step higher? What other license could they get that would take them any higher? How about pairing it up with one of the most marketable brands of all time: Disney Princess.
Disney may be the proverbial "match made in heaven" for Lego as they expand their relationship with them. Just as Lego is experiencing its unparalleled prime, Disney is doing the same. Take a look at the Stock for Disney over the last 10 years:
As you can see it has doubled in the last 5 years. Just about 8-10 years ago, Disney was cutting budget, closing their parks early, and the future didn't look quite as bright. Lego was in a similar position right before that time almost going bankrupt. However, both companies weathered the storm and forged ahead to experience some of the most profitable times companies in their respective industries ever have. Disney World has experienced a growth in around 2 Million visitors each year for the last 6 years. They lead the world as the most visited Theme park... by 80 million people per year. Stores are filling with more Disney product and Disney stores are starting to pop up everywhere. Vinylmations, small Disney and other license likenesses on small figures with Mickey ears, have become extremely popular (my wife and I have around 100) and have even become decent investments themselves (some of the original lines sell for 10x retail!).
So with the union of their Disney Princess Line and Lego's fabulous mainline product )I don't count those Duplo sets), will it bring us something we could only... wish for upon a star? Let's take a look (All CAGR predictions are based on a two year run and then 2 years of retirement).
Ariel's Amazing Treasure 41050
Retail: $12.99
Lego.com Description:
Discover Ariel's Amazing Treasures in this amazing underwater world!
Ariel and her best friend Flounder are searching for lost objects from the human world. Explore the beautiful coral reef and the pretty golden gates with them. Go with Ariel on her adventure to discover all these treasures and hide them away in the treasure chest. Help Ariel practice her singing using the sheet of music, swim through the gates and play tag with Flounder. Includes Ariel mini-doll figure and Flounder.
Includes Ariel mini-doll figure and Flounder
Features opening golden gates and a treasure chest in a beautiful seaweed surround
Accessories include a diamond, pair of binoculars, music sheet, trident, opening shell with hidden pearl and a starfish
Search for the many objects and hide them away in the secret treasure chest
Look for the pearl inside the shell
Help Ariel practice her singing with the music sheet
Golden gates measure over 3" (9cm) high, 3" (8cm) wide and 1" (5cm) deep
Treasure chest measures over 1" (3cm) wide and under 1" (2cm) wide and 1" (2cm) deep
My Investment Analysis: This is a great little set. Though it only has one minifigure, it is the perfect one: Ariel. The Little Mermaid is a staple in the Disney Princess line (My Wife's Favorite character by far) and really is to it what Frodo is to Lord of the Rings or Luke Skywalker is to Star Wars. The Little Mermaid is has sets of some of the most recognizable Disney songs and characters. This set is perfect minifigure-wise coming with her and flounder. The rest of the set itself is so-so - I think it might have been a little better if there were more "trinkets from the land world" but it still has a lot of playability with all the treasure. The music sheet is a really nice addition since singing was really the crux of who Ariel is in the movie. This is not one of those sets that will triple or quadruple right after retirement, but I see a lot of worth here. Disney lovers who are older will like the set for the Ariel figure. Small children will love it as a simple set with a lot of playability. I say it will be one of the better winners for a $12.99 set.
Predicted CAGR: 20%
Predicted Value: $26.93 Merida's Highland Games 41051
Retail: $19.99
Lego.com Description:
Have fun with Merida and her magically transformed brothers by the castle!
Merida is practicing her archery skills for the Highland Games! But her 3 little brothers have been turned into naughty little bears and it's up to her to keep them out of trouble. Join Merida as her brothers shoot cookies from the catapult. Hang up her bow on the beautiful tree or help her catch a fish in the stream. Cook the fish over the fire and, when the food is ready, have dinner at the castle's dining table… but first Merida must find the hidden key to unlock the door! Includes Merida mini-doll figure and 3 bear cub brothers.
Includes Merida mini-doll figure and her triplet bear brothers
Features Merida's castle with an opening door and key, key hook, flowers, dining table, cookie-shooting catapult, tree, mushroom, stream and a camp fire with a fish roasting
Accessories include a bow and target, fish, chicken leg and 3 cookies
Help Merida discover the secret key to the castle
Catch the fish and cook it on the camp fire
Toss cookies into the air with the catapult
Merida's castle measures over 3" (8cm) high, 5" (14cm) wide and 1" (4cm) deep
Tree measures over 2" (7cm) high, 3" (8cm) wide and 1" (5cm) deep
My Investment Outlook: I admit, I haven't seen this movie (actually maybe admitting I have seen Disney movies is bad for my "man card"), but I don't need to and neither do you. The movie is POPULAR. First off, its about a Disney Princess who is not really that... princess-ish. More boyish in actions, crazy hair, and a little bit of a wild-child, Merida is someone that a lot of young women really identify with. On top of that, young children love her as well and she has really become the more "modern" Disney Princess.
The set itself is a little "meh" in my eyes. The little bears and the archery set is nice and is definitely something that would have to be in any Merida set. The castle-front is well done, but I don't think it really adds a lot to the set. It isn't really that impressive and I am not sure that it really offers much play-ability to younger kids as well. I would have liked this as a slightly bigger set with a more "full" looking castle.
At the same time, the Disney Princess figures of Merida are GONE during Christmas every year. I know because I try to get my young cousin one every year. No matter what this set has in it, the fact that Merida is in it is going to propel it forward. I can not imagine it will not be a huge winner and that the Merida figure wont be a 30$ or 40$ figure later on.
Predicted CAGR: 25%
Predicted Value: $48.80
Ariel's Magical Kiss 41052
Retail: $29.99
Lego.com Description:
Enjoy a magical boat ride with Ariel and Prince Eric in the lagoon by the palace!
Come with Ariel as she seeks to break a magic spell! The enchanted mermaid has traded her voice for a chance to be with the lovely Prince Eric. Only a kiss from his royal lips will break the spell! Take a romantic boat ride with her true love where they meet a frog and stop at the tree in the secluded lagoon. Have a beautiful picnic by the sea or a romantic meal in the dining room of the palace. And when Ariel wants to see what is happening in the world she left behind, go to the telescope on the balcony and take a look. Includes 2 mini-doll figures: Ariel and Prince Eric.
Includes 2 mini-doll figures: Ariel and Prince Eric
Features a royal palace with dining room, bellflower lamp, roof terrace, flags, railings, flowers and telescope, a gazebo boardwalk, plus a lagoon with a tree and a frog
Includes a boat with oars and a flag
Accessories include a picnic basket, croissant, banana, green apple, royal crown and 2 heart-shaped diamonds
Enjoy a delicious lunch in the castle dining room
Let Ariel look through the telescope towards her home under the sea
Take a romantic boat ride past the lagoon
Stop for a picnic by the sea
Royal palace measures over 5" (13cm) high, 5" (13cm) wide and 3" (9cm) deep
Gazebo boardwalk measures over 2" (7cm) high, 2" (6cm) wide and 3" (10cm) deep
Lagoon measures over 1" (5cm) high, 2" (6cm) wide and 1" (5cm) deep
Boat measures over 4" (11cm) long and 1" (3cm) wide and under 1" (2cm) high
My Investment Outlook: What a great mid-range set. I would argue that this may be the most famous Disney scene of all time. Sure there have been a lot of them, but this is really the crux of this movie and something that I think appeals to women everywhere who have ever wanted to fall in love. The song is a classic - one of, if not the most memorable, Disney songs. My wife looked at this line and immediately squealed when she saw this set. I think this will end up being the biggest winner of the line.
Unlike the last two, all the parts really go together in this set. Everything is part of the lagoon, the boat is really nice with the oars, it has a lot of play-ability, and also doesn't look bad at all as just a display-piece. Though I was hoping each set in this line would be from a different movie, this works fine as the Ariel figure is different - this is the one with actual legs. If you get the other set, you will have to get this one too. DO NOT miss out on this set - it will be a winner pure and simple.
Predicted CAGR: 30%
Predicted Value: $85.65
Check back in for Part 2 of the analysis. I will cover the other three sets, go over some other reasons that this line may be THE one to watch over the next year and my wife will also weigh in a bit more with her "normal person" thoughts on the sets themselves.